​Nico Rosberg ​needed a clean, dry and fruitful third practice session for the British Grand Prix​, especially after his water leak on Friday afternoon, instead he got a disrupted and damp session instead. Overnight and morning rain, left the track not suitable for slicks for a majority of the session, with only a small window for running, just after half session.
But if he thought things would go better for him then, ​Marcus Ericsson running wide at Stowe and destroying his ​Sauber​ was the worst thing possible. A red flag and 10 lost minutes in conditions similar to what qualifying is expected to be run was a disaster.
In the end, Rosberg finished second to ​Lewis Hamillton, ​just 0.063 down on the 1:30.904 benchmark set by the home favourite. Behind them, ​Daniel Ricciardo and Max Verstappen carried on from Red Bull's ​strong Friday to end up third and fourth. ​Sebastian Vettel was fifth but his session was marred by a late gearbox failure. ​Valtteri Bottas, Fernando Alonso, Nico Hulkenberg, Kimi Raikkonen and Carlos Sainz Jr​ rounded out the top 10 at a damp, cloudy and overcast Silverstone.
​The story of FP3
​The wet track conditions meant that drivers were hesitant to venture out, meaning aside from some installation laps, the first 15 minutes of the session was void of action, it was Rosberg who set the first timed lap, a tentative 1:42.6 on the Hard tyre, he soon began to pick up the pace and next time around was 6s faster.
Vettel was showing strong Ferrari pace on the Medium, with a low 1:33 being the benchmark, times were tumbling and the two Germans were top until Hamilton bettered both their efforts with a 1:31.286.
With just under 20 minutes remaining of the session, Ericsson running wide at Stowe, got spun around and impacted the barrier opposite, destroying all four corners of his C35, thankfully he was soon out of the car, unscathed, although almost certainly ruled himself out of this afternoon qualifying session. In a unnerving moment, the steering wheel become detached and could be seen freely moving about in the cockpit.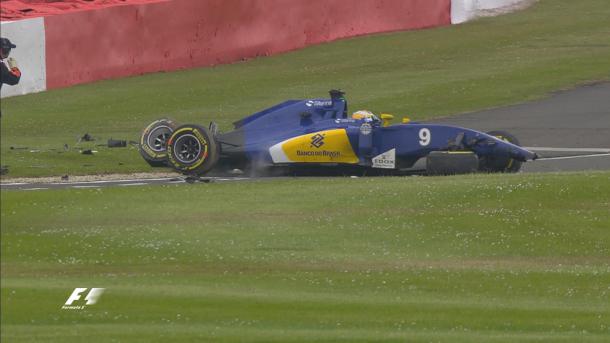 The damage to the barrier, ensured that the Red Flag remained in place until it was fixed, which took the marshals 10 minutes to achieve, meaning that the session restarted with a five minute slot for laps to be completed, the most representative lap-times of the weekend so far.
Hamillton improved his time to a 1:30.904, beating the 1:30.967 Rosberg posted. Immediately after completing his lap, good enough for P5, Vettel's gearbox failed on a upshift, handing him a five-place grid penalty and the resigned comment of "​I think we failed the gearbox again"​. If Ferrari is to challenge Mercedes this weekend, they may need to get past the Red Bull's first.
Qualifying is underway at 13:00pm on Saturday afternoon.
​British Grand Prix - Third Practice ​times
​​1. Lewis Hamilton - Mercedes - 1:30.904
2. Nico Rosberg - Mercedes - 1:30.967
3. Daniel Ricciardo - Red Bull - 1:31.488
4. Max Verstappen - Red Bull - 1:31.561
5. Sebastian Vettel - Ferrari - 1:32.049
6. Valtteri Bottas - Williams -​1:32.736
7. Fernando Alonso - ​McLaren ​- 1:32.754
8. Nico Hulkenberg - ​Force India -​ 1:32.798
9. Kimi Raikkonen - Ferrari - 1:32.833
10. Carlos Sainz - ​Toro Rosso - ​1:32.889
11. ​Esteban Gutierrez - Haas - ​1:32.895
12. ​Jenson Button -​ McLaren - 1:33.042
13. ​Romain Grosjean - ​Haas - 1:33.344
14. ​Sergio Perez - ​Force India - 1:33.361
15. Felipe Massa ​- Williams - 1:33.440
16. Danill Kvyat - ​Toro Rosso - 1:33.568
17. Felipe Nasr ​ - Sauber - 1:33.710
18. ​Jolyon Palmer - Renault - ​1:33.769
19. ​Kevin Magnussen - ​Renault - 1:34.049
20. ​Rio Haryanto - Manor - ​1;34.47
21. Marcus Ericsson - Sauber - 1:34.551
22. ​Pascal Wehrlein - ​Manor - 1:34.658