​Lewis Hamilton ​continued his domination of the ​British Grand Prix ​weekend, by claiming his 55th career pole, despite his first lap in the final segment of qualifying being deleted for running all four wheels off the track at Copse. In the all time Formula One Pole list, Hamilton is now just 10 behind his hero,​ Ayrton Senna and 13 off the all time record, held by the great ​Michael Schumacher.
Hamilton's first lap in the segment was a 1:29.339, but a replay showed him to go off, thus breaking the "​zero tolerance" ​approach from race-control to turns 9,15 and 18, better known as Copse, Stowe and Club.
Anyhow, Hamilton then went out for his second run, and despite going off at Luffield in similar circumstances, a 1:29.287 was good enough to see off the challenge of Rosberg. What with the tension between the two, tomorrow's start should be close.
Max Verstappen become the first driver to beat Daniel Ricciardo ​in qualifying this season, heading a Red Bull ​second row lockout. ​Ferrari ​once again flattered to deceive, with a third row lockout, although ​Sebastian Vettel ​will drop back to 11th with a 5-place grid penalty. ​Valtteri Bottas, Carlos Sainz, Nico Hulkenberg and Fernando Alonso​ rounded out the top 10.
​Magnussen - Button - again
​In the opening 18 minutes of qualifying, there were only 21 takers. Marcus Ericsson ​was in hospital for rountine checks after his morning FP3 crash, only five would be eliminated in the segment.
Expecting to struggle, the star of Austria, ​Pascal Wehrlein and ​Manor ​teammate ​Rio Haryanto​ didn't trouble the timing screens and dropped out qualifying P20 and P19 respectively, but they did at least out-qualify Felipe Nasr​ who disappointed, after some strong pace in practice, Jolyon Palmer ​also failed to make it out of Q1, placing his ​Renault P18, ​although the main talking point was between ​Jenson Button's McLaren and ​Kevin Magnussen ​in the other Renault.
Button, after qualifying told the media that his rear-wing had become partially detached, thus preventing him from making a second run, and he wasn't 'safe', just 0.1 clear of the elimination zone. On his ultimate flying lap, Magnussen went off at Luffield and possibly elsewhere, and eventually was P16, Button being knocked out by ​Danill Kvyat's Toro Rosso​. But after he had been to the weighbridge, he pulled on his helmet again and clambered into his MP4-31.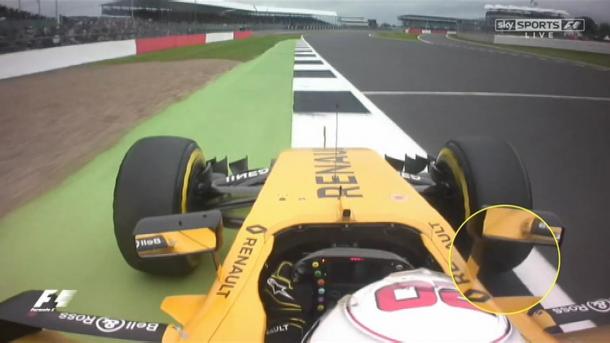 Magnussen was believed to have had a time deleted, thus knocking him out, and allowing Button to proceed into Q2, however as the FIA had not reached a decision by the time Q2 started, the original result stood and Button, after a stellar Austria found himself a disappointing P17 on the grid.
For the first session of the weekend, Hamilton did not top Q1, Rosberg taking that particular honour - 0.015 ahead.
​Massa falls as does the track record
​12 months ago, Felipe Massa ​produced start of the season to leap from P3 to lead the race, but this afternoon he made it hard for himself to potentially repeat the trick, dropping out of Q2 in P12. The two Haas's failed to deliver on promising practice place and ​Romain Grosjean, heading teammate ​Esteban Gutierrez by 0 191.
Kvyat was the only non-Red Bull backed driver to not make it through to Q3, a angry Russian believing he was blocked by the P16 Magnussen at Vale. ​Alonso showed what might've been for Button, with yet another Q3 appearance for the fast improving McLaren-Honda.
​​​​​The final place was between Sergio Perez and the last-ditch attempt of Sainz, with the Spaniard not doing too much to harm his reputation with fantastic lap to put himself well inside the top 10.
​​Kimi Raikkonen was close to being eliminated, with the Finn spinning at Village and then just making it through, again running wide at Luffield on the flying lap.
​Meanwhile, up front, it was Game, Set, Q2, fastest ever lap around Silverstone for Hamilton, whose 1:29.243 bettered his own 2013 time as the fastest any driver has ever been around Silverstone - in its current guise. Rosberg was a tardy 0.7 down.
​Hamilton drama
​The opening laps of Q3 had Rosberg trailing the sister W07 by around 0.3 and with a uphill battle to try and take pole, but then came through the news that Hamilton's time had been deleted and he would have just one lap to try and take a fourth British Grand Prix pole, equalling ​Sir Stirling Moss, which he did.
It was really only the Mercedes' in the frame for Pole, Red Bull ended up a full second down. Perhaps relieved by his new contract, Raikkonen was able to out-qualify Vettel on merit at Ferrari whilst Ricciardo's 100% record against a teammate in 2016 was lost to the improving Verstappen - who even had the luxury of having a time deleted and retaining position, unlike the Hulkenberg, whose deleted time dropped him from P8 to P9, but moves back up to P8 with Vettel's penalty.
2016 British Grand Prix - The Grid
​1. Lewis Hamilton - Mercedes
​2. Nico Rosberg - Mercedes
3. Max Verstappen - Red Bull
4. Daniel Ricciardo - Red Bull
5. Kimi Raikkonen - Ferrari
6. Valtteri Bottas - Williams
7. Carlos Sainz - Toro Rosso
8. Nico Hulkenberg - Force India
9. Fernando Alonso - McLaren
10. Sergio Perez - Force India
11. Sebastian Vettel - Ferrari*
12. Felipe Massa - Williams
13. Romain Grosjean - Haas
14. Esteban Gutierrez - Haas
15. Danill Kvyat - Toro Rosso
16. Kevin Magnussen - Renault
17. Jenson Button - McLaren
18. Jolyon Palmer - Renault
19. Rio Haryanto - Manor
20. Pascal Wehrlein - Manor
21. Felipe Nasr - Sauber
PL Marcus Ericsson - Sauber**
*Vettel's 5 place grid penalty for a gearbox change applied
**Sauber need to go to the stewards and ask for permission for Ericsson to take the start, and provided this is granted he will start from the Pit-Lane.
The race is lights out at 13:00pm on Sunday afternoon.