Once the Safety Car went in, the winner of the British Grand Prix​ was never really in any doubt, it was Lewis Hamilton's afternoon at Silverstone​ and by winning his fourth race at home and third in a row, the Mercedes driver cut the championship lead of ​teammate ​Nico Rosberg​ to just one point, after Rosberg received a penalty. Hamilton's run of four wins in Formula One five races has seen the lead cut from 43.
It was a busy afternoon for Rosberg who fought most of it with ​Red Bull's Max Verstappen ​over second place, it was the German who took the place on the road although the result was changed after a late team radio transgression and stewards investigation ended stripped Rosberg of his 18 points for second, instead receiving 15 for third.
Daniel Ricciardo ​took yet another fourth place for Red Bull in a race where the ​team usurped Ferrari ​as Mercedes closest challengers - in terms of pace - as the Italian team could only manage fifth for Kimi Raikkonen​ and a penalised ​P9 for ​Sebastian Vettel. ​Literally at home, ​Force India ​gained yet more ground on Williams ​with strong drives for ​Sergio Perez and Nico Hulkenberg ​to sixth and seventh respectivly. ​Carlos Sainz and ​Danill Kvyat ​rounded out the points in P8 and P10 for ​Toro Rosso.
​​But this was Hamilton's day, and whatever the British weather could throw at him, he mastered the conditions and the all crucial momentum has well and truly swung towards Car 44.
Some three hours after the race finished, Rosberg was handed a 10s time penalty as according to the stewards, the information he was given was illegal under the "Driver must drive the car alone and unaided" part of the regulations. The penalty drops Rosberg from P2 to P3, thus losing him three points and reduces his lead over Hamilton to just a solitary point, 168-167.
Just before 19:00pm UK time, Mercedes announced their intention to appeal the decision.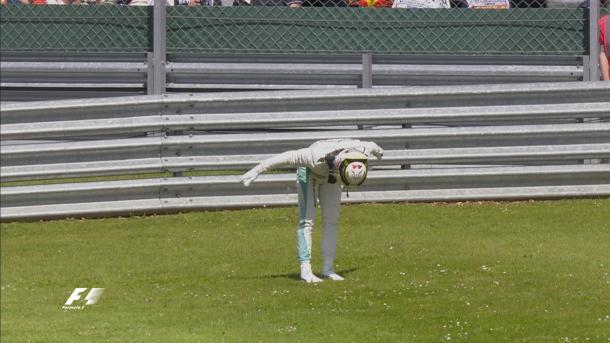 ​Safety Car start
​​Just prior to lights out, the Silverstone circuit was hit upon by a cloudburst and in a matter of seconds a normal start was to be replaced with a neutralised Safety Car one. During the period, the Mercedes nearly collided again - this time at Copse, when Hamilton nearly collected the Safety Car - which would've led to disqualification. After five laps, the Safety Car was called in and the real racing started.
Immediately Raikkonen led a charge for the pits and Intermediate tyres, with almost half of the field follwoing suit. Hamilton, mastering the restart led by nearly 4s on the first lap alone, which was pretty much the gap, before Rosberg's late haywire gearbox.
The next time around, Ricciardo led a second charge for the green marked Intermediate, just covering off the undercutting Raikkonen, any chance the Finn had of making a move down the Wellington straight was stopped by ​Pascal Wehrlein's beached ​Manor at Abbey. Theresultant Virtual Safety Car, allowed the top three to make their switch to the Inter, during which time, some clever strategy from Force India vaulted Perez up to P4. ​​​
After the first stops Hamilton was out front, with the top three covered by just under 10s, with Perez being hunted down by Ricciardo and a multi-car gaggle of the lower points runners of Raikkonen and co.
Hulkenberg was looking racy and tried his best to pass both Williams, evantually getting by Bottas, but finding Massa a harder Brazilian nut to crack, nearly losing his front wing on the run to Copse.
​Move to slicks and Verstappen on the move
​Lap 16. The majestic Maggots, Beckets, Chapel sequence of corners. A mistake from Rosberg allowed the steadily closing in Verstappen to use the one chance afforded to him all afternoon. Getting close through Maggots, the young Dutchman tried an audicious move around the outside of Beckets, before nailing it on the exit of Chapel - his overtake on ​Felipe Nasr ​​​at Spa last year was regarded as his best, although that is now debateable. Vettel was also the first to switch to Medium slick tyres, hoping not to stop again.
Raikkonen became the first driver to survive an orienteering expedition around the first turn of Abbey, completely disregarding T2 and rejoining at the right hander of Farm.
Verstappen held P2 during his dry tyre switch-over stop, with Rosberg a few seconds behind, but starting to reel the Red Bull in as the track dried.
Troublesome Abbey
​The majority of the track was bone-dry with only T1 at Abbey wet. ​Rio Haryanto​ decided to emulate his teammate, but not scoring a point for Manor, but exiting the race at the corner, which he did on Lap 26. ​Fernando Alonso​ had a massive moment and spun his McLaren ​into the gravel, although he managed to get it going again on a day where the British squads' upward momentum somewhat stalled in a pointless afternoon.
Raikkonen repeated his trick again from earlier in the race, as Sainz and Perez saved themselves from spinning in similiar Alonso style circumstances. Hamilton was not immune from the carnege at Abbey, with a Raikkonen-esque trip his only mistake of the day, Verstappen could not capitalise on the lost 2.6 seconds, as he emuluated the Brit a few seconds later.
​Rosberg - Verstappen - round two
​As his medium tyres started to lose grip, Verstappen complained about ​"the blue flags are ridiculous" ​when lapping the Haas of ​Esteban Gutierrez, ​during which he had a moment of a damp patch of asphalt, this allowed Rosberg to close up and on lap 32 he moved to within DRS range of the RB12, reporting "​I'm struggling with the rear"​. A game of cat and mouse ensued with Rosberg needing many tries to get past, before he did so around the outisde of Stowe with 10 laps remaining.
Rosberg began to close the gap to Hamilton, but with a handful of laps remaining, he reported a gearbox issue over team radio, with the pit-wall telling him to go into "chassis default 01"​, and then when asked if he should avoid the troublesome seventh gear altogether, the banned message of "​affirm Nico, you need to shift through it". ​After issuing a "Zero-tolerance"​, approach to team orders, the FIA soon indicated he was under investigation.
Making their decision just before 18:30pm UK time, the stewards, including Nigel Mansell, decision to hand Rosberg a penalty not only has a major impact on the title race, but sets a precedent for the future.
No-one was quite sure what the penalty would be when the rules were announced, by now they know that 10s is at least the default penalty, they will think twice before issuing instructions.
After many laps of trying, the Ferrari of Raikkonen snuck up the inside of Perez and that held P5 until the end.
​​Vettel's off-day
​Starting P11, with his gearbox penalty, Vettel was pretty quiet throughout, with a surprsing spin on slicks, repeated by Bottas, just about summing up his race, before he was handed a 5s penalty for pushing Massa out wide at Farm, when attempting an overtake, evantually finishing P9.
​​​Two great British teams, McLaren and Williams had a British afternoon to forget with 0 points between them, and some dicy action, with Massa and Alonso getting close down the Wellington, before Alonso's aforementioned spin, he raced to P13, ahead of Bottas, but behind Jenson Button and Massa himself.​​​
​Five retirements
Starting his first ​British GP, ​Jolyon Palmer ​had a day to forget, when he left his pit-stop minus his right-rear, being handed a 10s Stop/Go penalty, before ​Renault ​retired his car due to a gearbox problem. Along with the two Manor's, the rebuilt Sauber of ​Marcus Ericsson, ​was forced to retire with an engine problem, and a transmission failure sealed the fate of ​Romain Grosjean ​at Stowe.
Conclusions
​​With Rosberg's fate at the hand of the stewards eventually decided, Hamilton in just the space of 125 points, has reduced a 43 point deficit to 1. After the start to the season he had, Hamilton now must surely be favourite to make it 4 world titles, although his demand for engines at the start of the season could yet come back to haunt him.
Ferrari need to sort their season out, and quickly. A season that promised so much, is in danger of evaporating before their eyes, with Red Bull seemingly jumping them as Mercedes closest challengers, although the Italian squad are still 5 points ahead in the constructors.
But the final word must go to the marmite of Lewis Hamilton, for some he will never be their cup of tea, but for others he is an idol. His record now stands at 3 World Titles, 47 wins, 55 poles, and over 2000 career points, the outright record, that is one of the most stellar F1 careers of them all, and heading into the ​Hungarian Grand Prix​, in a fortnight, a track where he holds the record for wins with ​Michael Schumacher​, it would take a brave man to bet against him becoming only one of 5 men to be a quadruple world champion.