"​A real threat."​ That is how Mercedes business chief ​Toto Wolff ​described ​Red Bull Racing ​to his squad ahead of the ​Hungarian Grand Prix ​from the ​Hungaroring​ on Sunday afternoon.
For it was in Monaco just five races ago where the world champions were so nearly toppled on pure pace, only winning due to the pit-stop error from the Milton Keynes-based team. Famously once described as "​Monaco without the houses,"​ the Hungoraring will play to Red Bull's strengths and they head into the race as slight favourites.
Things are starting to get tasty intra-team at Mercedes after Nico Rosberg's ​team radio transgressions at Silverstone, and the resultant penalty means his lead in the championship is just one point. At a track where he has never finished higher than fourth, and one where ​Lewis Hamilton​ has won four times, a change in lead is certainly not out of the question.
As the battle between the Mercs hots up, it is Red Bull who are currently best placed to take advantage having jumped Ferrari, if indeed they can keep a head on the burgeoning rivalry of ​Daniel Ricciardo and Max Verstappen.
The Ferrari ​challenge continues to slide, with reports suggesting that they have made contact with former guru ​Ross Brawn about a return to Maranello​, although he is reluctant to get back involved. The track outside of Budapest is one that Kimi Raikkonen​ loves and it could be he who springs a surprise result.
Williams, ​after a below par last two races, could again struggle as their philosophy of low-drag cars doesn't suit the layout. ​Force India ​will be looking forward to the tight, twisty configuration, as should ​McLaren.
​What happened last year?
​​On an off-day for the Mercedes duo, ​Sebastian Vettel ​and Raikkonen got a jump at the start on the Mercedes and comfortably led, with Hamilton going for gravel trip on the opening lap, dropping down to tenth.After many duels for position, the opening pit-stops started on lap 14, after which Vettel led Raikkonen by 2.7 seconds, and Rosberg seven seconds back.
On lap 19, Pastor Maldonado​ picked up the first of three separate penalties after tipping Sergio Perez ​into a spin. Matching Hamilton, who was way down the field, Rosberg opted for the slower, medium tyre, not optimising his own chances when he pitted for the second time.
A lap 43 safety car to clear up ​Nico Hulkenberg's ​wreck ended six laps later and immediately Hamilton understeered into Ricciardo, handing himself a drive-through and a nose change. With just seven laps remaining, 1.5 seconds separated the top three of Vettel-Rosberg-Ricciardo before a T1 lunge from the Australian handed Rosberg a puncture and himself a broken front wing.
Vettel went on to win ahead of ​Danill Kvyat ​and Ricciardo, with Verstappen claiming fourth - at the time a career best - ahead of ​Fernando Alonso's McLaren. ​The two Mercedes came home in sixth and eighth, with Hamilton narrowly extending his lead in the championship.
Where am I going to see some overtakes?
​​Turn one is the optimum overtaking opportunity, with late braking lunges not too uncommon with the DRS zones being down the pit-straight and down to turn two.
The complex of turns two and three means that the outside of two is the inside of three, so expect some drivers toughing it out around the outside for position later on.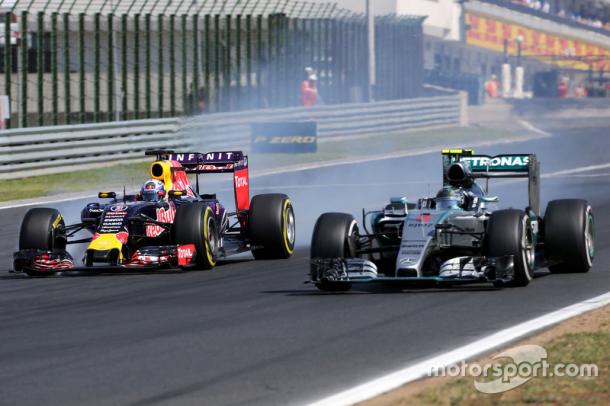 ​What tyres are Pirelli bringing?
​Pirelli have opted for the second softest range they have available, with the SuperSofts the softest compound and the Medium the hardest, with the Soft also available.
The Intermediates and Wets could once again make an appearance over the weekend.
​​Will it rain?
​Friday practice should be run in typical Budapest conditions; hot and sticky, although this should cool for Saturday with rain expected once again, continuing F1's recent affection for bad weather.
There is a possibility of it remaining for Sunday's 70 lap race.
​​​​What is the schedule?
​The timings of sessions run to the familiar European race schedule, with FP1 underway at 9am UK time, with Qualifying and the Race underway at 1pm on their respective days.
​​First Practice - 9am - 10:30am - Friday
Second Practice - 1pm - 2:30pm - Friday
Third Practice - 10am - 11am - Saturday
Qualifying - 1pm - 2pm - Saturday
Race - lights out is 1pm on Sunday afternoon.
All times in BST.