​Nico Rosberg on Thursday evening in Hungary signed a new two-year contract extension with his Mercedes team, ensuring his stay at the Brackley based team will at least run to nine seasons having joined the Formula 1 project back in 2010 alongside ​Michael Schumacher.​​
​The news also confirms that Rosberg and Lewis Hamilton​, who trails the German by a single point on the leaderboard heading into the weekend, will remain as teammates for a fifth and sixth season. Hamilton himself signed a new three year contract at the 2015 Monaco Grand Prix. This is following the threats of ​Toto Wolff​ that one of the two could be replaced, if they repeat their antics from Spain or Austria again.
​Wolff delighted
​"​We are happy, obviously," ​Wolff told Mercedes. The contract comes at the end of "​a couple weeks of discussions"​ which were handled by family friend and former F1 driver ​Gerhard Berger. ​The reasoning behind this was to enable Rosberg to concentrate fully on his ongoing bid to claim his first drivers crown, thus finally beating Hamilton.
Wolff added: "​Nico is the real deal and having made the signature is what matters for us."
​​It is clear that either Rosberg or Hamilton will claim the title this season, with the team on track to secure another title double. Now both drivers have their long-term futures secure, the fight out front could get tasty, not least this weekend with ​Red Bull ​predicted to possess "a real threat"​ to Mercedes domination, Wolff believes.
The team having won 41 of the 48 grand prix since the inception of the turbo Hybrid formula at the start of 2014.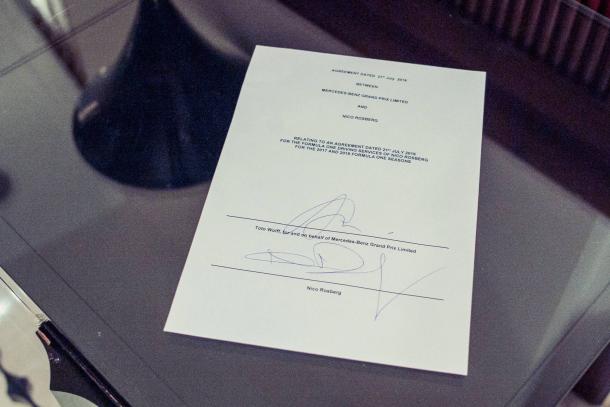 Rosberg's career so far
​​Having signed for the return of the Silver Arrows to the pinnacle of motorsport in 2010, Rosberg outshone legendary teammate Schumacher, scoring three podiums in 2010. 2011 was a struggle, as was the latter half of 2012. Although in that year's ​Chinese Grand Prix​, Rosberg claimed an emotional first win, followed up by the start of an impressive record at Monaco in recent years by claiming the runner-up spot to Mark Webber .
2013 saw the first win at Monaco for Rosberg, followed by a third race win at Silverstone in the season that he was first joined by ​McLaren ​exitee Hamilton. Together they scored 360 points and finished second in the constructors.
Four of the first nine grand prix fell to Rosberg in 2014, ensuring a close title battle with Hamilton, but after the now infamous collision at Spa, Rosberg only won once again that season, in Brazil, whilst Hamilton eased to a second title.
2015 was Hamilton's year again, with Rosberg routinely not being able to match what the Brit was able to do. He eventually won six races, including Monaco for the third consecutive season, on his way to securing yet another second placed finished in the championship.
However, for 2016, Rosberg's 43 point lead after Spain has been whittled down to just a single solitary point. Although that might not be good for Wolff or Mercedes, it is for the Formula 1 fan.