Lewis Hamilton​ laid down a marker in the opening practice session for the Hungarian Grand Prix this weekend by heading a ​Mercedes ​1-2 in Budapest, in a session where the Formula One world champions were in a class of two.
Hamilton's fastest lap, on SuperSoft tyres was a 1:21.347, which was 0.237 faster than his recently reemployed teammate Nico Rosberg​ could manage in his W07. It was Ferrari ​and ​Sebastian Vettel ​who claimed best of the rest, 1.4s down on Rosberg's best effort. The Italian team beat ​Red Bull ​in the timing screens, although the best Vettel and Kimi Raikkonen​ could manage was on the SuperSoft whilst Red Bull used the slower Soft tyre in the opening 90 minutes of practice.
Daniel Ricciardo edged out teammate ​Max Verstappen to take fifth, whilst ​McLaren ​had a promising monring, on a track that should suit their "​performance envelope", to quote ​team ​Racing Director ​​Eric Boullier. ​Fernando Alonso took bragging rights at ​Woking ahead of ​Jenson Button. The Noah's Ark feel to things was interupted by ​Haas driver ​Romain Grosjean in P9, whilst ​Sergio Perez rounded out the top 10 in his Force India.
​Damp start and spins
​Overnight rain led to the session getting underway with drivers on the green marked Intermediate tyre, with caution the order of the first 20 minutes. In fact it was Williams racer Valtteri Bottas​ who completed the first timed lap, some 23 minutes into FP1. Raikkonen took P1, although it was short and sweet as Hamilton relieved him of it, just seconds later.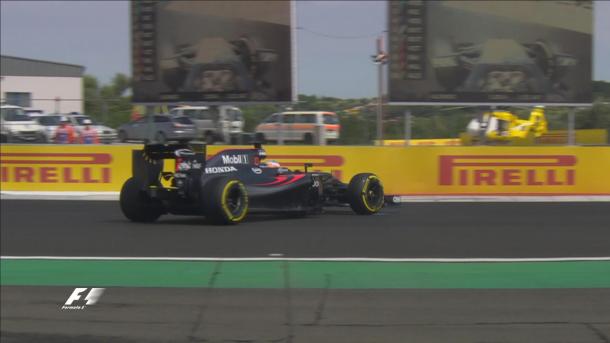 ​​Interestingly, the Brit's opening gambit was just one second slower than the fastest time in the same session 12 months ago, set by Hamilton himself. This was due to a mixture of car evolution, tyre performance and the fact that a freshly laid surface was repsonding, despite the still dampish conditions. Rosberg quickly went one better than Hamilton, lowering the fastest time from the same session last year by just over 1s.
With just over 30 minutes of the session left on the clock, the two Mercedes switched to the fastest SuperSoft tyre, going for runs to see what their pace on it would be like. The result was devastating. Rosberg's 1:21.584, incredibly was 0.5s faster than the 2015 Pole Position time, set by Hamilton, whose response was the low 1:21 he set to top the session.
​​Haas Friday driver, ​Charles LeClerc ​was caught out in the somewhat trickly conditions, with a spin at T6, something that will only help the young Monagasque driver to improve. He was however in good company, with World Champions Vettel, Alonso and Button all feeling sympathetic and joining him in spinning harmlessly on all ocassions. Problems for ​Pascal Wehrlein and Jolyon Palmer ​prevented any meaningful running for the ​Manor and Renault ​drivers respectivly.
​Hungarian Grand Prix - First Practice times
​​1. Lewis Hamilton - Mercedes - 1:21.347
2. Nico Rosberg - Mercedes - 1:21.584
3. Sebastian Vettel - Ferrari - 1:22.991
4. Kimi Raikkonen - Ferari - 1:23.082
5. Daniel Ricciardo - Red Bull - 1:23.174
6. Max Verstappen - Red Bull - 1:23.457
7. Fernando Alonso - McLaren - 1:23.935
8. Jenson Button - McLaren - 1:23.961
9. Romain Grosjean - Haas - 1:24.013
10. Sergio Perez - Force India - 1:24.073
11. ​Nico Hulkenberg ​- Force India - 1:24.120
12. Felipe Massa ​- Williams - 1:24.154
13. Valtteri Bottas - Williams - 1:24.370
14. ​Carlos Sainz Jr - Toro Rosso - ​1:24.579
15. ​Marcus Ericsson - Sauber - ​1:24.981
16. Charles LeClerc - Haas - 1:25.181
17. ​Felipe Nasr ​- Sauber - 1:25.256
18. ​Esteban Ocon - R​enault - ​1:25.260
19. Danill Kvyat - ​Toro Rosso - 1:25.324
20. ​Rio Haryanto - ​Manor - ​1:27.012
21. Pascal Wehrlein - ​Manor - 1:27.249
22. ​Jolyon Palmer - ​Renault - 1:28.560​