Nico Rosberg managed to produce the fastest lap of the rain-hit qualifying session even under double-waved yellow flags, which wrecked Lewis Hamilton's lap time but not his own. The yellow flags appeared in the final moments of the final session when Fernando Alonso spun on the drying track as thunderstorms had hit the Hungaroring circuit early on. The result leaves the Mercedes drivers locking out the front row again, but sets up the championship duel between the two drivers nicely as only a single point separates them from becoming world champion.
Weather interrupted Q1 a number of times
The tumultuous weather wrecked havoc on the drivers as proceedings were suspended for 20 minutes due to the treacherous rain that lashed down on the circuit and the fans that were forced to brave the storms. When qualifying finally kicked off Q1 saw the red flags temporarily halt the session four times as wet patches on a drying circuit caught many of the drivers out.
The first driver off was Marcus Ericsson at turn 10. He was followed by Felipe Massa who went off at the same part he suffered a horrific incident in 2009 whereby a lose spring from a fellow racer rendered Massa unconscious. This time however, Massa ran onto the white lines and he aquaplaned into the barriers. The final car off was Rio Haryanto in the Manor who followed Ericsson's earlier path to the barriers and also spun off at Turn 10. This red flag occurred with just over a minute left and managed to bring Q1 to an early end despite the 18 minute session lasting over an hour.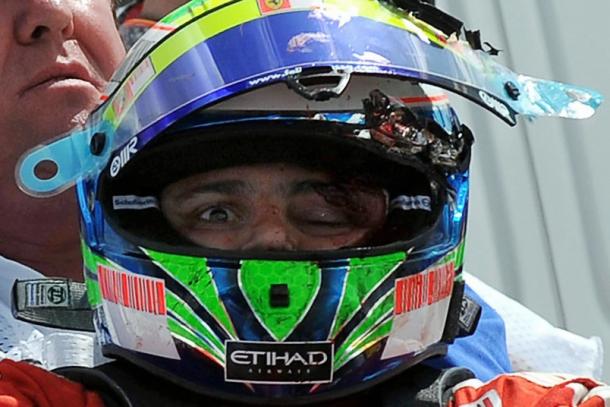 Despite there being the same familiar faces out of Q1, Q2 saw the real surprises as constantly evolving track conditions caught out Ferrari driver Kimi Raikkonen and Force India's Sergio Perez; who both shared high hopes on getting some points this weekend. Raikkonen's lap appeared good enough but he tumbled down the order from first to fourteenth – demonstrating how much quicker the drying track had become.
Rosberg only one to beat 1.20.000
Times tumbled further as Rosberg became the only driver to break the 1.20.000 barrier right at the death. The two Red Bull's of Daniel Ricciardo and Max Verstappen were also left ruing Alonso's spin but will still line up third and fourth. Expect both drivers to pounce on the Mercedes drivers into turn 1 tomorrow.
It was at last some good news for McLaren Honda as they managed to get both their drivers into the top 10 for the first time in three years. They line up seventh and eight behind Sebastian Vettel and Carlos Sainz Jr, who will be looking to secure his best even Formula 1 finish if he maintains or improves on his sixth place.