Nico Rosberg started his home Grand Prix weekend by topping the opening practice session on Formula One's return to Germany.
A 1:15.517, set halfway through the session on the fastest SuperSoft tyres remained unbeaten throughout the rest of the opening 90 minutes, with Mercedes teammate and championship leader Lewis Hamilton 0.326 back in P2.
It was yet more Mercedes domination, where in a rather quiet session, the Silver Arrows fastest time, was 1.1s faster than the rest could manage, Sebastian Vettel in his Ferrari.
The rest of the top 10 had a Noah's Ark feel to things, with Vettel's teammate Kimi Raikkonen, the Red Bulls of Verstappen and Ricciardo, the McLaren's of birthday boy Alonso and Button and the Toro Rosso's of Danill Kvyat, who started the weekend well by heading Carlos Sainz.
It was typical German weather for the opening session, with cloudy, but warm conditions as drivers headed out onto German asphalt for the first time since 2014.
After some initial lack of times, around 20 minutes in, a rush of laps demoted Alonso from P1, with Hamilton, Raikkonen and Ricciardo all set the quickest laps, before Rosberg got involved.
Things quietened down when Rosberg set a 1:17.627, on the SuperSoft tyre. Unlike Ferrari, both the Mercedes' drivers were out on the SuperSoft.
​Two spins the highlights
The most eventful moment of the session came down at the hairpin, when Williams driver Valtteri Bottas spun before getting underway.
Most of the action has come off track so far, with the Strategy Group making many a decision. Not only is the Halo not due for introduction until 2018 at the earliest, but the meeting in Geneva also rolled back the unpopular radio restrictions, meaning that teams can now tell their drivers whatever they want. The only exception is on the Formation Lap, where performance related messages are still banned.
Shortly after a lull, Hamilton emerged and in Sector 1 was 0.2 down on the sister Mercedes, before his ultimate best of 0.3 down.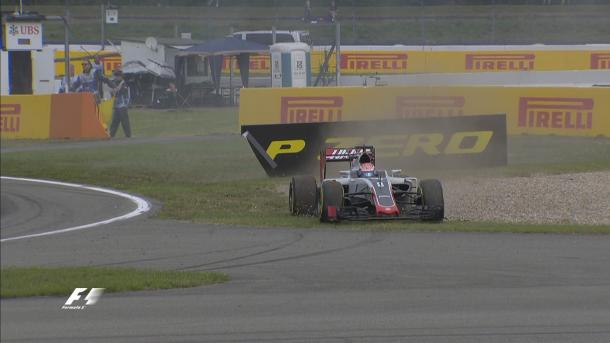 Romain Grosjean had a scrappy session, abandoning two laps due to dawdling Ferrari's in the stadium section, exclaiming "the guy (Raikkonen) f****d the previous lap and this". To end his 11th FP1 at T8, Grosjean destroyed a Pirelli sign after a spin at T8.
German Grand Prix – First Practice times:
1. Nico Rosberg – Mercedes – 1:15.517
2. Lewis Hamilton – Mercedes - +0.326
3. Sebastian Vettel – Ferrari - +1.150
4. Kimi Raikkonen – Ferrari +1.335
5. Max Verstappen – Red Bull +1.410
6. Daniel Ricciardo – Red Bull +1.572
7. Fernando Alonso – McLaren +1.666
8. Jenson Button – McLaren +2.095
9. Danill Kvyat – Toro Rosso +2.491
10. Carlos Sainz Jr – Toro Rosso +2.527
11. Marcus Ericsson – Sauber +2.681
12. Valtteri Bottas – Williams + 2.693
13. Felipe Massa – Williams +2.805
14. Romain Grosjean – Haas +3.072
15. Nico Hulkenberg – Force India +3.074
16. Sergio Perez – Force India +3.111
17. Charles LeClerc – Haas +3.365
18. Kevin Magnussen – Renault +3.416
19. Felipe Nasr – Sauber +3.444
20. Esteban Ocon – Renault +3.464
21. Rio Haryanto – Manor +3.650
22. Pascal Wehrlein – Manor +4.458