Continuing his form from the morning practice session of the German Grand Prix, Nico Rosberg topped second practice to underline the performance advantage he has over teammate Lewis Hamilton.
Rosberg's fastest lap of the second 90-minute session was a 1:15.614, the only lap to dip under the 1:16 barrier as Hamilton could only manage a 1:16.008, some 0.394 down, which was about the gap on Friday morning.
Continuity was delivered by Sebastian Vettel who once again placed his Ferrari in third, whist the Red Bulls of Verstappen and Ricciardo were the meat in a red sandwich with ​Raikkonen in P6.
The top 10 was rounded out by the two Force India's of Hulkenberg (P7) and Perez (P9), and the McLaren duo of Button and Alonso P8 and P10 respectively.
FP2 and track limits (again)
At the start of the session, the Mercedes duo traded fastest laps, with Hamilton winning that particular mini-battle with a low 1:17. However, matters soon shifted to action off-track – quite literally.
During the lunch break between FP1 and FP2, FIA Race Director Charlie Whiting issued a statement that made clear that "during P1, many drivers appeared to make little or no effort to stay on the track at Turn 1". Turn 1 is a fast right hander, where it is easy to drift out wide and possibly gain an advantage. Whiting went onto say that one unnamed driver went wide at T1, 14 times.
He then declared that "for P2 and P3, any driver who is judged to have left the track three times at T1" will be reported to the stewards, the same as at T4 and T11 as in Hungary last time out.
Raikkonen was warned by his race engineer, Dave Greenwood that "they are going to be more strict with track limits".
As the session switched to low-fuel runs on the SuperSoft tyre, Nico Hulkenberg put his Force India fastest with a 1:16.781, at about the same time teammate Perez was getting air after running wide at T1. Raikkonen soon bettered the German's time, which in turn Ricciardo returned the favour to the Finn.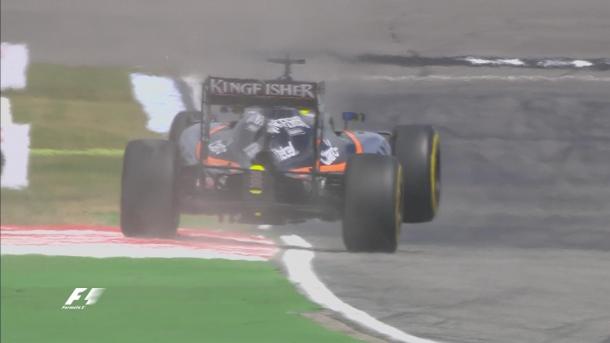 That was until the Mercedes' appeared. Rosberg's opening effort turned out to be the quickest of the session, and Hamilton lost time in the Arena section around T8. The inter-Red Bull battle continued to hot up as Verstappen bettered Ricciardo's time.
Ferrari close in
Looking at the Mercedes advantage of nearly one second in FP1, many believed that the race would be a Mercedes walk-over. However, in FP2, Vettel hauled his Ferrari to a best time of 1:16.208, exactly 0.200 down on Hamilton's time. The Ferrari is enjoying the long straights, at a track both drivers are comfortable with.
Rosberg's average race pace simulations on the SuperSoft were in the low 1:20's, although a direct comparison with the Ferrari is not possible as Vettel hit traffic during his run.
Fernando Alonso's recent affection for P7 finally came to an end, as he finished in P10 to cement a solid birthday for him and the team. However, Williams had a typical Friday for them, with Bottas and Massa in the lower half of the timing screens. When they turn up their Mercedes PU tomorrow, the McLaren's might struggle to make it both through to Q3, but the pace is solid nonetheless.
A note of concern for the team is that Jenson Button not only reported a "hot car" over radio, but was taken to the Medical Centre, and then local hospital with what the team describe as a "Eye Irritation".
Contrast for Kvyat and Grosjean
Danill Kvyat finally had a good day since his harsh demotion to Toro Rosso prior to May's Spanish Grand Prix. Despite finishing 0.025 down on Carlos Sainz in FP2, he headed the Spaniard in FP1. There are reports in Russia, that Dr Helmet Marko has decided to drop Kvyat from the Red Bull programme at the end of the season in favour of GP2 championship leader ​Pierre Gasly.
Kvyat has said that he will not pay attention to rumours, but needs to start scoring points regularly, having scored just two since the demotion.
Romain Grosjean had a tough FP2, begging his Haas mechanics "I don't know what to do, nothing is working" when talking about the brake balance of his car, rugged day ended with him in P14, as ​Felipe Nasr in the Sauber finished P22 – and last.
German Grand Prix – Second Practice times
1. Nico Rosberg – Mercedes – 1:15.614
2. Lewis Hamilton – Mercedes +0.394
3. Sebastian Vettel – Ferrari +0.594
4. Max Verstappen – Red Bull +0.842
5. Daniel Ricciardo – Red Bull +0.876
6. Kimi Raikkonen – Ferrari +0.898
7. Nico Hulkenberg – Force India +1.167
8. Jenson Button – McLaren +1.473
9. Sergio Perez – Force India +1.534
10. Fernando Alonso – McLaren +1.611
11. Carlos Sainz Jr – Toro Rosso +1.728
12. Danill Kvyat – Toro Rosso +1.753
13. Valtteri Bottas – Williams +1.811
14. Romain Grosjean – Haas +1.988
15. Felipe Massa – Williams +2.072
16. Esteban Gutierrez – Haas +2.391
17. Kevin Magnussen – Renault +2.442
18. Marcus Ericsson – Sauber +2.516
19. Pascal Wehrlein – Manor +2.579
20. Jolyon Palmer – Renault +2.699
21. Rio Haryanto – Manor +2.977
22. Felipe Nasr – Sauber +3.681