Having topped, first practice, second practice and third practice, Nico Rosberg secured pole position for the German Grand Prix, to continue his domination of Formula One's return to his adopted home country.
As in practice, Rosberg had the measure of teammate Lewis Hamilton, securing Pole by just over a tenth of a second. That was after he had to abort the first flying lap in Q3, with an "electrical error" on his Mercedes car. Carrying two laps more fuel than Hamilton, Rosberg's 1:14.363 was 0.123 faster than the sister W07 could manage.
Following on from China, Russia, Europe, and last time in Hungary, Rosberg claimed his fifth pole of the season, exactly 30 years after father, Keke, secured pole at Hockenheim. Mercedes boss Paddy Lowe described Rosberg's effort as "a fantastic lap in the circumstances".
Daniel Ricciardo beat teammate Max Verstappen to secure a Red Bull second row, something Ferrari did on the third, with Raikkonen out-qualifying Vettel by 0.2.
The rest of the top 10 was the Force India's of Hulkenberg (P8) - with a one place grid penalty, Perez (P9) and their rivals for fourth in the constructors Williams, P7 for Bottas and Massa tenth.
Pressure on Kvyat grows in Q1
In Q1, the usual suspects of both Manor's and Sauber's were eliminated, with Pascal Wehrlein seemingly the most likely to make it through on a track he raced at in DTM. Teammate Haryanto, who could be replaced by Stoffel Vandoorne if sponsorship doesn't come through was P20. Sauber, under new ownership continued a bad weekend by completing the back row.
Danill Kvyat, the young Russian, harshly demoted to Toro Rosso to make way for Max Verstappen at Red Bull prior to May's Spanish Grand Prix, continued his torrid run of form. Having been out-qualified at all but two races since, and scoring just two points, Kvyat's future is grim, especially as Pierre Gasly has found his feet in GP2.
When he was informed that Sainz was P12, the Russian who had qualified P19 exclaimed: "Unbelievable, what the f**k is going on?"
Kevin Magnussen failed to make it through to Q2, whilst Jolyon Palmer did for the first time since Australia, continuing his recent improvement in form, as rumours grow that Esteban Ocon will replace him for 2017.
Hamilton set the pace up front, 0.242 clear of Rosberg.
Haas 11th – again
Mercedes were first out in Q2, quickly setting times good enough for a single run to get through, Hamilton won this mini battle, by just 0.091 with a 1:14.748 lap of Hockenheim.
Q2 is when the World Champions usually turn their engine up for the first time, and Verstappen was left trailing by 0.4.
The final spot in Q3 came to a Mexican duel between Perez and Esteban Gutierrez in the Haas, who at the start of Qualifying were yet to get a driver in Q3 this season. That run continued, as Perez just edged Gutierrez out in the closing stages. Once again, the latter will start P11, something of a reoccurring joke according to Team Principal Gunther Steiner.
Jenson Button, qualified his McLaren P12, again, whilst teammate Fernando Alonso was in P14, however, in the stadium section he complained that "one of the Ferrari's" was in his way, ironic seeing as Hockenheim was the location of the infamous "Fernando is faster than you" message sent to Massa in 2010 when both were at Ferrari. Vettel was the culprit.
After the session, Carlos Sainz was demoted three places on the grid for impeding Massa, at T2 whilst the Brazilian was on a fast lap. Romain Grosjean qualified P15, but drops to P20 with a gearbox penalty.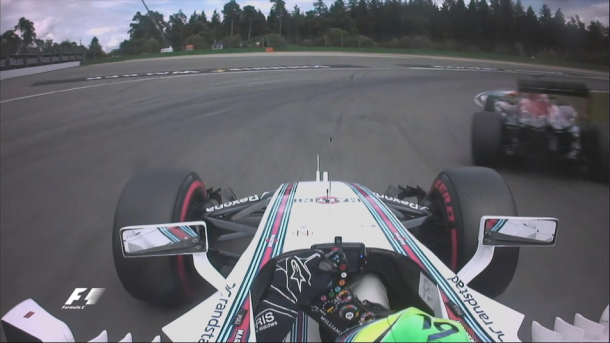 Scare for Rosberg, lock-up for Hamilton
Q3 was dominated by two events which affected the Mercedes duo.
On the first runs, there was literally nothing between the two through the first two sectors, but entering the final two turns, Rosberg abandoned his fast lap. The team later made it known that an electrical fault was the cause, but he would be fine for the second run.
Hamilton, predictably claimed provisional pole, 0.6 ahead of Verstappen, before Ricciardo smashed that by going just 0.2 down on the Mercedes. Raikkonen was ahead of Vettel at this point.
On second runs, Rosberg went out when only Massa was out on track and put in the 1:14.363 that was good enough for pole. Hamilton was up in S1, but down at the T6 hairpin, a lock-up cost him about two tenths, he down 0.114 in S2 and was eventually 0.123 short at the line, allowing Rosberg to claim Pole.
Ricciardo asserted his authority at Red Bull, putting Verstappen in his place, by just a tenth of a second, ahead the Ferrari's, Force India's and Williams'. After the session, Nico Hulkenberg was demoted one place on the grid, as a result of a set of tyres his Force India team had 'Electronically returned' to Pirelli at the end of final practice, something not allowed under rule 24.4e of the FIA Sporting Regulations.
German Grand Prix -The Grid
1. Nico Rosberg – Mercedes
2. Lewis Hamilton – Mercedes
3. Daniel Ricciardo – Red Bull
4. Max Verstappen – Red Bull
5. Kimi Raikkonen – Ferrari
6. Sebastian Vettel – Ferrari
7. Valtteri Bottas – Williams
8. Nico Hulkenberg – Force India*
9. Sergio Perez – Force India
10. Felipe Massa – Williams
11. Esteban Gutierrez – Haas
12. Jenson Button – McLaren
13. Fernando Alonso – McLaren
14. Jolyon Palmer – Renault
15. Kevin Magnussen – Renault
16. Carlos Sainz Jr - Toro Rosso**
17. Pascal Wehrlein – Manor
18. Danill Kvyat – Toro Rosso
19. Rio Haryanto – Manor
20. Romain Grosjean – Haas ***
21. Felipe Nasr – Sauber
22. Marcus Ericsson – Sauber
*Hulkenberg's one place grid penalty for a tyre infrigement in Q1 applied.
**Sainz's three place grid penalty for impeding Massa in Q2 applied.
*** Grosjean's five place grid penalty for a gearbox change applied.