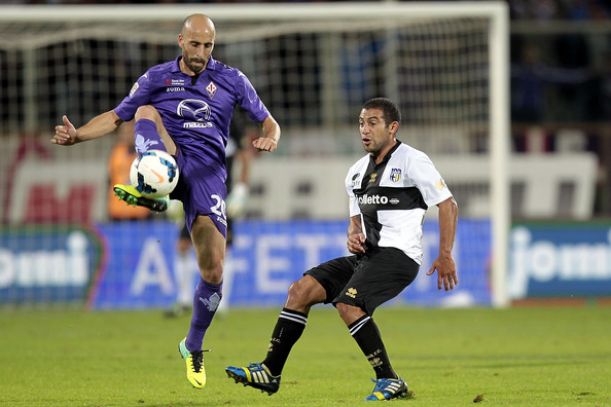 Fiorentina host Juventus in one of a number of tantalising fixtures in Serie A this week. Both sides will be eager to claim the spoils considering the fine early season form of their rivals and the history behind this match, which will no doubt add a tinge of spice to proceedings.
With Napoli facing table toppers Roma at the Olimpico, Juventus will know that there is every possibility that either one might drop points thus giving them a chance to either cut Roma's imperious lead or pull away from Napoli. Meanwhile, Fiorentina could see themselves putting more distance between them and fellow Champions League hopefuls Milan, with the latter facing a buoyant Udinese without the talismanic Mario Balotelli.
Despite their relatively good form this season however, past results don't favour Fiorentina. La Viola haven't scored against Juventus at the Artemio Franchi in 398 minutes. Even more ominous is the fact that Fiorentina haven't beaten i gobbi at home since the 1998/99 season when Gabriel Batistuta scored the only goal of the match, statistics that Montella will want to correct.
For Antonio Conte, the Artemio Franchi has brought mixed results. In his first season in charge, Juventus demolished Fiorentina 5 nil, a result which was to prove the catalyst in his side's title march. Last season, however, Fiorentina very nearly put Juventus to the sword. Montella's men dominated from start to finish and should've ended Juve's unbeaten record before it was finally broken by Inter.
Both sides come into the game in relatively good form, but neither look as commanding as Roma or Napoli, the top two sides in the standings. Fiorentina have looked vulnerable at the back and appear to be suffering from defensive lapses. Juventus too are in a seemingly similar predicament, with Italy's best defense of the last two seasons looking uncharacteristically fragile.
Expected line-ups
Fiorentina (4-3-3): Neto, Tomovic, Gonzalo, Savic, Pasqual, Ambrosini, Aquilani, Pizarro, Borja Valero, Cuadrado, Rossi
Juventus (3-5-2): Buffon, Barzagli, Bonucci, Chiellini, Isla, Marchisio, Pogba, Pirlo, Peluso, Tevez, Giovinco
Prediction: Fiorentina, unlike most of Juventus' opponents so far this season, will look to take the initiative. They're unlikely to defend deep as they don't look comfortable doing so. This could open up space for Juve to exploit, particularly through Pirlo and Bonucci's passing range and vision, but I have a sneaky feeling Fiorentina could come away with all three points.