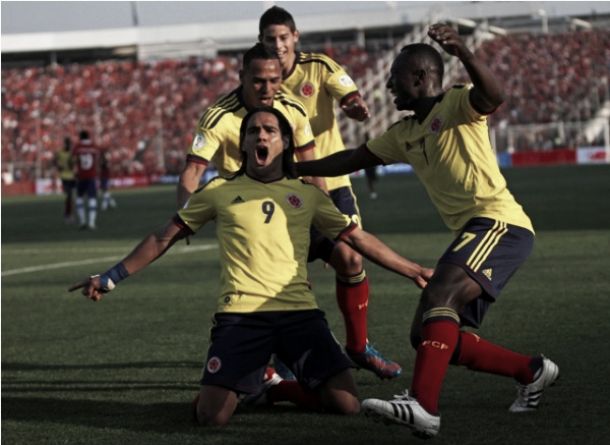 Colombia have a somewhat small World Cup history. The South American side have been eclipsed by Brazil and Argentina in their continent. The Tricolour did experience something similar to a renaissance period in the magical 1990's. While Maradona graced the World with his pure skill and entertaining arrogance the Colombians took the beautiful game by the scruff of the neck and qualified for the trio of World Cups held in Italy, the USA and France.
In 2013 the World Cup in Brazil seemed to be Colombia's chance to shine, they were labelled the dark horses as Rademel Falcao tore La Liga apart before traveling to money loaded Monaco. James Rodriguez showed his quality and he also moved to France and Monaco. However, the optimism and hope for a country which has a turbulent World Cup history slowly dispersed as news of a serious injury to Falcao reverberated around the footballing world in January. His loss has been softened with Adrian Ramos' shock brilliance in the Bundesliga. The 28-year-old has had a stunning season for newly promoted Hertha Berlin, scoring 16 times and earning a move to 2013 Champions League finalists, Borussia Dortmund. Meanwhile, Carlos Bacca has impressed in the Bundesliga, scoring 14 times and Jackson Martinez has lit the Portuguese league up, as Porto's talisman.
Colombia are currently ranked 5th in the FIFA rankings and many expect them to return to the World Cup following a 14 year absence with a bang.
Goalkeepers
Despite a lack of big name keepers like seen in Spain, Germany or Belgium's squad Colombia remain well covered in the goalkeeping department.
Most likely to start between the sticks for Los Cafeteros is David Ospina of French outfit, Nice. The number one for Jose Pekerman's side has made 42 caps for his national side. It is unlikely he will be able to reach the heights of the up and coming keepers like Thibaut Courtois, David De Gea and Marc Andre Ter Stegen who will follow the legends that are Gianluigi Buffon and Iker Casillas. However, the 26-year-old has impressed at Nice and showed how much he has developed since he took over as number one at Nice in Colombia's journey to the World Cup.
David Ospina has enjoyed a great few seasons in France.
He kept 13 clean sheets in 29 games in Ligue 1 this season. He isn't the tallest in today's game, standing at just 6ft, but despite the lack of height he can take in a cross without struggle, claiming the ball easily at most corners. Similar to most of South America's footballers, he has the ability to play the ball out of the back extremely well, suiting him to Colombia's style better than any other of their keepers.
The other two keepers in Jose Pekerman's 30-man provisional squad are Faryd Mondragon, whose last name means 'my dragon' in French, of Deportivo Cali and Camilo Vargas of Santa Fe. Mondragon is somewhat a legend in Colombia, much like his name suggests. He will be 43 during the group stage of the World Cup and has made 54 caps for Colombia. He plays for Deportivo Cali, his local team as a child and his first ever senior team. He is the last active member of the 1990's side that reached three World Cup's in a row. Some may assume it is sentimental bringing him on the short journey South to Brazil, but in reality the legend is still one of the top keepers in Colombia's first division and has all the experience required to help the younger players brought in recently by Jose Pekerman.
Trailing at the back, but bursting with pride nonetheless, will be Camilo Vargas of Santa Fe. Unlike Mondragon, he is far from a legend. He has never made an appearance for Colombia and with the future and the legend in front of him, it is unlikely we will see him start in Brazil.
Defenders
Since his appointment in 2012, Jose Pekerman has moulded a squad full of high profile attacking prowess into a starting XI with an approach similar to that of the attacking quartet of Hungary in the 1950's. However, he has problems in his defence. Colombia are by no means strong in an area which may have to come up against that of Luis Suarez and co. of Uruguay in the Round of 16, should things go as currently foreseen.
The attention of the Premier League's fans will fall on Pablo Armero of West Ham who has become a key figure in Colombia's side. The left-back hasn't set England's top division on fire but is almost certain to play in Colombia's first group match against Greece on June 14th. Unlike their South American neighbours, Chile, Colombia play with four at the back. On the opposite side of Armero, it is hard to see anyone but Napoli's Camilo Zúñiga starting throughout the tournament.
Pablo Armero
In the centre we are unlikely to see more than one pair, with AC Milan's Cristian Zapata and Atalanta's Mario Yepes the preferred two. Zapata is consistently average. He is strong in the air but nothing special and won't struggle to deal with aerial teams like Greece. He has failed to make an impression on Milan's new manager and legend, Clarence Seedorf and if anyone is to make a mistake in Brazil, it will be him and his partner at the back, Mario Yepes.
Yepes is well remembered for his role at Paris Saint-Germain where he was nicknamed 'Super Mario', for his brilliant defending and brilliant fitness levels. Following a move to Chievo from France, he moved to AC Milan, where he was quickly put on the bench due to the arrival of Thiago Silva, now captain for Brazil and PSG. He now remains in Italy but playing for Atalanta, who finished 11th in Serie A. The 38-year-old is well known for last ditch clearances, but should he come up against Luis Suarez in the round of 16, he may be slightly shocked.
Colombia lack depth in defence, behind Pekerman's starting back four lie those playing for lesser clubs in Europe. Aquivaldo Mosquera of América de México, Carlos Valdes of San Lorenzo and Amaranto Perea of Cruz Azul have all been named in Pekerman's 30 man provisional squad. Further down the squad list in defence lie Eder Álvarez Balanta who plays for River Plate and Santiago Arias of PSV Eindhoven. Should any of Pekerman's first choices suffer from an injury prior to the World Cup, Colombia's brilliant attack are going to need to do even better than already expected if they want to start a bright new future of good World Cup runs.
Colombia's best ever World Cup finish was reaching the round of 16 in 1990.
Midfielders
Pele has spoken highly of Colombia's style of football and is predicting a good run for them after 16 years of World Cup absence; the man widely regarded as the greatest player ever said: "Colombia has always played very nice football, technical. They should be in the final four," Part of the reason Colombia play such attractive, fast, flowing football is due to their midfield.
"Colombia has always played very nice football, technical. They should be in the final four," - Pele
On the left hand side, behind the strikers, is Fiorentina's star winger, Juan Guillermo Cuadrado. The 25-year-old has been linked with Barcelona, Manchester United, Liverpool and other high profile clubs in recent weeks but the most likely destination for him is Serie A Champions, Juventus. He's netted 11 times in the Serie A this season, assisting 4 times. His stats aren't the most impressive but his contribution in the build up to goals is as important as scoring himself. Fiorentina will play in the Europa League following a successful season where Cuadrado was one of the key players in their side. He has brilliant dribbling ability but struggles in the air. His defensive contribution is also weak which is dangerous for Colombia, with a less than impressive back four. He does however pose a huge attacking threat, hence the interest from Europe's top clubs.
On the other flank, a player who needs much less explaining will certainly be playing. His name is James Rodriguez, he moved from Porto to Monaco last summer and has built on what was an incredible 2012/13 season for him. He has been the star of Ligue 1 and the cog of Colombia's national side for over a year now. Instead of a rusty, old, boring cog though, he is the cog with such flair only seen in the best players on the planet.
James Rodriguez celebrates with fellow Monaco and
Colombia team-mate, Radamel Falcao
He is regarded as one of the most promising young midfielders in the World and there is no doubt that without him, Falcao's brilliance for both Colombia and Monaco would be far lesser.
With Jose Pekerman favouring the traditional attacking 4-4-2, the midfield two will consist of two very experienced internationals. Fredy Guarin of Inter Milan and Abel Aguilar of Toulouse have a combined total of 95 caps for Colombia and never fail to impress on the international stage. The two have played with each other consistently for the past couple of years and are the last line in the attacking half of Colombia's side. Both will have to be on top form if they are going to beat the likes of Uruguay.
Backing up the two experienced players is Cagliari's Victor Ibarbo. He helped Colombia complete a 2-0 over Belgium in 2013, scoring after coming on as a substitute. He has been labelled as one to look, alongside fellow midfielder, Carlos Sánchez. Sánchez plays his trade in Spain, for 16th placed Elche. We are likely to see all four during the group stage period where games are played very soon after each other. If needed, Pekerman is likely to call on Aldo Leao Ramirez who featured in the victory over Belgium alongside Carlos Sanchez.
Also in Pekerman's 30 man provisional squad are Juan Fernando Quintero (Porto), Macnelly Torres (Al Shabab), Alexander Mejia (Nacional) and Edwin Valencia of Fluminense.
Strikers
The development of Falcao's knee injury has been closely followed by not only the majority of newly football obsessed, Colombia, but the entirety of the World's biggest footballing hub, Europe. His inclusion in Pekerman's provisional squad was expected but everyone is waiting in anticipation to see whether one the World's best strikers will feature at the World's biggest sporting competition.
Fears originally held by Colombia that Falcao would have no chance of featuring at the World Cup in Brazil have slowly dispersed as it looks like he will recover in time to feature in Colombia's bid for World Cup glory. Should he not, there are plenty of others that can fill the large boots that could be left empty.
Jackson Martinez is Colombia's second main striker and usually plays alongside Falcao in Pekerman's favoured attacking 4-4-2. The 27-year-old is Porto's main man and no one matches his ability up top in the Portuguese league. Labelled 'The Goal Machine' by his plaudits, Martinez has netted 20 times in 30 Portuguese Liga games.
"Nowadays nearly all of us are playing in Europe and I think we've got a wider variety of players and talent than we did at the 1994 World Cup, when this pressure was on them too," Jackson Martinez
Should Pekerman not have Falcao available and want to remain using his favoured formation, he isn't short of options. Adrian Ramos has torn apart the majority of defences in Germany for Hertha Berlin while Carlos Bacca has recently come into a good spell of form for Sevilla. Teófilo Gutiérrez isn't a household name in Europe, or anywhere really, but the River Plate forward fits in perfectly to Colombia's system and should be feared by, by the members of Colombia's group, Japan, Ivory Coast and Greece. Udinese's Luis Fernando Muriel is more well-known on the shores of Britannia and he's another option for Pekerman.
Adrian Ramos celebrates one of many goals for Hertha Berlin this season. He'll now be looking to fill Falcao's boots should the Monaco striker remain injured this summer.
When it comes to forwards, Jose Pekerman is spoilt for choice.
The Group
Group C:
Colombia
Ivory Coast
Japan
Greece
Group C is an interesting group. It holds 4 teams all looking to show the world the attacking quality they possess. It is certainly one of the groups for the neutral to look, as it promises attacking football of high quality.
The power of Ivory Coast's attack could pose a huge threat to Colombia. Sabri Lamouchi's side is full of strength, with Yaya Toure and Didier Drogba being the key components. Alongside The Elephants' two powerhouses are Wilfried Bony, Kolo Toure and Cheik Tiote. Colombia's defence will have to be at their sparkling best to keep Ivory Coast out of David Ospina's goal.
Greece's Kostas Mitroglou is sure to cause Jose Pekerman's defence some problems. He had a brilliant first half of the season at Olympiakos before moving to Fulham and suffering from injuries since. However, with Celtic's Georgio Samaras alongside him, the pair will be a danger to anyone in the competition. Colombia should have too much quality for them though.
The two Shinji's are Japan's two danger men. Manchester United's Shinji Kagawa shone in Germany but hasn't had a great time in England, he has, however, kept his blistering form up for Japan. Shinji Okazaki is the man Kagawa will be looking to assist in Brazil, he is Japan's fourth highest scorer ever and scored 8 goals in Japan's qualifying journey to Brazil.
Colombia are by far the best team in Group C despite star players in each side. Los Cafeteros should top the group bar any upsets.
Prediction: Round of 16 after Group Winners