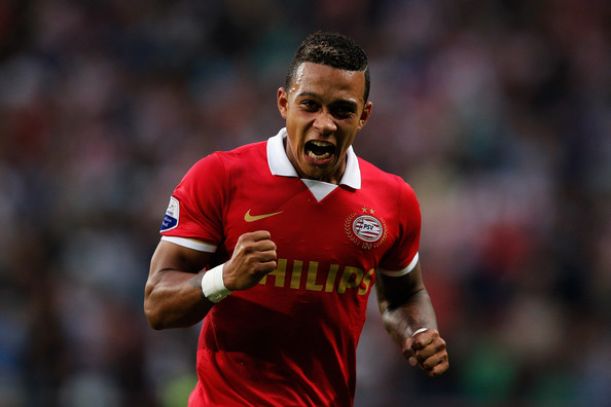 PSV travelled to Tilburg in hopes of gaining a victory on their first Eredivisie match of the season, and were not disappointed, winning 3-1 in a match marred by missed chances and bad fouls. The opening exchanges saw the Eindhoven side go 2-0 up after just 10 minutes of play. Jurgen Locadia was responsible for the first goal, taking advantage of a poor attempted clearance by Willem goalkeeper Kostas Lamprou. Out in no man's land, Lamprou could only look as Locadia lobbed the ball into the net from outside the box, giving PSV the lead in 7'. Three minutes later, Memphis Depay took advantage of a horrid back pass from Willem midfielder Robbie Haemhouts, slotting the ball past the keeper after getting past the opposition defender.
PSV continued to push on, exposing Willem's inability to defend against counterattacks and had numerous shots in the next stretches of play while remaining solid defensively. Their Tilburg opponents meanwhile attempted to pull a goal back, but failed to get space down the middle and were seemingly unable to connect any of their crosses. About a third of the way through the match PSV started sitting back. With a comfortable lead and opponents incapable of putting several good passes together, the Rood-Witten started defending their lead rather than attempting to build on it. That mindset backfired on the club in the 40', with Willem piecing together a decent play, and Bruno Andrade knocking the ball home courtesy of a Terell Ondaan cross. PSV looked almost shocked that their newly-promoted opponents managed to put something decent together, and conceded several more attempts before the break.
After halftime things didn't look bright for the away side. Conceding shot after shot and unable to get almost any in themselves, PSV looked primed to have another goal scored on them. Keeper Jeroen Zoet was on top of his game, snuffing out attack after attack from Willem. However the home side's good spell ended abruptly in the 74', with goalkeeper Kostas Lamprou given a straight red following a challenge on Georginio Wijnaldum when the later was clear on goal. Memphis Depay stepped up to the penalty spot and made no mistake, placing the ball practically the same spot as his first goal- the bottom right corner.
A man and two goals up with 15 minutes remaining in the match, PSV could finally relax after half an hour of almost non-stop Willem attacks. Taking advantage of having an extra man, PSV dictated the possession and let the clock tick down to the final whistle. Willem attempted to get a goal back, but their plays were easily shut down by PSV's defenders. The match ended 3-1, with both teams contributing their share of tackles and fouls. With their win, PSV currently lie in 3rd place, behind Ajax and AZ on goal difference. The Rood-Witten play their next match home to NAC Breda on August 16.