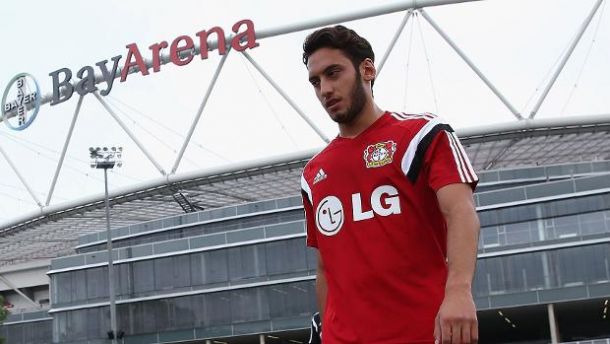 It's fair to say that Hakan Calhanoglu is one of the Bundesliga's brightest young prospects. At just 20 years of age, Leverkusen's new recruit sparkled in what was otherwise a lacklustre season for former side Hamburg, scoring 11 goals and making 4 assists as the club just about avoided relegation.
Now at Leverkusen, Calhanoglu has his sights set on success in both a domestic and European capacity, and reveals all in the interview. The confident Turk talks of his big move, his time at Hamburg & the near future.
Have you identified differences in your time at HSV in Leverkusen?
Calhanoglu: "Bayer's preparation was much more intense. My opponents in training are stronger. In terms of quality, the team is much stronger than that in my time in Hamburg. I immediately noticed: The players here are all young and hungry for success!"
Is it true that you also had an offer from Bayern?
"Yes, my advisor told me that."
But all want to go to Bayern. Why did you then transfer to Leverkusen?
"It may be that almost all want to Bayern. But for me it is Leverkusen is almost on par with Bayern. Sure, the Bavarians are the best. But Leverkusen plays regularly with the top four, we can also keep up with Bayern, Dortmund or Schalke. And I have the opportunity to play in Leverkusen, for me is here simply the perspective better than in Munich. This is very important for me as a young player."
This all sounds pretty confident ...
"I have goals. I certainly hope that someday I sometimes win a title with my team. In a foreign club that would perhaps become easier, but I wanted to stay in Germany. I was born here, this is my home."
But after your departure from Hamburg They learned the downside of popularity know.
"Actually, I'm a confident guy who's not afraid of anyone. But still I have since been sometimes asked: What have I done that? I scored eleven goals for HSV and contributed to the fact that the HSV is not staying. Hamburg scored 14.5 million Euro transfer fee for me. And then I was insulted by "fans" as traitors and mercenaries! But I am not really. I thank my family that has supported me during this period so."
You earn sums that can also cause envy. Already experienced?
"There are many envious, I realize that now. But envy must also be earned."
In Leverkusen They made ​​the same for astonishment when you said publicly that you want to play for "two or three years" at Bayer. You have yet signed a five-year contract ...
"I want to stay in Leverkusen few years. Over time, then I'm still not worry."
Bayer is for you sooner a stopover?
"I want to have success with Bayer! Let me nevertheless simply times playing football."