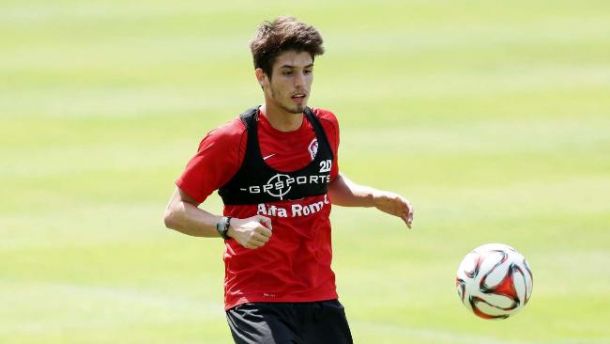 Lucas Piazon on; his welcome.
"No, that did not surprise me. I just feel good. Everyone in the club, the players, the coaching staff - all have welcomed me very well and given me a warm welcome. They have also given me the same confidence (as the players that had been here). That was very important to me. I am very pleased to be here to work with the team and to play for Eintracht Frankfurt."
Lucas Piazon on; do the South American players help with integration?
"It is always easier if a countryman is there; who can help one to explain something and that they also help with language translation when the coach is giving a speech. Carlos or Nelson support me, Spanish and Portuguese are very similar."
Lucas Piazon on; autographs and open training sessions.
"I can not say no when a kid asks me. When we are finished training, that's fine too. We can take ten, fifteen minutes of our time to do them the favor to sign something or take a few pictures then us. I have no problem with that. At Chelsea every training session is closed, the entire training area is located behind locked gates. Journalists must not sit and look."
Lucas Piazon on; open or closed training sessions?
"For me, personally, it does not make much difference. When I was at Vitesse Arnhem in the Netherlands last season each training session was public. That was okay. Whether now look fans or not - in my opinion it does not change that (the players concentration) too much."
Lucas Piazon on; how the move to Frankfurt happened.
"One day I called the Chelsea sporting director in his office and told me that the Eintracht had made ​​an offer for me. And then he gave me a few good reasons: The Bundesliga is a strong, good league, especially for young players. And everyone will follow the Bundesliga precisely because the German national team won the World Cup. He told me that Eintracht was a very good club and the coach played young players. Then I had good conversations with the directors of Eintracht. So was thinking, I spoke with my family and finally made ​​the decision to try it in Frankfurt."
Lucas Piazon on; José Mourinho's comments on the move?
"He just said that the Bundesliga is a very good league and that it would be good for my development."
Lucas Piazon on; Chelsea not being ready for him.
"For me, this is the best option here. I wanted to play in a stronger league than last season, when I was in the Netherlands. Now this is a new, large, hard challenge for me, but also a good opportunity to prove myself. The Bundesliga is one of the strongest leagues in the world. This is good for me."
Lucas Piazon on; returning to Chelsea.
"I do not think of Chelsea, at the moment. I want to play here and have success. I would like to do a good job. That's my goal for this season. I only think of the present, not the future."
Lucas Piazon on; staying at Eintracht.
"Football is crazy, maybe I'll stay here forever (laughs). I dont know. In this business you never know what will happen in six months. You see, I left Brazil when I was 17 to play for Chelsea. Now I play in the Bundesliga. And give my best here."
Lucas Piazon on; playing time.
"We young players, we want to play. We are happy when we play. Okay, we could stay at Chelsea. But then we would then sit on the bench, maybe play five minutes, but that would still not be satisfactory, because we would not be satisfied. So we go to other countries, in other leagues, other clubs to play there and develop ourselves. We are young players want to play every week. Then all is well."
Lucas Piazon on; is he living the dream.
"Absolutely. My dream was to become a professional football player. I am now in my third season in Europe. So you can say I did it."
Lucas Piazon on; the difficulties on leaving Brazil.
"It is not easy, that's clear, you find a different culture. But for me it was not quite so hard, because we at Chelsea then had four Brazilian players. I, for example, lived along with David Luiz for six months in an apartment. We went together to workout, have done everything together. He has become a very good friend."
Are you still in contact with him?
"Yes, of course."
Lucas Piazon on; if he'll play in Brazil again.
"I love Brazil, it is a beautiful country. But for my future it is better to play in Europe."
Lucas Piazon on; homesickness.
"Of course, from time to time. But in England it was even harder because there is no winter break there. So you're there all year round, I can just once a year, in late May, fly to Brazil. As I have now played in the Netherlands, because we had ten days costless in December, I was able to travel to my homeland. But in the first two years were tough for me. Since I was already homesick. But now it's okay."
Lucas Piazon on; his family living in Brazil?
"My mother and my sister are currently there, but we try to find a place in an international school for my sister. Then they would come to Frankfurt. And my father is already here with me, he came in last week. He now remains only to talk, that's very important for me. I have neither a wife nor a girlfriend, therefore it is very good if someone from the family is here (laughs)."
Lucas Piazon on; when and where he was discovered by Chelsea.
"That was at an international youth tournament in Brazil. Actually, it was already clear when I was 15 that I'm going to England. But there were contractual problems with my former club, São Paulo. When I was 17, Chelsea then bought out my contract. That was not easy at the beginning, of course, but after six months I got used to English football."
Lucas Piazon on; does leaving home earlier help you mature quicker?
"I think so. I've been away from home since I was 14. My parents live in southern Brazil, I played in São Paulo, it was a journey of four or five hours. I often did not see them. That was an important experience for me."
Lucas Piazon on; his time at Vitesse Arnhem.
"The first few months were very good, as I scored many goals. But after the winter break we played badly in four or five games, and then the team lost a little bit in strength and self-confidence. But overall it was still a good year."
Lucas Piazon on; the current Eintracht team.
"It is a strong team with very experienced players. In Arnhem we had rather a young team. Here, the players have many games in the Bundesliga under their belt, this is a mature, adult team. I think I can learn a lot from them."
Lucas Piazon on; his favourite position.
"I can in the "ten" or play on both wings, but I prefer to play on the left wing. I believe that every right-footer likes to play left, because he can then pull inwards."
Lucas Piazon on; his goals at Eintracht.
"To play as many games as possible, as much as possible to succeed."
Lucas Piazon on; if this move help him at Chelsea.
That's just me. If I do a good job here, then I might have a chance there. If I do not play well here it is anyway impossible. But, as I said, my whole focus now applies concord.