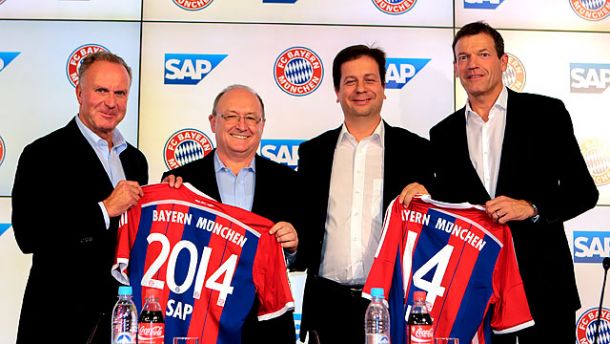 On Tuesday morning, FC Bayern Munich held a press conference to announce a three-year-deal with, one of the world's leaders in software, SAP.
"I would like to welcome SAP very warmly to FC Bayern and thank the company for its involvement and trust. We're delighted with this important partnership." said Bayern Munich chairman Karl-Heinz Rummenigge, who welcomed the European software giant's sponsorship on Tuesday. Bayern signed a three-year-deal with SAP, who will supply Pep Guardiola and his army of coaches with an extensive range of data for performance diagnostics.
"FC Bayern and SAP are both successful, globally renowned brands, whose values and objectives fit well together. We can with justified confidence say it is the coming together of two champions." commented the board director board Andreas Jung. "We're convinced that SAP is the optimal partner and offers the optimal products for this," Rummenigge said. The chairman specifically mentioned, "the software landscape, particularly the Hybris product, a platform for a future-oriented CRM system".
The club already uses SAP's software for data analysis and ticketing. The financial terms of the deal, however, were not revealed. "This provides modern analytical procedures to minimise the risk of injury." commented the Bayern chairman. After a recent run of injuries, including those of Javi Martinez and Bastian Schweinsteiger, this could be a worthwhile investment.
"Sport is for us a relatively young industry," SAP Chief Financial Officer Luka Mucic said at today's press conference. The market is worth a "high double-digit million-euro" sum with "great growth potential." According to financial experts, Bloomberg, the technology could be used to: "to provide statistics and interact with fans, or manage talent scouting."
"This is a new development in recent years allowing billions of data sets to be processed in seconds. It opens up entirely new opportunities that simply didn't exist before," explained SAP SE director Gerhard Oswald. "In the future we expect to be able to respond even better to the players' individual strengths and weaknesses and raise overall performance," Rummenigge then added, FC Bayern has had "two or three exceptionally successful seasons with exceptional commercial growth. Our goal is to secure a sustainable place among the international elite over the long term, both financially and in footballing terms. We therefore need state-of-the-art technology both on and off the pitch."
"We live between lederhosen and laptop," said Rummenigge, in reference to Bavarian leather shorts. "Lederhosen is the tradition which is very important, but I think that in this increasingly digital world we always have to take that element into account too." Jung then said, "We are always concerned to respond to our fans' many requests and requirements in the best possible way. In the future we will certainly have the possibility to approach our supporters in an even more appropriate and goal-oriented way," he commented. "SAP will help us in all these areas."
SAP also sponsor fellow Bundesliga club, Hoffenheim. The Sinsheim-side were essentially built by one of the companies founders, Dietmar Hopp, who was also a youth player at the club. Much maligned for their rise up the German footballing pyramid, the same effect definitely won't be repeated at Bayern, as Hopp overhauled the club as a whole. There was also no indication from SAP that they would become a shareholder in the club, like Hopp being Hoffenheim's chief financial backer. If they were to become a shareholder at one of world's biggest and most financially stable clubs, they'd join Adidas and Allianz amongst others.