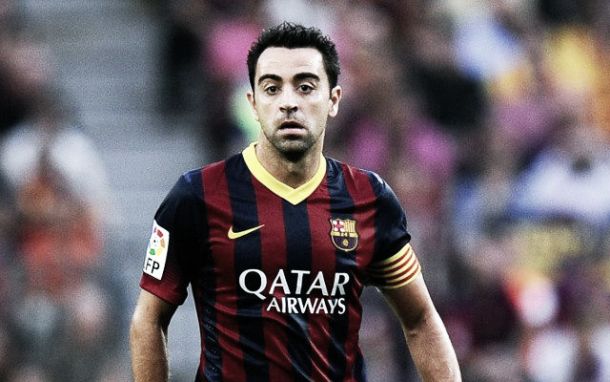 Barcelona's 34-year-old Spanish midfielder Xavi has admitted that he is unhappy at the lack of first-team minutes that he is getting under new manager Luis Enrique, whilst also stating that he does not regret his decision to stay in Spain this summer. He has been involved in a bit-part role, but wants to try and win back his place in the first-team with the likes of Rakitic and Busquets pushing the captain out of the squad for the time being.
He has established himself as a midfield-great ever since he made his debut over 15 years ago now, but has not been involved as much as he would have hoped under a new manager; Barcelona's 4th in the space of just over 2 years. He was heavily linked with a summer move to the MLS in America, but wanted to stay in Liga BBVA with Barca for at least another season - even though he knows that it did not mean that he would be guaranteed first-team football each week.
He had this to say: "I am not happy to be sitting on the bench, I want to play as much as possible and change the current situation. But the team comes first and it's the boss who decides (who plays). It isn't a dramatic situation from my point of view and I will try and turn it around to feel more useful - I am happy that I stayed at Barca; having not agreed any role beforehand with Luis Enrique.
Xavi played 20 minutes in their 3-2 defeat against PSG at the Parc des Princes, and in doing so becomes the most-capped player in the tournament's history past Real Madrid legend Raul - but he wants to start more.
Barcelona play against Rayo Vallecano this Saturday, as they look to maintain their perfect start to the league season. After his comments you would hope that Xavi sees more game time than he currently is.