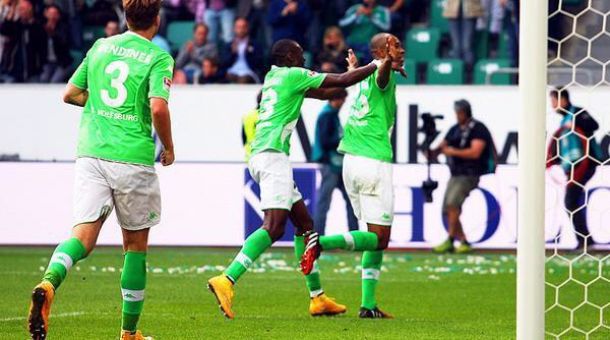 Augsburg kickstarted the tie infront of a barely full Volkswagen arena. Neither side showed any real desire to go forward in the first ten minutes. Chances were like hens teeth and the sides would be lucky to have had two chances between them at this point.
The first real chance came a whole fifteen minutes later as Kohr rocketed one towards goal only to look it come into contact with Rodriguez. The shot improved Augsburg's performance tenfold as they were able to pin Wolfsburg into their own half and get a few shots away in the process. Raul Bobadilla came closest on two occasions from close range.
The book was first out just after the half hour mark as Werner was booked for kicking his boot at de Bruyne while he prepared to take a through in. The remainder of the half was hugely dull where chances remained at a minimum and Bobadilla's efforts remained the best of the few chances in the half.
The sides re-emerged unchanged before the hosts got the game underway again. Early doors, Benaglio was almost caught out by Caiuby as he rolled it out and off of the Brazilian who failed to capitalise on the mistake.
Naldo fired one at goal from thirty or so yards out but the well struck shot went the other side of the post. As play switched up the other end Baba played in Altintop who further slotted in Bobadilla who let the ball run to Werner. The midfielder then lashed at the shot and sent it flying over the bar.
Soon after, Naldo joined the attack again and got on the end of a Jung cutback to send the ball past Hitz and into the back of the net to give the hosts a lead just before the hour mark.
Guilavogui had a costless chance after some nice play from Bendtner but the Atletico Madrid loanee couldn't get enough power on the shot and could only roll it along the floor rather tamely. Gustavo threatened not long after and his shot towards the far corner only narrowly went wide.
Augsburg sub, Esswein darted through and caught on to Matavz ball but the German forward took too heavy a touch and a brave Benaglio was able to rush out and push the danger away.
As the game was coming to a close, de Bruyne sent one towards Olic at the far post but the veteran striker was unable to connect with the spectacular.In the additional two minutes Wolfsburg were able to hold the ball in the Augsburg half to secure their third win on the trot.
By no means an impressive performance by either side but an important three points for Wolfsburg while Augsburg suffered their third league defeat this term.