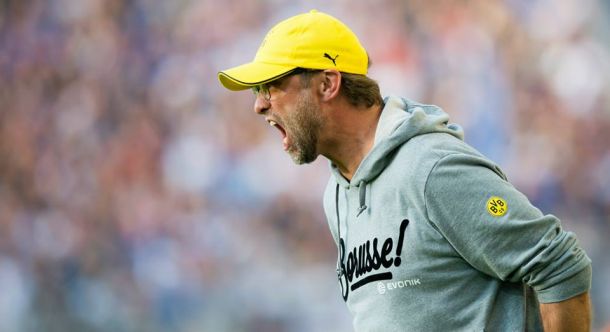 Borussia Dortmund manager Jurgen Klopp had said that his side "hit rock bottom" after they lost 1-0 at home on Saturday against Hamburg.
HSV won their first game of the season at the Signal Iduna Park thanks to a goal in the 35th minute from striker Pierre-Michael Lasogga; and it is clear to see that Dortmund are struggling to find the right balance between juggling both the Bundesliga and Champions League competitions.
They have had back-to-back wins over Arsenal and Anderlecht in Group D recently, but only have 7 points from a possible 21 in the league campaign - where they currently sit in 13th place.
This is what Klopp had to say after their defeat: "Say and write what you want and ideally we will gain something from this situation to make sure things are different in future. I can see that the lads want to do things, but sometimes they can't and that's not particularly cool. We've now got to accept all the criticism that comes our way, even the unjustified stuff."
Dortmund have been hit with a string of different injuries to key players over the past few months, with the likes of Reus, Mkhitaryan, Gundogan and Sahin all set for returns to first-team football in the upcoming weeks. Along with that, left-back Marcel Schmelzer was injured earlier this weekend; and is out for a month with a broken hand. The injury list is long and ever-growing for the title challengers, but they need to improve and quickly if they are to catch the pace-setters (Bayern).
On the injured players, Klopp said this: "Gundogan's training fully with the team now and he'll be a full part of the squad after the international break, Reus is going to be training normally soon too while Mkhitaryan needs just three to five more days. Sooner or later, everybody will be back, but then it will still come down to form. We've got players who can perform to their best on some days, but not on others - there are some players who are new here and they aren't used to playing every three days and being favourites to win every time."