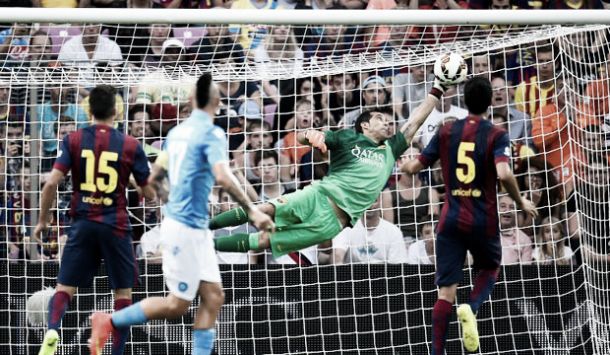 Barcelona goalkeeper Claudio Bravo insists that the team's results are what matters most after reaching a record 630 minutes without conceding a goal at the start of the new season. Barca's 2-0 victory against Rayo Vallecano means that Bravo has surpassed Pedro Maria Artola's 36-year La Liga record but Bravo, 31, is keeping his feet firmly on the ground.
"More than the record, what matters is the win against a tough opponent," he said in an interview with Marca following the game. "They pushed us and unsettled us, so we take tremendous happiness in the fact we won."
However, Bravo also admits that he has no time to rest on his laurels with highly-rated German goalkeeper Marc-Andre Ter Stegen waiting in the wings, and the Chilean says he will continue to work on the areas of weakness in his game. "I'm not satisfied at all because I always want to improve and there are always details to work on. I'll keep working in the same way but apart from the individual I'll stay with my team."
Despite having been tipped by many to struggle this season after a seemingly underwhelming summer transfer window - Luis Suarez aside - Barca have been the early pacesetters in La Liga and are already five points ahead of last year's champions Atlético. While they are yet to concede, they have also scored only one goal less than prolific rivals Real Madrid and Bravo believes that they can go all the way and regain the league title. "We have large, tremendous expectations and I believe in the same," he said. "It's an internal fight we all have, every day."