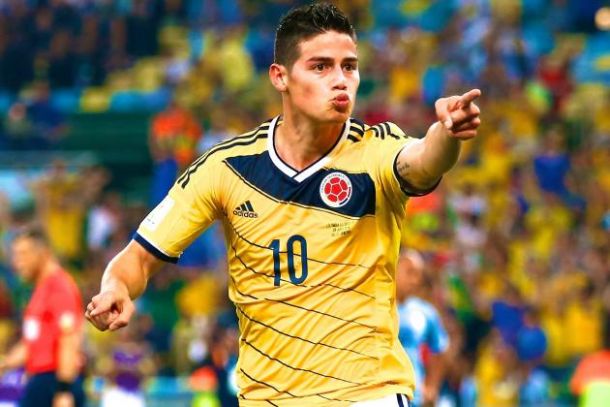 Having signed for Real Madrid in the summer for £80 million, James Rodríguez has got a big expectation on his young shoulders. Even more so when fans favourite, Angel Di María, departed los blancos to join Manchester United in a £60 million deal. Although James is not a direct replacement, in terms of his positioning and style, for Di María, the two of them are naturally going to be compared.
When asked about this comparison with Di María in a recent interview, James said, 'He played great football here. He is very well liked and I respect him a lot.' He then continued by changing the subject saying, 'I only want to make history here.'
There is no doubt that he is capable of making history. The large expectation placed on James has come after a phenomenal World Cup for the 23-year-old. He set Brazil alight with some sublime goals, great skill and slick dance moves. He was Colombia's spark, helping them to get to the Quarter Finals where they were knocked out by Brazil in a 2-1 loss, James scoring a late penalty. To cap the summer of 2014 off, he jetted back to Colombia with the Golden Boot for being the tournament's top goalscorer.
He has played just over a handful of games for his new side but he is already forming a good reputation. His fine quality and dangerous play has already made him an undisputed starter under Carlo Ancelotti. He is getting better with every game and the Madrid contingent and warming to their new Colombian star.
In the Real Madrid squad this season, James is the player with the most crosses into the box; before this weekend he had registered 37 in six games. He is also the player with the most fouls received against him. When the opponents have the likes of Cristiano Ronaldo and Gareth Bale to foul it is surprising that James comes out on top. This highlights how important and dangerous he is considered to be, something that has not been missed by the opposing teams. James Rodríguez can be the crucial man for Real Madrid this season to unite the stars into a team.
In his first six games for los blancos, James has played 492 minutes, scored one against Deportivo and assisted in two other goals. Compare this to his first six games for Monaco last season where under Claudio Ranieri he played just 153 minutes and didn't score nor assist in any goals. Stark contrast. James also played a further 90 minutes on Sunday night in the 5-0 drubbing of Athletic Bilbao. I think it would be unfair to compare Ranieri and Ancelotti as Ancelotti had the advantage of watching the World Cup and owning a pair of eyes, however, he is showing great faith in the Colombian and has already integrated him into a star-studded squad.
If James is to emulate Di María he will have to increase his assist tally. Last season at Real Madrid, Di María was the assist master. In 34 appearances he assisted 17 times and scored four. In his early Manchester United career, Di María has picked up where he left off. In his first five games he has scored three and has three assists.
James' arrival has no doubt made the departure of Di María slightly less distressing for Madridistas. The comparisons are likely to continue all season, however, according to Ancelotti they can't be directly compared due to their different styles of play. Some people have criticised James' work rate as he doesn't run around as much as Di María, but not many people in world football do. James' talent is undeniable and Carlo Ancelotti knows it, which is why he has incorporated him into the first team as soon as possible. It is clear that he has to be used in a different way to Di María as he doesn't have quite the same pace and dribbling skills, however it doesn't mean James Rodríguez cannot be as effective as Di María was during his tenure at Real Madrid.
He has already built a good rapport with his team mates and has, according to Spanish sports newspaper La Marca, 'infected' Cristiano and Marcelo with his Colombian salsa rhythm. Las Madridistas will be delighted if this rhythm and flair results in a winning formula on the pitch.