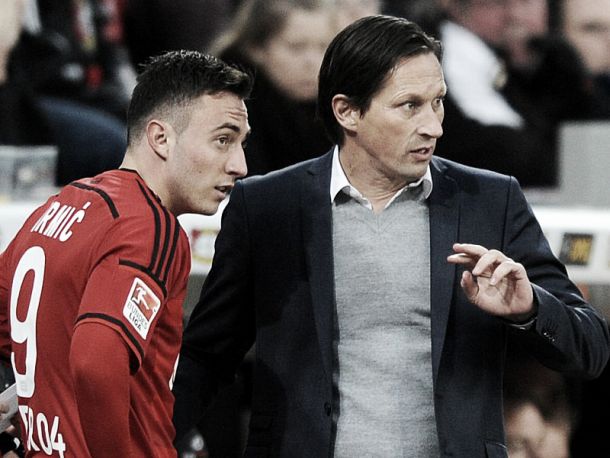 Bild has today reported that Bayer Leverkusen forward Josip Drmić may be making a €6million switch to fellow Bundesliga side Hamburger SV.
The 22-year-old Switzerland striker joined Bayer from FC Nürnberg in May 2014, but has appeared just 10 times for his current club despite netting on three occasions.
In the Bild article from earlier today, Drmić apparently desperately wants to join Zinnbauer's side, but it is unlikely that Leverkusen would sell without a quality replacement lined up.
Drmić could feasibly be the answer to HSV's nagging goal problem in a season which has seen them score just nine goals in 17 Bundesliga games. If everything in the deal falls into place then the Swiss international could be the offensive catalyst they so blatantly need.
After progressing through the ranks at FC Zurich, Drmić made his move to Nuremberg in July 2013. He instantly captured the eye of people around the league as he finished third on the Bundesliga scorer charts, bagging 17 goals in 33 appearances.
Consequently, it was no surprise that bigger teams came calling for his services when Nürnberg were relegated last season, and it was Bayer Leverkusen who secured him for an undisclosed fee thought to be around €7million.
Despite him scoring three times this season, he has struggled to adapt to his new surroundings, and has seemingly struggled not being the focal point of attack due to the presence of Stefan Kießling.
Leverkusen have at most times played with an attacking trio spearheaded by Kießling, and with all the other talent they have in the squad it is difficult to see where the opportunity for Drmić would open up without injury or suspension. With players such as Son Heung Min, Hakan Çalhanoglu and Karim Bellarabi all fighting for spots, it has left little room for others.
Hamburg could without a doubt provide a fresh start for Josip Drmić. Without doubt he is one of the brightest talents in the league, and under the right circumstances he can flourish into one of the Bundesliga's top forward.
The pace and agility that he brings, as well as his vision and grit, would be something that Zinnbauer must be salivating at the prospect of. At 6ft in height he is not a small man by any stretch, lending to his rather powerful poise that has called some to liken him to Robert Lewandowski.
He has the world at his feet, and Josip Drmić could become a fan favourite up in Hamburg in no time at all if he keeps showing why so many people are taking note of him.