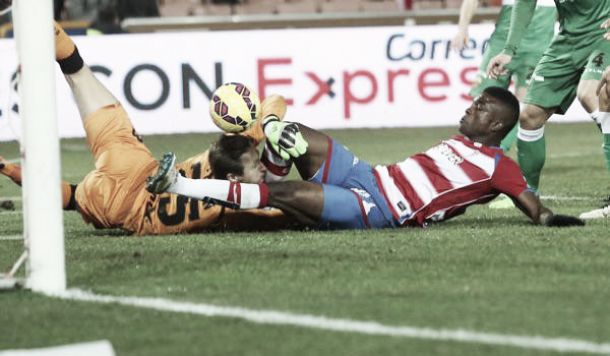 A second half strike from Jhon Cordoba was enough for Granada as the hosts secured a 1-0 victory over Elche at the Estadio Las Carmenes on Saturday afternoon.
Granada got the first shot of the match inside sixty seconds through Rubén Pérez, but his shot from beyond the eighteen yard box is hit way too high. After that, it was slow moving, there were just a couple of passes being made before the side with the ball was turned over. With 25 mintues off of the clock, Piti tried a beautiful through ball to Mainz, but it was hit a second too late as Mainz was offside. Victor Rodríguez had Elche's first attempt on the evening two minutes later, but his header from the six yard box somehow missed to the left.
Eleven minutes after the interval, Cordoba got the break through they so deserved after dominating the match up to that point. Ibanez found Piti who had made a run into the eighteen yard box. The Argentine continued his run towards the byline hitting a low cross towards the path of Cordoba. Tyton tried to claim the ball before it the goal scorer, but it was too late as Cordoba got their first and placed the ball into the back of the net sending the Granada faithful into pure euphoria.
Elche went on the attack after that with Aarón just missed a shot from outside the box right before the hour mark. Aarón was involved regularly late on as he had the next attempt on goal for the visitors, but this time, his shot was too high. With just ten minutes remaining in the match, Nyom had a right footed effort missing wide to the right of the target. Márquez had Granada's last shot of the match as he unleashed it from outside of the box, but it was saved well by Tyton. The visitors pushed for that equalizer with just a couple of minutes left to go in the match, as Enzo Roco was found by Aarón, but Roco was flagged for being in an offside position.