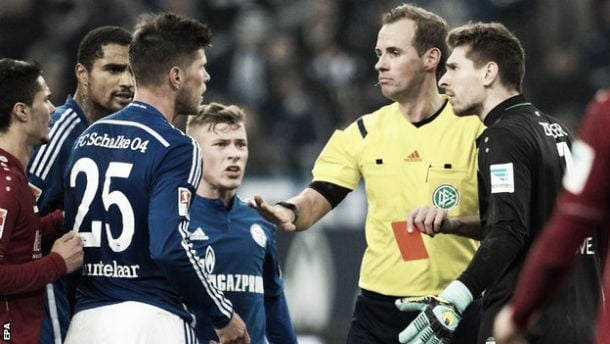 Following his red card on Saturday, the DFB ruled his reckless tackle on Manuel Schmiedebach as a 'dangerous act of play' and have sanctioned him to a six game ban. This will mean he'll miss crucial games against Bayern Munich, Borussia Mönchengladbach and Borussia Dortmund, however he still will be eligible for the Champions League against Real Madrid.
Schalke appear outraged that such a dangerous action warrants a lengthy ban. 'A six-game ban for Klaas-Jan Huntelaar,' the club said on their Twitter account on Monday. 'Schalke does not accept the sanction.'
It was not immediately clear whether the Bundesliga outfit had already appealed against the decision by the German Football Association (DFB).
Huntelaar will also be fined €15 000 for his antics towards the referee where he pointed towards his head in a very degrading manner at the official.
If the ban is not reduced, his next league game will be the trip to Hertha Berlin in mid-March.
An official statement on the clubs website goes as follows, "We believe this was not a matter of violent conduct," club board member Horst Heldt told their website. "That's not something Klaas-Jan would do."
He added: "Surely, the red card was justified, but we consider a six-match-ban too high a punishment. This is why we are appealing."
Huntelaar said: "I was completely perplexed with the red card because that challenge did not really look that hard and because I am not a hard player."
"In my entire time in the Bundesliga I have only once been sent off and that with a double booking."