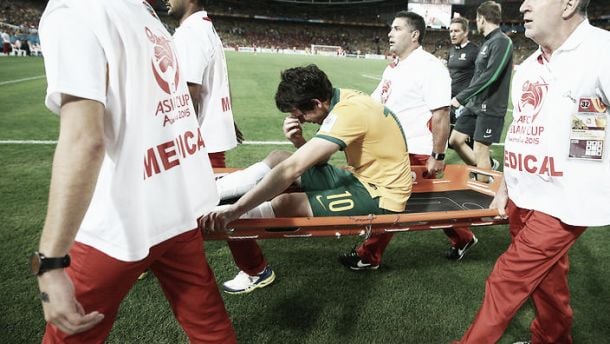 Robbie Kruse could miss the rest of the Bundesliga season with Bayer Leverkusen, due to the ankle injury he suffered in Australia's Asian Cup final win over South Korea.
This adds insult to injury, quite literally, for Kruse. He missed most of last season including the World Cup after tearing the anterior cruciate ligament in his left knee and now he faces up to four months being sidelined.
It was feared the 26-year-old had injured his Achilles in the second half of Australia's 2-1 victory over South Korea on Saturday, which saw them crowned the kings of Asian soccer.
But in a press conference on Tuesday, Leverkusen coach Roger Schmidt said the duration he'd be sidelined for was likely to be around four months.
"This is really bitter for him, especially as he showed good form again," Schmidt said.
The club statement read "In Saturday's Asian Cup final against Korea Republic, won 2-1 by the Socceroos, the 26-year-old suffered serious ligament damage in his left ankle,"
"A full diagnosis of the injury is expected on Monday."
"The striker will undergo a thorough medical examination in Australia. That will decide what happens next and whether Kruse returns to Leverkusen or is treated back home in Australia first."
Kruse started five of Australia's six games at the Asian Cup and scored in the group-stage victory over Oman.
However, he has made only five substitute appearances for his club this term and has started just once under Roger Schmidt.