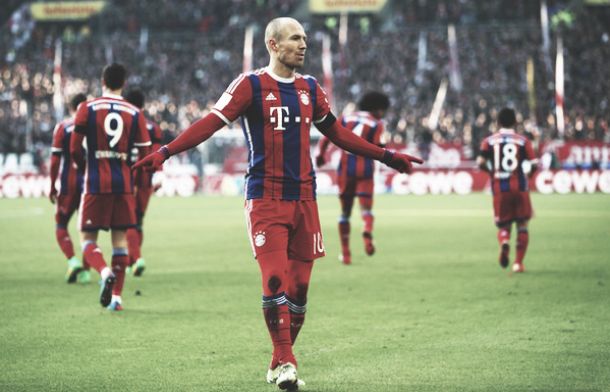 Bayern Munich manager Pep Guardiola publicly praised 31-year-old Dutch winger Arjen Robben, as the defending champions' star man played a pivotal role during their 2-0 victory over Stuttgart in the Bundesliga.
He scored his 12th league goal of the 2014-15 campaign with a well-taken half-volley which veered beyond the goalkeeper into the top corner of the net, as Bayern retained their eight-point lead at the top of the table above second-placed Wolfsburg.
Guardiola was happy with his side's display, but has insisted that they have to continue to improve as they attempt to win both the Bundesliga and UEFA Champions League titles this season - not an easy achievement by any means. The Spaniard had this to say, in his post-match comments: "Robben's quality was the difference today, it was a tough match. As always, my team did a lot of running and fought very hard... we're still not perfect; there are things we can still improve. We should be doing less running and using the ball more."
STAT: The current Bundesliga holders are now beaten Stuttgart an unprecedented 59 times in league history, and Robben's first against the club in six appearances.
Robben meanwhile, stated: "I'm happy for the team that (my goal) happened. The ball must keep on rolling." David Alaba was the other goalscorer on the afternoon, with a beautifully crafted free-kick which curled beyond the goalkeeper into the net with devastating effect.
Quotes via Goal.com