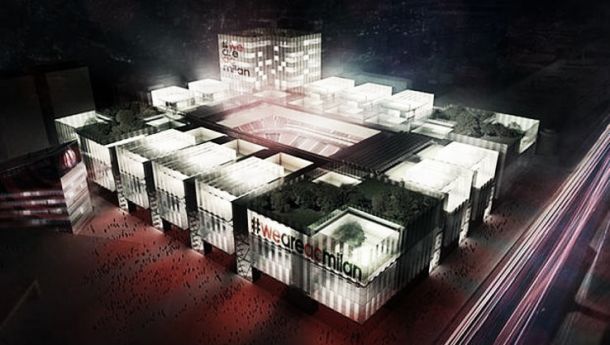 It is no surprise to see clubs like AC Milan making the decision to follow three-time defending Scudetto Trophy holders Juventus in building a brand new state of the art stadium in the center of Milan, Italy.
AC Milan, a profoundly historic and world class club, had announced earlier this year its plans to build a new 48,000 seat stadium. The reported $340 million project will be used to attempt to drag fans to matches and to generate revenue for the club that has seen a decline in performance, leading to the loss of UEFA Champions League football and international recognition.
However, in spite of this situation, the major aspect of building a new stadium and attracting fans back into the league is the league's role itself. Clearly, Serie A is almost contradictory of what it was back when legends like Marco Van Basten, Ruud Gullit , and many others were playing in the nations top flight division. Money, corruption, and agitating fans causing violence and/or troublemaking has seen viewership, attendance, and sales decline compared to leagues like the Barclays Premier League of England and La Liga of Spain.
Fans are evidently aware that most clubs in the league do not have multi-billion dollar owners to maintain a level of distinguished superiority. Talent on the field is fundamentally crucial in latching TV ratings and having season ticket holders retain attending each individual game. If clubs cannot finance cutting edge facilities or meet some of the colossal world record transfers of other leagues, it cannot gain supremacy or rise as the league it cemented through its legacy. Even though Italian clubs were the second highest gross spenders this past January transfer window, it is the resulting display of the players transferred form that determines the decision if they were worth their own value.
On the other hand, most stadiums in the league were relatively modern in the early 1990's when Italy hosted the FIFA World Cup. Meanwhile, the technology, sponsorships, and renovations have not kept up to 21st century standards, resulting in decreased desire to consistently attend games. The economic crisis and laws set by the Italian government also have not assisted clubs in receiving as much revenue as they could possess, with them receiving almost 50% less than English clubs. How is the league going to achieve its past riches if it is limited to what the government lets it gain?
In the contrary, corruption going as far as the successful days of the 20th century Serie A has placed a negative affect on the fans trust in league officials. Calciopoli, the 2006 scandal highely associated with Juventus winning the league title and favourable officiating, remains the most notable corruption scandal in recent memory which keeps heads rolling in distrust in the state of the league. Not only does this persistent problem still need to be recognized, but it needs to be mandated that there is no room for such behaviour in this sport.
Racism and misbehaviour of fans in Italy has had an immensely critical role in fans attending games over the last decade. Colored players have seen bananas and other stereotypical objects shouted, thrown, or told to them at games, which is discrimination against another human race. With TV deals implemented already with SkyItalia and other sports media groups in the country, fans much rather stay home and watch then deal with such misdemeanors. Of course, the use of flares and other objects that may hurt an individual or player is a factor, along with situations between fans mostly in derby games. The injury, death, or other common confrontations between fans must be avoided in order for away fans to still be allowed to attend away games.
Through these references, it can be concluded that in order for Serie A to strive to be the league it was once notable to be, it has to undergo many revolutionary changes in facilities, ownership, and fan behaviour for statistics to increase in the favour of money, attendance, and other necessities in being a world class first division football league. What other efforts should clubs take to increase their brand internationally and play in the upcoming years?