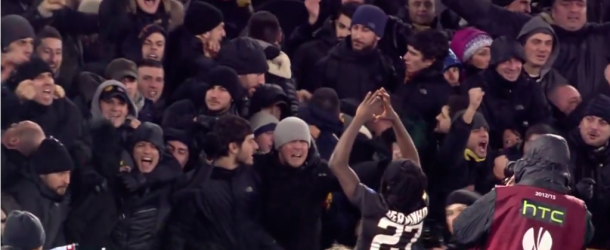 Roma have progreesed to the last 16 of the Europa League after beating Feynoord 2-1 away from home, the match was clouded by abuse from the Feynoord fans who threw objects at the officals and Roma players.
After a quite opening 15 minutes, Totti had a great attempt to give Roma the lead in this two leg tie when the Roma legend caught Vermeer scrambling to get back to his line, and the Italian forward lobbed the keeper from long-distance, however his effort went wide of the post, Kazim-Richards had a great chance to open the scoring for Feynoord in the 20th minute when De Rossi unusually lost possession of the ball inside his own half and Kazim-Richards picked up the lose ball and fired a low shot at goal, but Skorupski did well to get down low and save the shot. Totti had another chance when the 38-year-olds powerful effort from 12 yards out smashed the frame of the post. There was an incident in the 38th minute that saw the game come to a stand still when a Feynoord fan threw an inflatable banana towards Gervinho, the incident will most likely see Feynoord be fined by UEFA for this embarrassing and disgraceful act. It took until stoppage time for the first goal to be scored and it came from Ljajic, after a scramble for the ball inside the box, it fell to Torosidis who crossed the ball into an open Ljajic in the box and the centre forward brilliantly placed the ball past Vermeer to give Roma the lead just before halftime.
Feynoord were reduced to 10 men when substitute Mitchell te Vrede caught Manolas with his studs showing into the Greek defender's book, French referee, Clément Turpin, had no other choice but to dismiss the Feynoord striker in the 52nd minute, moments later the game was suspended by the referee due to crowd disturbance from the Feynoord fans after objects were thrown at the officials, managers and players. After 25-minutes of suspended play, the match was restarted and a minute later, Feynoord had equalised through Manu after the Roma defence fell asleep which allowed Manu to run in between the defence and the winger poked the ball past Skorupski, however an incident on the bench saw Feynood's backup goal keeper, Erwin Mulder receive a red card, things got worse for the Dutch team as Torosidis bombed down the right wing and brilliantly crossed the ball to Gervinho and the Ivory Coast forward blast the ball past Vermeer to put Roma back in the lead moments after they had allowed Manu to equalise.