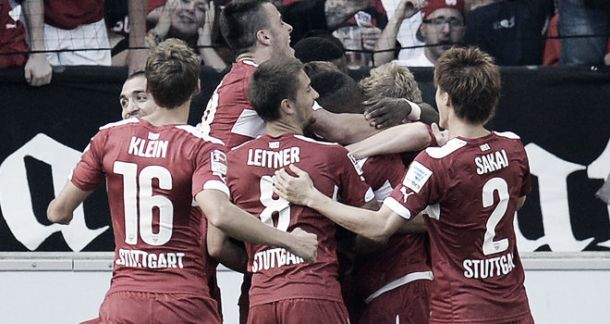 At the HDI-Arena on Saturday, Stuttgart will travel to Hannover to take on Die Roten with both sides looking to get back in good form.
VFB Stuttgart look to garner some momentum with the latter stages of the Bundesliga season closing in. Three points is going to be vital for the visitors tomorrow as they are currently at the foot of the table with only 18 points picked up in 22 games. The last time these two teams met, Stuttgart picked up three points to leave the bottom of the table. The winner and lone goal of the game was scored by Daniel Schwaab with about twenty minutes to go.
Stuttgart, as previously stated, are currently struggling in the league in last place. The Swabians managed by Huub Stevens, need to rediscover their form from last season where they managed to escape relegation finishing in fifteenth place. Their recent poor has been form since winter break picking up a lone point since then which was a nil-nil draw at Koln. Recent history has been on Stuttgart's side against Hannover as they are undefeated in their last four games against their rivals from Lower Saxony. Top scorer for the Swabians is Austria's Marin Harnik with five goals in the league play, which accounts for over a one-fifth of the goals the team has scored. The squad has a couple of injuries coming in as Antonio Rudiger and Daniel Didavi are out with injuries.
Hannover are currently residing comfortably in mid-table in tenth place with 26 points. The Reds are managed by Tayfun Korkut who also led them to a tenth place finish last season. Like their Lower Saxony rivals, they are also struggling with their league form doing only a point better than them. Their two points came from draws against Koln and Mainz. Top scorer of the side is Joselu with eight goals, which accounts for nearly a third of the teams goals. The team has also some players on the injury list as Markus Miller, Andre Hoffman, and Joao Pereira are out with injuries. Hannover's recent history may not be the best against Stuttgart, but their side should just do enough tomorrow to see off their rivals at home.