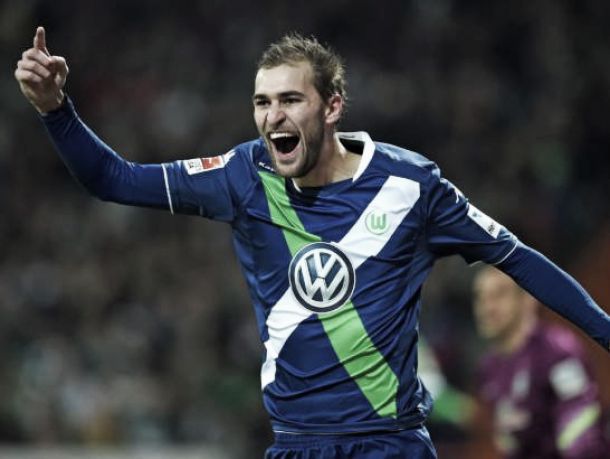 At the Weserstadion in Bremen, Germany, Wolfsburg came to town and left with a win after the two clubs put on a fantastic offensive display for the 40,000 fans.
It only took nine minutes for Werder Bremen to open the scoring as Junuzovic was able to poke in a fantastic pass from Oztunali from inside the six yard box. However, that lead would be short lived because Daniel Caligiuri equalized down at the other end less than sixty seconds later.
Oztunali was involved again in the buildup play as he whipped in a cross from the right side of the pitch. This time, however, it was Franco Di Santo who got on the end of the ball and was able to beat Diego Benaglio. Wolfsburg took longer to score that next goal as they waited two minutes to find the back of the net this time.
Unfortunately for Wolfsburg, Vierihna put a ball into the back of his own net two minutes before the hour half an hour mark. Felix Kroos attempted to shoot towards goal and the central defender should have let the ball go, instead he tried to clear the shot and it deflected across the line. With a minute to go until halftime, Maximilian Arnold had a go from just inside the eighteen yard box, but his effort missed the far post.
Bas Dost has been on some kind of scoring streak in 2015 and that trend continued just three minutes after the interval as he would level this match at three. De Bruyne provided a fabulous ball towards Dost and the Dutch striker was able to beat Raphael Wolf. The visitors would score in the same fashion practically just three minutes later, in the 51st, as the Belgian winger found Dost once more who completed his brace.
Wolfsburg just could not stop scoring early in the latter 45 minutes with Caligiuri also completing his brace in the 53rd minute of the match. This time Dost provided an assist as he lifted the ball up towards the eventual goal scorer as Caligiuri just made sure that the ball would indeed go into the back of the net.