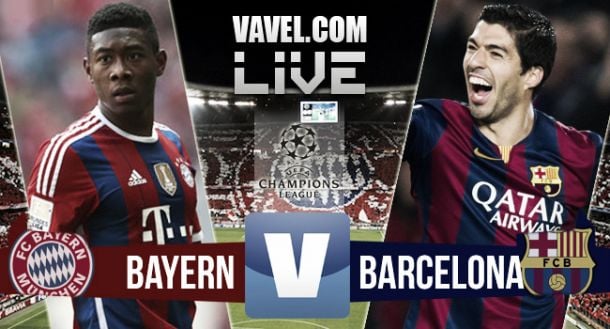 22:30. Well, that's all we've got time for tonight. Thanks for joining VAVEL UK and myself, Charlie Malam. We hope you enjoyed tonight's match commentary, as Bayern Munich won 3-2 on the night but fell 5-3 on aggregate after Barcelona's terrific attacking talents saw them through. Lionel Messi bagged a brace in the first-leg before Neymar sealed a three-goal advantage coming into tonight's tie. Mehdi Benatia's 4th-minute header gave Pep Guardiola's side hope, but Luis Suarez twice squared across the box for Neymar to score to give the Catalans a 2-1 lead before half-time. With time running out and the odds against them, Robert Lewandowski and Thomas Muller both scored to put Bayern back in the lead - but they could not find anything further, as they fell out of the UEFA Champions League at the semi-final stage for the second successive year. Hard luck, lads. Make sure you come back to join us for tomorrow's semi-final second-leg between Juventus and Real Madrid, to determine who joins Barcelona in the final of the competition on June 6th 2015. See you then!
22:25. We certainly saw some superb quality over the last 180 minutes of football between Barcelona and Bayern Munich. Just under a year after failing to win the FIFA World Cup in Brazil - losing in the final, Lionel Messi will be keen to ensure he doesn't see his side fall at the final hurdle on the biggest stage at club level. Luis Enrique's side will take some stopping in the final, that's for sure.
22:21. Where does this two-legged tie rank amongst some of the best Champions League semi-finals ever? Was this evening's second-leg one of the best you've seen, or not? Tell us at @VAVEL.
22:18. Bayern Munich captain Philipp Lahm: "The fans have been really great today. We believed in the miracle, but we couldn't make it happen. It's impossible to stop those players for the whole 90 minutes. We didn't lose it today, but in the first leg."
22:15. Barca can clinch the La Liga title this weekend against Atletico Madrid (if the game goes ahead) before they face Athletic Bilbao in the Copa del Rey final, and then one of Real Madrid and Juventus in the Champions League final in the early days of June. Luis Enrique post-game: "We're one win away from winning each of the three competitions. This is our mission."
22:12. Barcelona midfielder Andres Iniesta post-match: "Bayern improved in the second half, but you have to celebrate the fact we've reached the final. We are where we wanted to be but won't just be happy with that, we want to win titles. We are in a final and it is within our reach. We will try and win it."
22:09. On the bright side for tonight's home team - they ended a run of four straight defeats, and ended a run of 361 (or 365, by the time they scored) minutes without a goal in the early stages of tonight's clash. They'll still be pretty gutted not to be in the final, mind. Though they gave it an excellent effort tonight.
22:06. Barcelona midfielder Ivan Rakitic speaking to Sky Sports after the game: "It was a really hard game for us and we were playing against one of the best teams in the world. The first game's result made it easier but in today's big game, we are now we are really happy and want to win it. Our coach is very important for us. Every coach has different ideas and I want to thank him from our team. Without him, it is impossible. It was perfect work from everybody and I hope we can win this title now. We respect all the teams and tomorrow is a big game for Real Madrid and Juventus."
22:03. Barcelona are four wins away from the treble, which would be an incredible achievement for Luis Enrique in his first season in charge. They sit four points atop La Liga, above 2nd-placed Real Madrid, with two finals in the space of a week to come.
22:00. @FCBarcelona on Twitter: "FC Barcelona into fourth Champions League Final in 10 years: http://ow.ly/MS5hJ #FCBLive #UCL #HalloBerlin"
21:58. Real Madrid now have the incentive of setting up a Champions League final El Clasico. They trail 2-1 on aggregate, but they have the home advantage tomorrow evening - and they've got an away goal. Read an in-depth review of the first-leg in Turin here.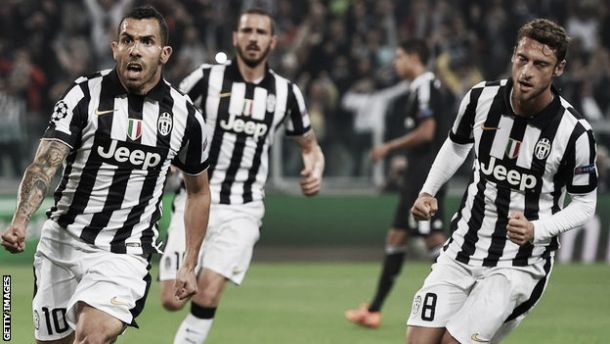 21:55. Another thrilling clash between two of Europe's best sides, but it is the visitors who go home the happier of them. We'll have post-match reaction following that result with you shortly.
21:53. Neither side defended particularly well this evening, it was the attacking qualities of each side that shone through. The front three of Barca (Messi, Neymar and Suarez) are on 113 goals for the season now - five off of a record with two La Liga games left, and a Copa del Ray and a Champions League final to go. Can they break it? You'd put good money on them.
21:50. Barcelona have thoroughly deserved their place in the final, as tonight's hosts - Bayern Munich - walk across the pitch to give their thanks to their home fans. This is the end of their season, having been knocked out of the DFB Pokal to Borussia Dortmund last month, though they still have their Bundesliga triumph to fall back on.
21:47. Barcelona will appear in their fifth Champions League final, level with Bayern Munich. Only AC Milan (six) have been in more - though Real Madrid have been in the most if you count the days in which the competition was known as the European Cup. It is the first Champions League final they have been in without Pep Guardiola as the manager for the first time since 2005/06.
21:45. Another sensational attacking performance from the visitors, who fall to a 3-2 defeat on the night after letting up in the second-half: but they have their front three to thank for their place in the final. Lionel Messi netted twice in the first-leg, Neymar adding a late third - and Luis Suarez linked up with the Brazilian twice tonight to reverse the early lead that Mehdi Benatia had handed Bayern Munich. The home side clawed themselves back in-front thanks to Robert Lewandowski and Thomas Muller, but they couldn't find enough to score the five goals they needed to book their place in the final on June 6th - as they fall to a defeat in the semi-final stage at the hands of Spanish opposition for the second year running.
21:42. The last time they were in the final of the Champions League, Pep Guardiola was the Catalan manager. He shakes the hand of Luis Enrique, his former teammate at the club, who will be looking towards Juventus and Real Madrid tomorrow night to see who they come up against. The Italians currently lead 2-1 on aggregate with a trip to the Bernabeu awaiting them.
21:40. Barcelona are in the final of the 2014-15 UEFA Champions League to be played in Berlin next month.
FT: Bayern Munich 3-2 Barcelona (3-5 on aggregate)
90+3' What a waste. With the opportunity to take his hat-trick on the night, and even the scores at 3-3 - Neymar instead looked to roll the ball across Messi in the box, but his pass is well off - and it runs across goal.
90+2' Corner for Bayern - but it's easily hooked clear by Busquets. Only 60 seconds until their place in the UEFA Champions League final is officially cleared.
90+1' Barcelona have conceded as many goals in tonight's game as they have in their last 11 competitive matches, with three minutes added on at the Allianz.
89' Coming up to the end of normal time. It's been a valiant effort from Guardiola's side, having been blown away by Barcelona's attacking trio in the first-half - but they didn't defend well enough and though they're winning 3-2 - they looked to be falling in the final four yet again.
88' Time ticking down for the home side, though they've not given up as they pick out Lewandowski in space down the left. He does well to keep it, but after trying to cut it back to a teammate it goes out for a throw.
87' Double substitution for Guardiola in the final minutes, Martinez and Gotze coming on. Schweinsteiger and Muller off.
86' Another booking, as Pedro slides in on Bernat and catches him on the ankle.
85' Lewandowski pulls down the ball and shoots from the edge of the area, but despite catching it well, the direction is well off and it flies wide. The hosts done well to rescue this game to put themselves back in the lead, though.
84' Rode is cautioned for hauling down Messi on the counter after getting caught in possession.
83' Barcelona only a few minutes away from their first Champions League final since 2011, though it looks unlikely that they'll take their first win over Bayern Munich on German soil this evening. Doubt they'll mind one bit with a European final to look forward to though.
82' Thiago bursts forward and after his initial pass is blocked, he picks it back up and finds Lewandowski. He cuts a ball into Muller in the box, who tries to be too fancy and look for a pass into the near post. His teammates don't expect it, and it goes out for a goal-kick. He should have had a shot there.
81' Messi tries to glide down the right, but is dispossessed. As soon as Bayern try to counter, there's plenty of bodies in luminescent yellow back.
80' Ter Stegen's goal-kick goes out of play, with Luis Enrique's side well on the back foot now. The visitors have had just one shot this second half, adding to their four in the first-half - but they've been clinical with those few opportunities, despite Bayern having had 18 so far tonight.
79' Corner-kick Bayern, as Lewandowski's shot deflects wide after taking a nick off Pique. Alonso sends it into the box, but Benatia's header is over the crossbar.
78' Barcelona have lowered their tempo in this second-half, but they've paid the price. It's still unlikely that they'll give up their place in the final, but Bayern are a lot more confident as they push forward in these final minutes. Reminder that they still need three goals to turn this around.
77' Lewandowski is booked after a number of players crowded Clattenburg after his decision not to give a corner-kick.
76' For the visitors, Xavi makes his 150th Champions League appearance by replacing Iniesta in midfield - making him the most-capped outfield player ever in the competition, excluding qualifiers.
75' Schweinsteiger tees up Muller on the edge of the area, and he curls an effort into the bottom right corner from 20-yards with a fine finish. It's livened up the home crowd, but they still need three goals to progress. Can they do it?
74' GOAL! 3-2 Bayern Munich take the lead for the second time this evening, cutting the aggregate lead to 5-3.
72' Rafinha pokes the ball into Muller inside the box from the right, but after trying to square it to Lewandowski - Barca clear their lines.
71' Substitute for Enrique, too, as he looks to shore things up. Mathieu coming on in place of Rakitic.
70' Rafinha drives a dangerous cross into the box, but Rakitic heads clear. Moments later, Neymar looks to break, but he loses his footing on the break.
67' First substitution for the home side with Rode replacing captain Lahm, who hands the armband to Schweinsteiger.
66' Mascherano gives the ball away and the home side eventually clip it into Lahm - who looks to drive across the face of goal in search of an opening, but he takes it too far and Busquets nicks it off him. A goal there and Guardiola's men could have put some real pressure on Barcelona.
64' Rakitic goes into the book for a poor challenge, but the hosts waste the resulting free-kick as Thiago's header bounces easily into the arms of Ter Stegen.
63' Bayern Munich win a free-kick in the opposition half and Alonso hangs the ball up into the box, which two Bayern players meet in the air. After a bit of confusion in the area, it falls for Muller who turns and shoots, but the effort drags wide of the post.
62' So much for notching their first win over Bayern in Munich, then. But they're fully capable of scoring again, even though Suarez was brought off at the break.
61' Terrific footwork from the Pole to net his 24th of the season, sidestepping the Barca defence on the edge of the area before curling a shot beyond Ter Stegen and into the bottom corner. Only four more...
60' GOAL! 2-2. What a fantastic individual effort from Lewandowski, to level the scores on the night.
59' Little over half-an-hour left of this encounter, as Barcelona look to see out their first win in Munich and seal passage to the final in Berlin next month. They're retaining possession inside their own half at the minute, though they won't need to worry about pushing forward for another goal unless Bayern net at least five.
57' But he's back to his feet. The Brazilian is on nine goals for thie year's tournament, one behind leader and teammate Messi on ten goals, as Bernat's powerful strike from range zips wide of goal.
56' Schweinsteiger's ball out wide drifts out of play. Things have not gone their way since conceding Barcelona's first goal 15 minutes in. Worrying moment for the away side however, as Neymar goes to ground with a ninjury after Rafinha catches his chest with his elbow.
55' Muller hits a volley from 25-yards, but he never gets a hold of it and it flies well wide. Time running out for the Bundesliga champions, but they've only shot themselves in the foot tonight.
53' Neymar goes down after a challenge from Boateng down the left-flank, but he's a bit theatrical afterwards. He wins the free-kick, which the away side take short.
52' Neymer cuts inside from the left but his ball to Messi is off target. Rakitic picks it up and works it to Alba and his cross finds Messi - but the Argentine's shot is blocked in the box.
51' Neuer, typically, comes rushing 30-yards off his line to head clear a long ball over the top. It's not been one of his finest nights, but even beforehand the German stopper had conceded nine of the last 17 shots on target he has faced in the Champions League.
50' Muller finds himself through on goal after beating a defender to a loose ball, but Ter Stegen stands up well before the ball evades Schweinsteiger at the near post.
48' Calmer start to this second-half than the first, with Barcelona enjoying more of the ball. The Bayern fans are still singing, but it looks as though they'll be falling to Spanish opposition at the semi-final stage of this competition for the second successive season.
47' Substitution at the break, as Pedro replaces Suarez for the visitors. No less than 20 seconds into the second 45 minutes, Alba wins a foul out of Muller near the fourth official at the corner flag.
46' We're back in action at the Allianz as Bayern get the second-half underway. Surely they can't turn this around? It would be perhaps the greatest comeback in Champions League history if so, eclipsing even the likes of Munich in 1999 and Istanbul in 2005.
20:42. Barcelona are well in control of this tie. They don't need to go chasing more goals, but they'll relish the chance to avenge that 4-0 loss here two years ago. They've been brilliant once again so far, but can they keep this kind of form going until the final on June 6th? The ban on Spanish domestic football is set to go to court tomorrow with a debate as to whether the decision of the RFEF to abandon all games from May 16th is legal or not.
20:37. It all started so well for the hosts, as Mehdi Benatia headed them in front after just six minutes - but Luis Suarez found Neymar for an easy tap-in nine minutes later to give Luis Enrique's side the advantage. The two combined again less than 15 minutes later to put their side well in charge of this semi-final. They're well on their way to Berlin at this rate, but will they face Juventus or Real Madrid? There's still 45 minutes left to play tonight of course, but it'd require an almighty collapse for them to surrender their place in the final.
20:35. Neymar carries the ball towards the referee, and he only needs one more for a hat-trick. Bayern Munich need six goals to turn this around. Six inside 45 minutes against a team who could yet add more to their tally of two on the night and five on aggregate.
HT: Bayern Munich 1-2 Barcelona (1-5 on aggregate)
45+2' Thiago is the second man to go into the book tonight, bringing down Mascherano with a cynical foul.
45+1' Two minutes added on at the end of this first-half, with Bayern desperate for a glimmer of hope before the break. Muller cuts inside from the left, but can't find a teammate with his pass into the six-yard box.
44' Free-kick Bayern with only a minute left of normal time in the first-half. Alonso lines it up, clipping it into the box - but Benatia heads it high and wide.
43' Olé's coming from the away fans inside the Allianz. Their side have been utterly devastating going forward. They have so much pace on the counter, as Messi flicks a long ball into Neymar and he combines with Suarez but after trying to return the favour - the Brazilian's clipped pass is cleared.
41' That really was an impressive stop. He got a strong hand to the initial effort, but the shot was inches away from crossing the line before Ter Stegen threw down his left hand to keep it out. It stays 2-1 to Barcelona on the night, and 5-1 on aggregate.
39' Is it in? Isn't it? Ter Stegen keeps out Lewandowski not once but twice. The second of which he did excellently, clawing an effort off of the line when it looked like creeping in and offering the home side some hope. Meanwhile, Rafinha is the first into the book this evening for a foul on Iniesta.
37' Bernat swings a cross in to the box, which Schweinsteiger directs towards goal - forcing a good reaction from Ter Stegen to tip it over his crossbar. Alonso takes the resulting goal-kick, which Benatia rises to, but his executed header is poor - as it flies high above goal.
36' Alves' tenacious run sees him beat Schweinsteiger in the air before pegging Bernat back to his own corner flag, but the Bayern full-back forces a goal-kick.
35' Alves is caught in possession, but Pique comes across excellently to force a throw after preventing his run. Without Robben and Ribery, surely this is a task too much for the German champions? Lahm flashes his cross well above the box after Thiago's pass is intercepted on the edge of the box.
34' Superb from Suarez, to flick the ball over his head and beyond Benatia - but he's eventually bundled over inside the box - though nothing is given. He's got two assists already, and he's been superb in his first season in Spain since joining from Liverpool for £75 million last summer.
33' This won't be exactly what Guardiola was hoping for after his side took the lead. Neymar has had two shots so far, dispatching both clinically. His second puts the total tally of goals between Barca's front three up to 113 - five off the record.
32' Bayern will need five more goals to progress now, but they'll also have to prevent their opponents from scoring again. Benatia gives away a free-kick frustratedly, catching Messi late.
31' Bayern, pushing for the equaliser, get caught short at the back and Suarez races away towards goal before spotting team-mate Neymar across goal. He squares and the Brazilian controls and fires past Neuer low at his near-post for his second of the game. Is this tie all over?
30' GOAL! 1-2. And they're made to pay for it. Blistering counter from Barcelona.
29' Superb run by Thiago, to beat two men with superb footwork - he slips Muller inside the box, but his shot is poor and Ter Stegen saves easily. Unusually poor from the forward.
28' Messi looks for the run of Iniesta in behind, but it's headed clear. Nevertheless, Barcelona are straight back forward and Messi pokes goalwards after Neymar found him inside the area - but Neuer gets down to the shot.
27' Almost half-an-hour in, and though Bayern opened the scoring early on - the complexion if anything is harder for them than it was to begin with, after Neymar's leveller gives them the vital away goal. The hosts are still looking to put themselves back in the lead, as Muller feeds Lewandowski but his stabbed effort towards Ter Stegen is well held by the German goalkeeper.
25' Busquets wins the ball after good pressure, but despite picking a good pass to Suarez who makes a run in behind the defence - the Uruguayan is offside.
24' Rakitic's pass out to Messi on the right is a bit too heavy, and drifts out of play. Possession has been fairly evenly shared so far, Bayern enjoying 51% in comparison to the visitors' 49%.
21' Barcelona give away possession inside their own half, but gain it back on;y seconds later as both sides exchange periods on the ball. The home side earn it back, but there's plenty of players behind the ball and they're struggling to find a breakthrough.
20' Suarez goes to ground under a challenge from Benatia and Clattenburg gives the striker the advantage. Barcelona look like they're still up for more goals here.
19' What a game this is, and what a save by Ter Stegen - as he claws Muller's header out the air to push it past his post for a corner. The German's header was heading right for the top corner too.
18' Neymar flicks a ball over the top to Messi, but he's caught a yard or two offside. The trio have combined for 112 goals this season - six off of the record set by Ronaldo, Higuain and Benzema a few years back.
17' Rafinha and Alba have a brief bout of handbags, after the Bayern man pushes his opponent and the full-back falls to the ground dramatically. From the free-kick, Alonso's delivery is poor but Clattenburg spots a foul amongst the players in the box. Free-kick Barca.
16' Messi picks out Suarez with a sensational through ball, and he squares it for Neymar to place into an empty net to level the scores on the night. That makes it 4-1 on aggregate, and it's an even bigger mountain to climb for Pep Guardiola's side now.
15' GOAL! 1-1 Barcelona. Suddenly, the home side's momentum is emphatically killed off, and it's that front three again.
13' Schweinsteiger picks the ball up 30-yards from goal and tries an ambitious effort, but it flies over Ter Stegen's goal when he could have continued to pile pressure on the away side.
11' Barcelona threatening as Suarez and Neymar link up inside the area, but the former can't pick the right pass. Immediately up the other end, Muller finds Lewandowski inside the area - but the Polish striker can't get the ball from under his feet and the visitors scamper clear.
10' Bayern have recovered from an away first-leg defeat to win the tie on ten occasions, including against Porto in the quarter-finals. But that game was the first time they had retrieved a deficit of two goals or more in UEFA competition; having lost the previous nine ties, although they did win five of those second legs.
9' 14 times this season, Bayern Munich have scored four or more goals in one game. Can they make it 15 tonight? Barcelona currently have a throw-in down the right as they look to respond to going behind early.
7' That makes it 3-1 on aggregate, meaning Bayern Munich need two more goals to force extra-time and potentially penalties. Another goal for the home side and this could get very interesting.
6' Lewandowski wins a corner from the by-line and Alonso comes across to whip it in to the area. Benatia, in acres of space inside the box, heads powerfully into the bottom corner to give Guardiola's side some much-needed momentum. Poor defending from Barcelona.
6' GOAL! 1-0 Bayern Munich. What a start for the home side.
5' Brilliant pressure from the hosts sees Bayern counter and break into the area, but Thiago's shot from the edge of the area is blocked by Pique.
4' Rakitic ghosts through the Bayern defence to meet Alves' lovely through ball, but his shot back across goal is palmed away by Neuer - who then palms out a cross for a corner-kick.
3' Dani Alves fires a long ball up to Suarez, who can't pluck it out of the air - but it falls kindly to Neymar - and Barca recycle possession. Enrique's side have averaged 62% possession across all of their games in Europe this season.
2' Lively start, with both sides looking to attack and get on the ball from the off. Guardiola has said his side will remain patient going forward this evening - Lahm looks to play a neat one-two with Muller down the right, but the ball trickles over the by-line for a goal-kick.
1' It's the away side who get us underway, Messi and Suarez getting the ball rolling at the half-way line. Bayern Munich have reached the final in four of their last five semi-finals in the Champions League, can they continue that run tonight?
19:44. The players are out of the tunnel, with the home crowd holding aloft a motivational mosaic. The famous UEFA Champions League anthem rings through the air and only 90 minutes separates the winners of this tie and the final. Berlin awaits, but will it be Spaniards or the Germans travelling to the capital of Germany in a month's time? Stay tuned for live minute-by-minute coverage of what promises to be an enthralling encounter between two of Europe's best.
19:42. We're just minutes away from kick-off at the Allianz Arena. Bayern Munich have never been eliminated twice in a row in a Champions League semi-final. This could also be the second consecutive season that Bayern would be eliminated by a Spanish team (Real Madrid in 2013/14 and Barcelona in 2014/15).
​19:39. Bayern Munich have a massive mountain to climb tonight, don't they? 100% of the teams that have won 3-0 in the first leg of a knockout Champions League have managed to go through. Barcelona have also won 37 of the 39 UEFA competition ties in which they won the first leg at home. The biggest first-leg lead Barcelona have let slip came back in the 1983/84 European Cup Winners' Cup quarter-final, when they fell to a 3-0 loss away at Manchester United after having beaten them 2-0 at home.
19:36. Even with that said, Barcelona have won four consecutive away games since a 3-2 loss at Paris Saint-Germain in September. With a win this evening, they would become the first Barcelona side to notch five straight away wins in a single European season.
19:33. Bayern Munich may be in poor form, having lost their last four and scoring no goals - but Luis Enrique won't be taking anything for granted. Especially given the fact that Bayern have a 100% record in Munich in this season's UEFA Champions League, and have scored 13 goals in their last two home games – beating FC Shakhtar Donetsk 7-0 in the round of 16 and FC Porto 6-1 in the quarter-finals.
19:31. Less than 15 minutes until kick-off in tonight's mouthwatering clash. Barcelona have won nine successive UCL games for the first time since 2002/03. Are they the favourites to win the competition? Have your say by tweeting @VAVEL.
19:29. But though Bayern Munich had more of the ball in the first-leg, it was the first time they had failed to register a single shot on target in a Champions League game since October 2009 against Bordeaux. Up the other end, they had to face eight shots on target - having only let their opponents have six shots on target in their previous four knockout encounters.
19:26. Did you know? Even though they won 3-0, Barcelona had only 47% possession in the first-leg. That is the first time they have won a UCL game with under 50% possession since December 5th 2006, when they beat Werder Bremen having had just 43% of the ball.
19:23. Xavi is leaving Barcelona later this summer, but he could break yet another record if he gets some minutes tonight. He could play his 150th game in the Champions League (excl. Qualifiers), which would be more than any other outfield player. Read more about his planned move to Qatar side Al Sadd SC here.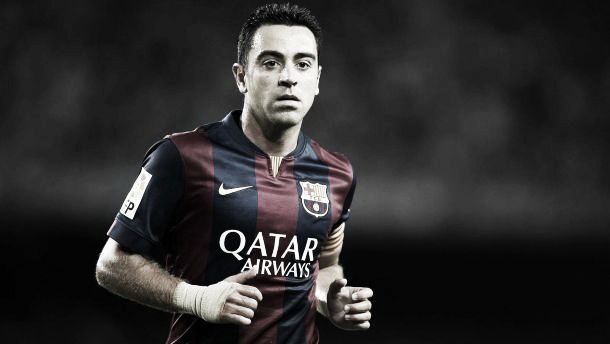 19:20. Bayern Munich have gone 361 minutes without a goal, their worst goalscoring run in 17 years - which is some stat, though Guardiola has fielded notably weaker sides domestically since wrapping up the Bundesliga title.
19:18. That's exactly the message from the club's chief executive Karl-Heinz Rummenigge. "It is going to be very hard," he said. "Barcelona were the favourites in the first place and after the game that status grew. This is normal when you get this sort of result. But nonetheless, it is the duty of Bayern Munich to put on their best performance on Tuesday. We will see if it will be enough. Our chances are very, very small, but in football there is always one game in a century where you can turn the tides. They are rare, I know, but it is our responsibility to give all we can. If it is not enough you can't change it but you at least have to try."
19:15. Interestingly however, despite the fact that tonight's hosts suffered a 5-0 mauling on aggregate at the hands of Real Madrid at this stage last season - they have won five of their seven European Cup semi-finals against Spanish teams. They'll need a huge effort to turn it around, but with the quality in their ranks - it's not an impossible task.
19:12. Bayern Munich and Barcelona have met four times previously on German soil, with the visitors never having come out on top (discouting their Audi Cup victory, that is.) The best result that the Catalans have mustered is a 2-2 draw and a 1-1 draw. There'll be good odds on them ending that streak tonight.
19:09. Muller added: "In football, many things are possible. That's why there's still hope and we still believe in ourselves. We can't expect things to go like against Porto. But that's what we need. We have to find the right mix of better attacking and more calmness on the ball. The three-man defence was a risk against a three-man attack. The coach will prepare us well and the rest is will and support from the fans. We have nothing to lose against Barca and this is how the players and the coach are approaching the match. We will give it a try, it is not over yet. We will give everything until the referee blows his whistle."
19:06. Bayern's Thomas Muller believes Pep Guardiola's side can "shock the world" this evening and complete an improbable comeback against the odds. "I am neither very euphoric nor very pessimistic," he said at a pre-match press conference. "We need to take our chances. Everyone knows that things were better before. We will have a plan. That first leg was a huge disappointment. But since we left Camp Nou we've wanted to make up for it. If we go through, it will be a statement for the world of football. This is the plan and it's not stupid."
19:03. Three of Barca's four triumphs in this competition have come in the last 10 years. Only Spanish rivals Real Madrid would be able to boast a better record in a decade - when they won six between 1956 and 1966. Not a bad record at all.
19:00. There it is, the prize both of tonight's teams are playing for. Bayern Munich have competed in a third-most 10 European Cup/Champions League finals - winning five and losing five, whereas Barcelona have won four of the seven finals they have contested. They're looking to win the competition for the fifth time in the club's history, meaning they would join the likes of Real Madrid, AC Milan, Bayern and Liverpool to have the trophy for keeps in the club museum.
18:57. And of Messi's goals in the Champions League - 55 of his 77 have been inside the area, including his last - a beautiful chip over Neuer nine minutes from time. His first goal against the German last week was also his 12th from outside of the area, whilst he has also scored eight penalties and two free-kicks in European competition.
18:54. Did you know? Messi has scored more UEFA Champions League goals (14) against German sides than teams from any other country. Four of those 14 have come against Bayern Munich, with six versus Bayer Leverkusen. Messi has an incredible 77 goals in UCL football from in 97 appearances overall.
18:51. Sky Sports seem to have forgotten a certain Lionel Messi in their line-ups for tonight's game.
18:48. Better late than never, the Barcelona Bench: Bravo, Bartra, Mathieu, Adriano, Xavi, Rafinha, Pedro.
18:45. Barcelona have not yet revealed their bench, but we'll have that with you soon. Both starting teams are the exact same as those from the first-leg last week, but will we see a different result this evening?
18:43. Bayern Munich Bench: Reina, Dante, Martinez, Pizarro, Gaudino, Götze, Rode, Weiser.
18:41. Barcelona XI: Ter Stegen; Dani Alves, Pique, Mascherano, Alba; Busquets, Iniesta, Rakitic; Suarez, Neymar, Messi.
18:38. Bayern Munich XI: Neuer; Rafinha, Boateng, Benatia, Bernat; Alonso, Lahm, Schweinsteiger; Muller, Thiago, Lewandowski.
18:36. The team news is in..
18:35. We're just over an hour away from kick-off in tonight's Champions League semi-final between Bayern Munich and Barcelona. We'll have tonight's team news with you shortly. Stay tuned.
Meanwhile, Guardiola has insisted Bayern must remain patient if they are to overturn a 3-0 deficit. "We are 3-0 behind against a top team, the best team in Europe the last 15-20 years," said Guardiola, who was Barca boss until 2012. "We have to defend. I know how people in Germany think. But first we have defend, not just sprint forward because Barca have outstanding counter-attacking players. We have to focus on our game plan, have more possession of the ball than them and see what we can get out of it. We have to be patient and cannot do everything in the first 15-20 minutes. First we have to play football and see what happens. Maybe we can then score a goal and create an atmosphere in the stadium. No one says it will be easy to score goals. We will try to overturn the deficit with control of the game. We came back both against Shakhtar Donetsk and Porto (in earlier rounds)."
Barcelona boss Luis Enrique claims that his side are at the Allianz to win tonight, despite leading 3-0 from the first-leg. "We prepare for games regardless of the previous result. Barca never speculate. The match will be great because both teams will be looking for the win," he said. Read more of his quotes here.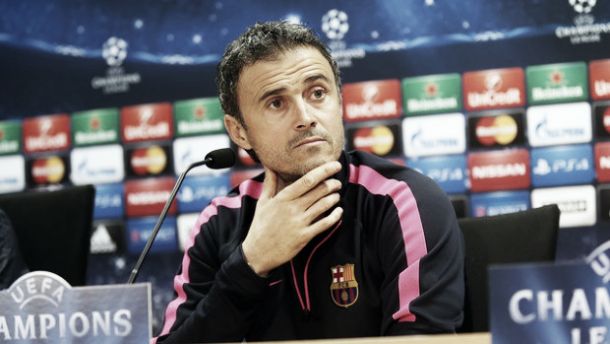 Tonight's match official: English referee Mark Clattenburg will take control of this evening's game. The 40-year-old has been the man in the middle for Atlético de Madrid's 2-0 win in Malmö and Athletic de Bilbao's 1-0 victory away to Shakhtar Donetsk. Clattenburg, an experienced Barclays' Premier League referee, also officiated Barcelona's 3-1 win away at PSG in the quarter-finals earlier this year.
Did you know? Barcelona and Bayern Munich met at this same stage two years ago, when the latter went on to beat Bundesliga rivals Dortmund to lift the Ol' Big Ears under the arch of Wembley Stadium. In the first leg at the Allianz Arena, Jupp Heynckes' side underling their status as a growing European power with a 4-0 win (ironically, the same scoreling they could do with tonight) as Thomas Muller scored twice and Mario Gomez and Robben both added further goals, before the Bavarians took a 3-0 win at the Camp Nou in the second-leg to seal a 7-0 aggregate victory.
Pep Guardiola could be under pressure from those above him at Bayern Munich if his side crash out of the Champions League. He had been aiming to replicate Jupp Heynckes' treble-winning season back in 2012-13, but has seen his side crash out of both domestic cup competitions to Borussia Dortmund. Earlier this week, he was batting away suggestions that he would be leaving the Bavarians in the summer. You can read all those quotes from his pre-match press conference here.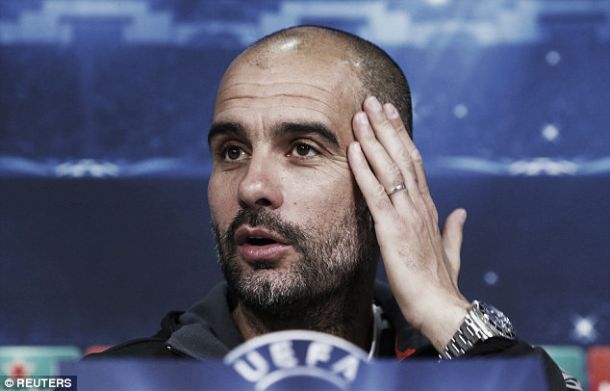 So, that's how both sides find themselves in the current round here today. Do they deserve to be here? Bayern have scored 30 goals in 11 games so far, though Barcelona kept a shut-out in the first-leg of this clash. These two are arguably the best teams in Europe at the moment, but will we see a classic encounter befitting of Bayern's quality tonight after the Catalan side's first-leg dominance?
But the second-leg, with the pressure piled on Bayern Munich, was a completely different story. The home side begun as they meant to go on, as Thiago scored against Porto inside 14 minutes after a relentless start and just eight minutes later - Guardiola's men were level on aggregate and set to go through as Boateng scored his third European goal of the season. No sooner was it 2-0, than it was 3-0 as Lewandowski gave the hosts the outright advantage. Bayern added two more before the break, through Muller and Lewandowski again as Die Roten put themselves well in charge to reach the last four. They settled after the break, and Martinez gave Porto a faint lifeline with just over quarter of an hour to go - but Julen Lopetegui's side were reduced to 10-men as Ivan Marcano saw a second yellow. Alonso rounded off the scoring in the 87th minute, curling a free-kick over the wall to seal a comprehensive 6-1 victory as Bayern again left it until the second-leg to find their best on home turf.
In the last eight, Bayern drew FC Porto, who had finished top of the same group Shakhtar were in. Having scored so many goals already in the competition, the Germans were expected to travel to the Estadio Do Dragao in Portugal and emerge victorious. But the Dragons shocked the world, when they stole a 3-1 first-leg win. They started off sensationally, as Quaresma opened the scores just minutes in after Neuer had given away a penalty for bringing down Jackson Martinez. Just seven minutes, Dante lost out to Quaresma and the winger curled a neat finish into the far corner to double the home side's lead. Thiago Alcantara pulled one back after half an hour, but Martinez restored a two-goal advantage with 25 minutes to go - rounding Neuer before slotting into an empty net.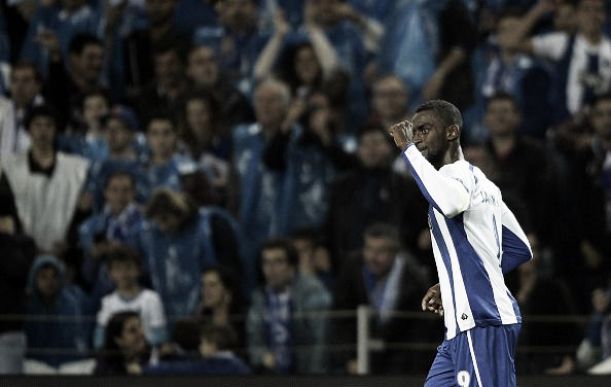 Their routine passage into the knock-out round saw them drawn against Shakhtar Donetsk second in Group H. They made hard work of it though, drawing 0-0 in Ukraine in the first-leg as Alonso was sent off for two yellow cards at the Donbass Arena. But Bayern Munich scored seven goals in a single game for the second time in Europe this season in the second-leg at the Allianz. The visitors were perhaps unfairly reduced to 10 men as Olexandr Kucher was sent off for a foul on Gotze inside the box. Muller converted the penalty, before Boateng doubled the lead going into the break. Ribery made it three just inside the second-half before Bayern really went to town, as Muller and Badstuber extended the lead to five. Lewandowski scored with quarter of an hour to go before Gotze sealed a 7-0 win on the night and on aggregate late on.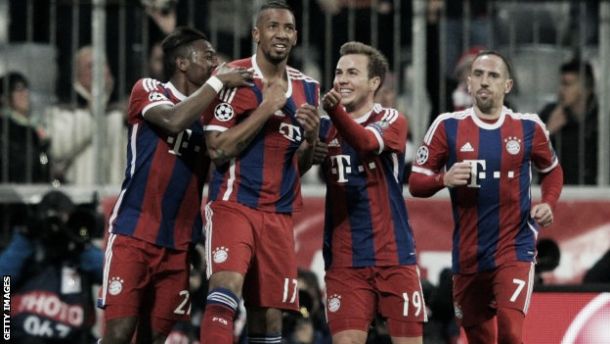 But Guardiola's side suffered their first defeat in match-day four, when a Sergio Aguero inspired Manchester City overcame Die Roten 3-2 at the Etihad Stadium. The Argentine striker opened the scoring with a penalty after Mehdi Benatia had seen red for a poor tackle inside the area. But 10-man Bayern turned it around before half-time, a Xabi Alonso free-kick and Lewandowski's peculiar header gave the away side the lead. But City responded in the last five minutes, as Aguero seized upon Alonso's missed pass to fire high into the roof of the net. In the final minutes, Aguero sealed a hat-trick with a calm finish after Boateng's poor touch. Nevertheless, Bayern topped the group after a comfortable 3-0 win at home to CSKA in the final match-day. Muller's penalty opened the scoring after 18 minutes, before Rode and Gotze added late goals to ensure the Germans finished on an impressive 15 points from a possible 18.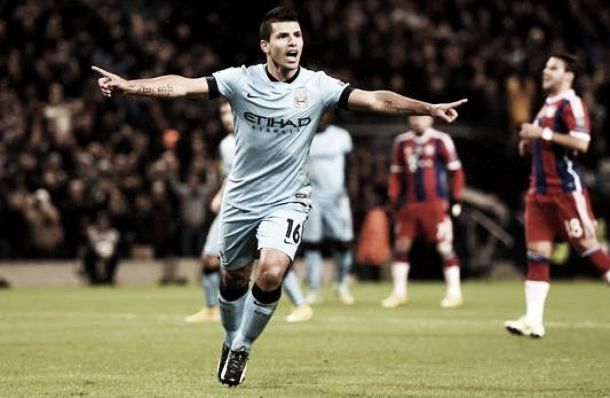 The German side continued to cruise through the group stage from there on in, sneaking a 1-0 win away at CSKA Moscow thanks to Thomas Muller's first-half penalty, before hammering seven past Roma away from home. Guardiola's side went to the Stadio Olimpico expecting a tough fixture against the Italian side who had won six of their first seven Serie A games going into the European clash - but a brace from Robben and goals from Robert Lewandowski, Gotze, Muller, Ribery and Xherdan Shaqiri sealed an emphatic 7-1 thrashing of Roma. Rudi Garcia's side kept the scoring down when they next met at the Allianz two weeks later - but goals from Ribery and Gotze sealed a 2-0 win.
Bayern Munich meanwhile, sealed their place in this season's Champions League by finishing 17 points clear of rivals Borussia Dortmund in the 2013-14 Bundesliga following just two losses all season. They were drawn against English champions Manchester City, CSKA Moscow and AS Roma. Kicking off their group-stage campaign against City - they were forced to rely on ex-City defender Jerome Boateng's late intervention for the three points. Joe Hart had kept the visitors in the game at the Allianz, but Boateng's powerful shot took a slight deflection off Mario Gotze to find itself in the back of the net for a 1-0 win in the opening game.
In the return leg, Neymar was the man to confirm Barcelona's place in the semis with a routine 2-0 win at the Camp Nou. The Brazilian struck twice in the first-half as the Spanish side sealed a 5-1 aggregate win on their way to setting up a two-legged clash with Bayern Munich.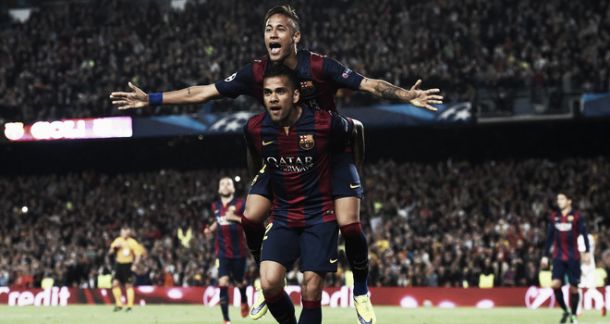 There, they were met up with group-stage opponents Paris Saint Germain to contest for a place in the final four of the competition. Yet again, they were on their travels in the first-leg - visiting Parc des Princes to take on the Ligue 1 leaders. Neymar slotted past Salvatore Sirigu from close-range to give Enrique's side the momentum, before Suarez' 12 minute second-half double put Barcelona well in the driving seat to go through. Laurent Blanc's side scored late on as Matuidi netted against the Catalans for the second time this season, but they eventually fell to a 3-1 defeat on home turf.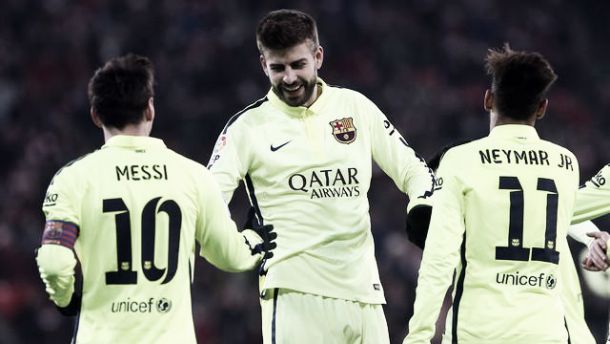 That hope proved to be misplaced, as Ivan Rakitic's strike in the 31st minute of the second-leg in Spain ultimately proved enough for Barcelona. But they were not without their scares, as Aguero was tripped inside the box - but Marc Andre ter-Stegen palmed away his penalty, as Joe Hart up the other end produced a phenomenal solo performance to keep the score to a respectable 1-0 on the night, and 3-1 on aggregate. Barcelona were not worried though, as they progressed to the quarter-finals of the Champions League for the eight straight campaign.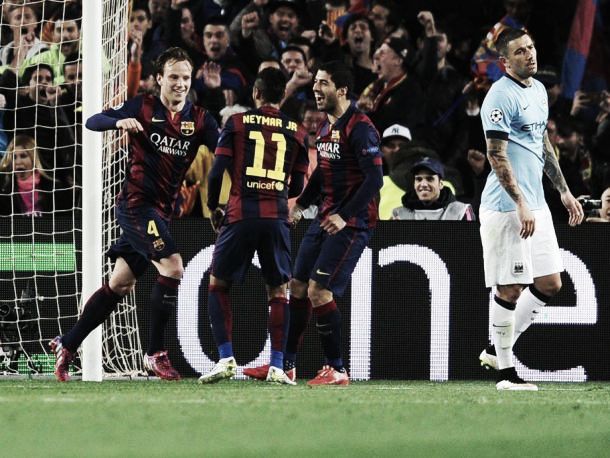 In the first knock-out round, the Last 16, Barcelona were paired with then-reigning Premier League champions Manchester City a year after they had beaten the same opponents at the same stage of the competition. They travelled to England for the first-leg, where ex-Liverpool striker Suarez was in inspired form to score twice inside half-an-hour. Sergio Aguero pulled one back for Manuel Pelligrini's side, who were reduced to 10 men only a few minutes later after Gael Clichy earned a second yellow. Barca went on to control the final stages of the game, winning a late penalty - but Joe Hart was equal to Messi's spot-kick before the forward headed the rebound wide to give the Premier League side a glimmer of hope going into the second-leg as the final score finished 2-1 in the visitors' favour.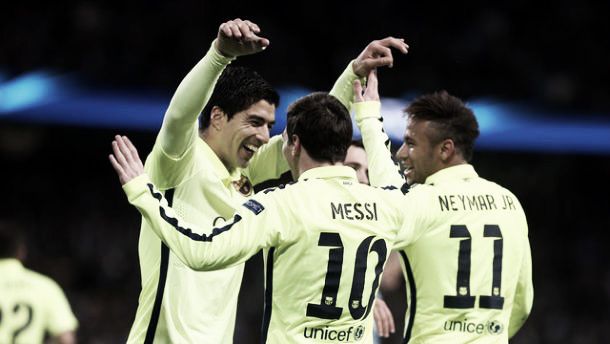 In match-day four of the group stages, it was Barcelona's turn to travel to the Netherlands and take on Ajax, as they took another win thanks after a brace from Messi following Joel Veltman's dismissal after a second yellow, for the home team. Barcelona sealed passage to the knockout stages with a comfortable 4-0 win away at APOEL - Messi helping himself to a hat-trick and Suarez netting in his first Champions League game for the club after a four-month ban. The Blaugrana ensured that they finished top of the group as they gained revenge on PSG for their earlier group stage defeat, beating them 3-1 at Camp Nou. That left the final standings looking like this:
After finishing three points behind Atleti in first place in La Liga last season, Barcelona were drawn against Paris Saint Germain, APOEL Nicosia and Ajax. They kicked off their European campaign against the Greek side at Camp Nou, winning 1-0 thanks to Pique's header. Less than two weeks later, they were dealt a blow when they fell to a 3-2 loss away at PSG. Messi had levelled just two minutes after David Luiz gave the hosts the lead, but Marco Verratti and Blaise Matuidi added two more goals before Neymar could cut the deficit to one and the French side held on for a huge victory. Luis Enrique's side got back to winning ways in match-day three of the group stages, beating Ajax 3-1 at home thanks to goals from Neymar, Messi and Sandro Ramirez despite Anwar El Ghazi's consolation for the Eredivisie outfit.
Luis Enrique's men are just 90 minutes away from reaching the Champions League final for the eight time in the club's history, but how did they get to this stage in the 2014-15 UEFA Champions League? Here's a quick summary of Barcelona's route to the semi-finals...
TEAM NEWS: Guardiola will be casting an enviable glance towards Luis Enrique later this evening, who has a full-strength squad to call upon in Germany. Jeremy Mathieu has recovered from a right Achilles injury that kept him out of the first-leg meeting and the Barca boss rested the likes of Andres Iniesta, Sergio Busquets and Jordi Alba at the weekend as he looks to ensure a first Champions League final berth for the Catalans since 2011.
TEAM NEWS: The German champions, and tonight's hosts, remain without wingers Franck Ribery (ankle) and Arjen Robben (stomach). The pair are both out for the remainder of the current campaign, whilst left-back David Alaba is still sidelined with a knee injury. Sebastien Rode is out with a hamstring problem and Holger Badstuber is set to miss out with a thigh injury.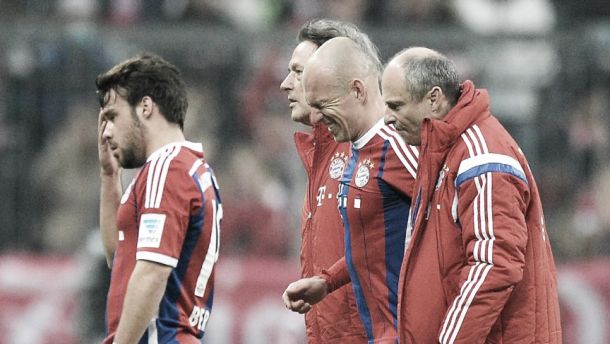 Time for the team news! Who will Bayern Munich be able to call upon in their hour (or 90 minutes) of need tonight? Does Luis Enrique have all his first-choice players to call from on their travels to Bavaria?
Atletico Madrid manager Diego Simeone believes that Messi, who has been insatiable this season, has been helped by the presences of Neymar and Suarez alongside him. Writing in his column for Goal.com, Simeone said: "Barcelona are a unit and in that unit, the individual talent of Lionel obviously stands out – but he wouldn't be able to do it without the support of his team-mates. The presence of Suarez and Neymar – in his second season – has helped him. He has the support of the entire team. Rakitic has given Barca extra stability in midfield and is a different option to players like Xavi and, previously, Thiago. The attacking potential of Suarez is an added plus for Barca – and for Lionel – this season and his aggression, along with that of Pedro and Neymar, allows Messi to take advantage of that sacrifice from his team-mates." Do you agree with what Simeone has to say? Tell us @VAVEL.
But how will he go about stopping the outstanding attacking talents that Barcelona boast? Well, after the 3-0 defeat last time out, he said: "We wanted to control possession but against Barcelona you can't. After it went to 1-0 we lost momentum and the last goal was too much. Barca is Leo (Lionel Messi) but Barca are also a very good team and they are in top form in all departments. All their players, Neymar, Luis Suarez - the best way to control them is to restrict their play." What does he have up his sleeve tonight?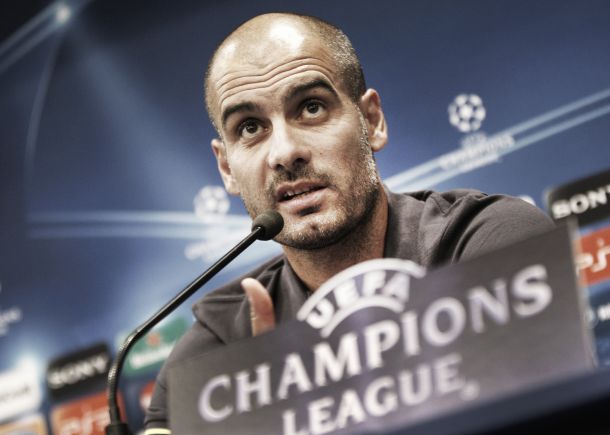 Guardiola will only have to look back as far as the previous round for a source of inspiration, when his side turned around a 3-1 aggregate deficit to FC Porto in spectacular fashion - thrashing the Portuguese side 6-1 at the Allianz in the return-leg. That night, they also did it without key players such as Arjen Robben, Frank Ribery and Bastian Schweinsteiger though they thoroughly controlled proceedings against a side who had given them a fright after the first 90 minutes. Can Bayern Munich repeat their comeback heroics tonight? Stay right here to find out. Kick-off at 7:45pm.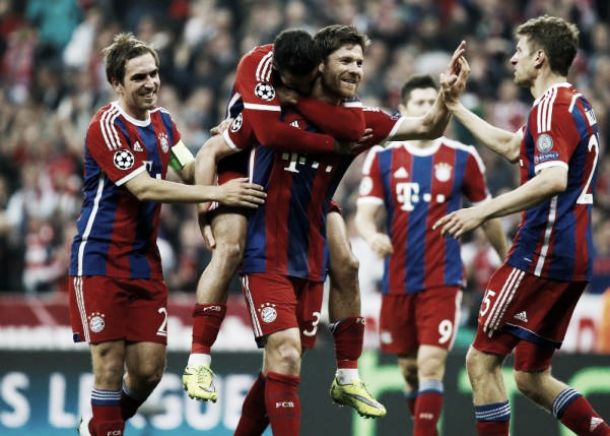 With that in mind, tonight could be Barcelona's last domestic game for some time - depending upon whether the ban is lifted later this week. Guardiola will be hoping to leave a sour taste in his ex-side's mouths, but it'll be a huge task ahead of his side. They would have to replicate Barcelona's 3-0 scoreline tonight just to force extra-time, whereas if Bayern concede a goal - they will need to win by four clear goals. Guardiola spent 11 years at the Catalan club as a player and a further four as the manager. In those years, he won an incredible 30 trophies. Not too bad.
But that win against David Moyes' side may be their last for a couple of weeks, due to a suspension by the Spanish Football Federation after a dispute with the Spanish government over television rights. They announced the football games in the country would stop after May 16, meaning the final two games of La Liga are suspended indefinitely. Barcelona still have Atletico Madrid and Deportivo la Coruna yet to play as they look to clinch the La Liga title, whilst the ban would also affect their Copa del Ray final sc