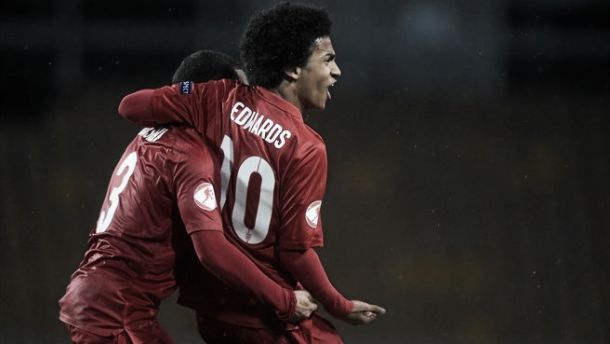 Everything remains to play for in the final Group D game of the U17 European Championship, and England - Republic of Ireland is always a fierce encounter.
The Young Lions need just one point to seal their place in the knockout stages as they look to retain the trophy after their victorious campaign in 2014. The Republic of Ireland, on the other hand, require all three points to have any chance of beating Italy and the Netherlands to a knockout place.
On Sunday, John Peacock looked to seal a place in the first knockout round - in his 100th UEFA game in charge of England - with a win against last year's defeated finalists, the Netherlands. However, his side could only muster a 1-1 draw after a 1-0 win over Italy on the opening day of the group.
A draw put England to the top of the group but Peacock called on his side to be more clinical after many a chance failed to end in the back of the net.
"It was the old scenario of a game of two halves," Peacock told TheFA.com.
"We came out with a slightly different system that the Dutch struggled to deal with. They chopped and changed a little bit in the first half and eventually went to a back three.
"But we needed a more clinical approach to the first period. We probably deserved to be two or three up with a bit better decision making and finishing."
Meanwhile, the Republic of Ireland made their chances of having the opportunity to win a first youth tournament for the first time since 1998 very difficult with a 2-0 loss to Italy. The result sent them bottom of Group D with one point after an opening day 0-0 draw with the Netherlands.
ROI boss Tom Mohan says the knockouts start here given the need to win for the Irish,
"We've got to keep getting the ball into the right areas and show our threat in front of goal and put the ball in the back of the net. I'd be worried if we weren't creating chances but we showed in the games against the Dutch and Italy that we can create.
"It's essentially knockout football now. We need to win to progress so it's in our own hands."
He also accepted that many of his players were more up for this game than the others with the opposition always providing a feisty contest.
"It always is with Ireland-England games [like a derby], especially with so many of the players being club-mates. It's a great occasion. Our boys are really looking forward to it and would really love to put one over the old enemy."
Just a point will seal the deal for England in terms of knockout stage qualification but Peacock says his side will be going all out for the win, "We've gone into every game with a positive frame of mind and we will do so again versus Ireland."
Only one player will be missing for the Irish with Trevor Clarke out with a fractured foot sustained against Italy.
A player who definitely won't be missing is the every present Everton full-back James Yates who has started in every single qualifying game and tournament game. He says is proud to have such a record and wants to keep the number 2 shirt right up until the final,
"I'm quite proud of being an ever-present to be honest, and my family are too. I've had a good run but I feel I've earned it. And it's not over yet, I want it to continue right through to the final," he told TheFA.com.
"I do look at the No2 shirt and feel it's my property. It's mine to lose, I've wore it for all of the Euro campaign and I'd like to keep it that way. And if anyone wants to take it from me they'll be in for a fight."
He added that he was impressed with England's campaign so far, even if the squad were on a down after only managing a draw against the Orange,
"I've been impressed with how we have played. We've really come together as a team and it feels like we've gelled at the right time,"
"It's been a bit of mixed emotions since the Holland game. There is a sense of frustration that we didn't get the win but we are in a good position," he said.
"This is a really hard group, so naturally we are happy to be top of it, although we all think we should have won on Sunday.
"We've got a really tough game to come, but we are quite confident after the performances we've produced that we can go on and win it.
"They've still got a chance of going through if they win, so we know they are going to be giving everything. We've seen how hard they work by watching the videos of their matches - they'll fight for every ball and we've got to match that. We want that top spot."
Tayo Edun, whose cross led to Timothy Fosu-Mensah putting the ball in his own net against the Netherlands, says he wants the other teams to know England topped the group., "We have to finish the job now by beating Ireland and we are a confident we can do that.
"It's all positive in the squad, we want to go and get a win on Wednesday and guarantee top spot.
"We don't want to rely on any other people, and we want to remain unbeaten. We want other teams to know we topped the group."
The match kicks off at 19:00 Bulgarian time and will be shown live on Eurosport in the UK, broadcast at 17:00 UK time.
SQUAD
England
Goalkeepers
1 Paul Woolston
13 William Huffer
Defenders
2 James Yates
3 Jay Dasilva
5 Reece Oxford
6 Danny Collinge
12 Adetayo Edun
15 Easah Suliman
Midfielders
4 Tom Davies
7 Nathan Holland
8 Daniel Wright
10 Marcus Edwards
14 Trent Arnold
18 Herbie Kane
Forwards
9 Ike Ugbo
11 Chris Willock
16 Stephy Mavididi
17 Layton Ndukwu
Republic of Ireland
Goalkeepers
1 Caoimhin Kelleher
16 David Craddock
Defenders
2 Corey O'Keeffe
4 Conor Masterson
12 Luke Wade-Slater
14 Shane Hanney
Midfielders
3 Jonathan Lunney
5 Darragh Leahy
6 Marcus Agyei-Tabi
7 Zachary Elbouzedi
8 Conor Levingston
10 Connor Ronan
15 Robert McCourt
18 Anthony Scully
Forwards
9 Joshua Barrett
11 Trevor Clarke
13 Jamie Gray
17 Jamie Aherne