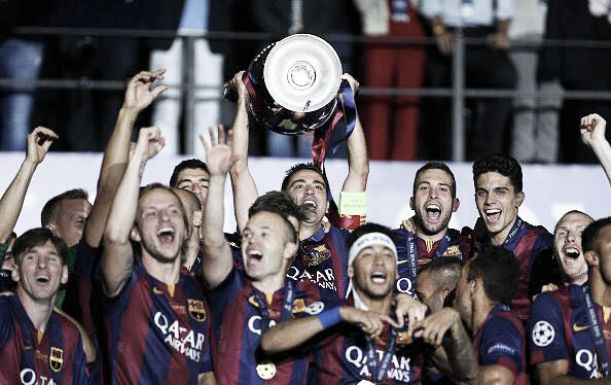 Barcelona have been confirmed as winner's of this season's UEFA Champions League, after defeating Juventus 2-1 in Berlin.
Luis Suarez's second half goal had seemingly won the game for the Blaugrana, before Neymar clinched the victory with the last kick of the game. Ivan Rakitic had earlier put the eventual winner's ahead, with Alvaro Morata's equaliser giving Juventus hope before Suarez and Neymar struck. You can re-live all the action here.
It gave Barcelona their fifth Champions League victory in all time, and their fourth in an astonishing nine year spell, as they completed a treble season. They're now level with Liverpool and Bayern Munich in the all time winners list, with only AC Milan and Real Madrid having accumulated more wins in the historic competition.
The game proved a worthy send off for midfielder Xavi Hernandez, who leaves Barcelona this summer as the player with the most appearances in the red and blue shirt. He replaced Rakitic late on in the tie, and lifted the trophy infront of adorning fans.
Beating the Champions of France, Holland, Cyprus, England and now Italy on the way to the title, Barcelona were thoroughly worthy winners.
Juventus can also look back on the competition with fondness, having surpassed all expectations to reach the final. Beating the likes of Borussia Dortmund and Real Madrid on the way, the Old Lady have once again earmarked themselves as giants of European football.
But for now, we know that Barcelona are the 2014/15 UEFA Champions League champions.