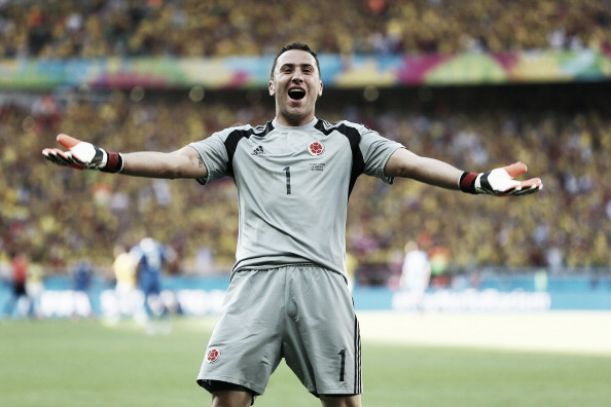 Arsenal goalkeeper David Ospina believes Colombia aren't being unrealistic when thinking they can win their second Copa America in Chile this summer.
The 26-year-old is first choice goalkeeper for Los Cafeteros and is confident going into their first game against Venezuela.
Chile are the hosts of the 2015 Copa America and for the first since winning it in 2001, Colombia are seen as one of the best teams in the competition.
Ospina says the current squad have a togetherness under manager Jose Pekerman.
Speaking to La Tercera, Ospina said, "We have a very united group where individual injuries hurt us all as much as it hurts the sufferer,"
"But in Brazil we showed that the group can overcome anything, and now we come to Chile with options and the mentality that we can be champions."
While he may be optimistic, Ospina does accept that Colombia will have to beat three excellent teams, three of the world's best, to win a second Copa America.
In Uruguay, Argentina and Brazil, Ospina could be facing Luis Suarez, Lionel Messi and Neymar in Chile.
"These are teams that history suggests will always be there. They also have big stars in good form and that in itself makes them candidates. It's impossible not to notice the moments of Lionel Messi and Neymar," he added.
"But we try to remove ourselves from all of that. We are going to get on with doing our job and trying to win, that is our real goal. It won't be easy."
He also reiterated the claim made by striker Teo Gutierrez that Pekerman's squad were ambitious but planning to take the tournament one game at a time.
"In South America both the Copa and the World Cup qualifiers are always tough because there are great teams competing, but now Colombia is not worse than any of them. We will take it game by game, like we did in Brazil."
Colombia have been drawn in Group C, alongside Brazil, Peru and Venezuela. Their opening match is on June 14th against Venezuela.