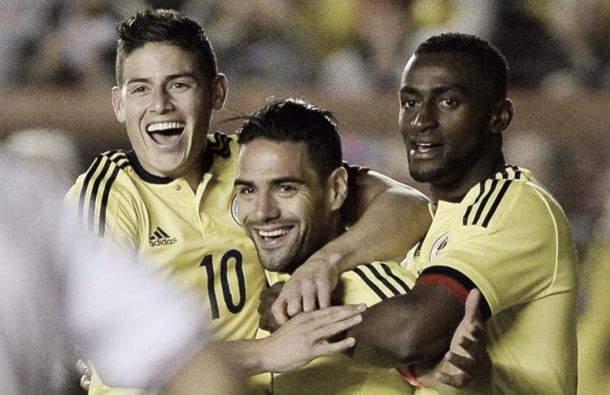 It has been a year to remember for the Colombia fans who were left without a World Cup appearance for 16 years.
In a preview to their World Cup campaign, the question was asked whether they could return to the pinnacle of international football with a bang.
They responded to that by playing some of the most attacking and entertaining football in the tournament, refusing to bow down against Brazil in the closing stages before going out stylishly in the quarter-finals to the hosts, Brazil.
As Los Cafeteros bowed out of the World Cup, disappointment struck on the neutral's faces, who had been thoroughly entertaining by their football.
On James Rodriguez' face, tears rolled down. A few weeks later, he was the World Cup Golden Boot winner and had sealed a move to Real Madrid.
One year later and the entertainment hasn't stopped. The attacking football remains the key way that Colombia show they are one of the big boys in South American football now.
KEY PLAYERS
Radamel Falcao
Once a name that brought fear in every defender's mind across the globe, Falcao's status has taken a hit after a very poor season on loan at Manchester United.
Yet, let's not be mistaken. The traits that made him such a threatening prospect, the traits that make him Colombia's record goalscorer, are still with him.
They need re-awakening but they sit in the realms of his stocky, powerful body that can shrug off defenders with ease. Despite a consistently rocky time in rainy Manchester, the Chilean sun and the backing of his squad, who have been labeled as 'united' by David Ospina, Falcao should be able to produce the goods in Chile.
He has remained the first name on the teamsheet throughout his poor season and has earned that right by scoring consistently, including two impressive strikes in a 6-0 victory against Bahrain.
James Rodriguez
Last summer's Galactico remains the golden boy in Colombia. The meeting of James and Neymar at the World Cup last year was the meeting of Colombia and Brazil's most loved ones.
Both with a cheeky smile, both with stunning quality, they both shone in that quarter final. Injuries kept James out of Pekerman's squad against Bahrain and Kuwait but he has recovered well.
Colombia were expected to miss Falcao hugely at the World Cup but James took the opportunity by the scruff of the neck and earned himself a move to Real Madrid.
He then earned him a place in their starting eleven for large majorities of the season. Everything in this Colombia side revolves around him, the play moves around him as he dictates it from his central position.
Yet those dribbles (think back to his chipped goal versus Japan in the World Cup) make him stand out even though he quietly moves everything around him.
With a midfield missing both Abel Aguilar and Fredy Guarin due to injury, James will have to lead it. He can do it.
Alexander Mejia
Not one of the most talented players in this Colombia squad but could prove vitally important due to Guarin and Aguilar's absence. They have been the pair who make the Colombian engine of their ferociously attacking sports car run smoothly.
The void left in their wake will not be easily filled but Mejia has been in the squad for 3 years now. A space is there, an opportunity has arisen, can he take full advantage of it and force Pekerman to see him as a regular.
The 26-year-old will have to work his socks off but in the prime of his career, playing at Monterrey, the defensive midfielder will be the opposite to James in that he needs to make defensive movements revolve around him.
KEY DATES
Group Stages
Sunday June 14th - Colombia - Venezuela - 20:00 UK time
Thursday June 18th - Brazil vs Colombia - 01:00 UK Time
Sunday June 21st - Colombia vs Peru - 20:00 UK Time
Possible Quarter-Finals
If Colombia finish first:
Saturday June 27 - Colombia v Group B second place - 21:30 UK Time
If Colombia finish second:
Thursday June 25 - Group A second place v Colombia - 11:30 UK Time
They could also reach the quarter-finals through a play off after finishing third.
LAST TIME
Argentina's Copa America saw Luis Suarez shine for Uruguay. Meanwhile, Colombia were knocked out in the quarter-final.
Who were the team to see them leave the tournament? Their fellow Group C team this year, Peru.
Los Cafeteros made a very strong start in 2011, beating Costa Rica 1-0 in their opening game, instantly topping the group as Argentina drew to Bolivia. Their next match saw them drop to second as they could only pick up a point against the hosts Argentina and Costa Rica won.
Yet a 2-0 win over Bolivia on the final day as Argentina thrashed Costa Rica saw them head through to the quarter-final as winners of Group A.
In Córdoba, Colombia faced Peru. 90 goalless minutes saw extra time arrive and as it looked to be heading nowhere but the lottery of a penalty shootout, Carlos Lobaton struck for Peru before Juan Vargas doubled things up.
GROUP C
Colombia have a tough three group stage games. An opening match with Venezuela should be won with conviction. Even though the Venezuelans have a good attack, their traditionally leaky South American defence should succumb to the pressure of James, Cuadrado, Falcao and Martinez.
The second match could decide the group. Brazil face off with Colombia for the third time in a year, with Los Cafeteros losing the previous two.
Brazil and Colombia's opening fixtures will show who is more likely to come out on top. The big names like Falcao, James, Cuadrado and Martinez need to have a good game against Venezuela to stride into the biggest one in the flow of the tournament. Neymar will obviously be the biggest threat. One thing is for certain, you can expect goals.
Peru are Colombia's last challenge in Group C and, much like Venezuela, aren't expected to produce much in Chile this year. Yet that is what everybody thought of both sides in 2011, and Peru finished 3rd in the entire tournament.
Colombia should be able to get out of their group with ease but if they don't start in the right manner, a shock could be oncoming.
PRE-TOURNAMENT QUOTES
James Rodriguez: "I'm happy to be here with the team again. I have great enthusiasm and I'm feeling good about the Copa América.
"It won't be easy but we will take it step by step. I don't like to lose and we will try our best to win the tournament.
"I am clear with what Pékerman wants and I am capable of doing it. At Real Madrid I play a little further back but I will play wherever I am asked,"
Jackson Martinez:
"This is a very committed group that sets itself the task of being champions," Martinez told FutbolRed. "The team has no limits, so we will be ready to play a great role. We know that it will not be easy.
"We have shown that when the team acts as a block we can do things like we did at the World Cup, where big sides found us difficult to play against.
"No [the victory in 2001 does not add any pressure], because we all take this as a reward and not as pressure," he added. "We try to enjoy every day in the camp and when we meet on the pitch as much as possible.
"I think that any of the strikers who are now in the squad could start and will take their chance. We are all capable and dream of being a starter,
"In my case, I'm prepared and ready for the opportunity, which sometimes comes and sometimes doesn't.
"The most important thing is that the team advances far in the tournament. And, personally, I would love to be on the pitch and play a big role in this shirt that I love."
Teo Gutierrez: "We are only thinking of Venezuela - a tough opponent. We are thinking of that first game and then we'll look at the rest.
"We have a very good group with ambition. Hopefully we can do a good job for our country and play good football, which is what we have been demonstrating every day.
Speaking to La Tercera, David Ospina said, "We have a very united group where individual injuries hurt us all as much as it hurts the sufferer,"
"But in Brazil we showed that the group can overcome anything, and now we come to Chile with options and the mentality that we can be champions."
While he may be optimistic, Ospina does accept that Colombia will have to beat three excellent teams, three of the world's best, to win a second Copa America.
In Uruguay, Argentina and Brazil, Ospina could be facing Luis Suarez, Lionel Messi and Neymar in Chile.
"These are teams that history suggests will always be there. They also have big stars in good form and that in itself makes them candidates. It's impossible not to notice the moments of Lionel Messi and Neymar," he added.
"But we try to remove ourselves from all of that. We are going to get on with doing our job and trying to win, that is our real goal. It won't be easy."
FULL SQUAD LIST
Goalkeepers
Cristian Bonilla (Equidad), David Ospina (Arsenal), Camilo Vargas (Atlético Nacional)
Defenders
Darwin Andrade (Standard Liege), Santiago Arias (PSV), Pablo Armero (Flamengo), Pedro Franco (Besiktas), Jeison Murillo (Granada), Carlos Valdes (Nacional), Cristian Zapata (Milan), Camilo Zuniga (Napoli)
Midfielders
Edwin Cardona (Monterrey), Juan Cuadrado (Chelsea), Alexander Mejia (Monterrey), James Rodríguez (Real Madrid), Carlos Sanchez (Aston Villa), Edwin Valencia (Santos)
Forwards
Carlos Bacca (Sevilla), Radamel Falcao (Monaco), Teofilo Gutierrez (River Plate), Victor Ibarbo (Roma), Jackson Martinez (Porto), Luis Muriel (Sampdoria)
Predicted Starting XI: Ospina; Andrande, Murillo, Zapata, Zuniga; Valencia, Mejia; James, Cuadrado; Falcao, Martinez.
PREDICTION: Colombia have the squad and the ability to see themselves to the semi-final. The Group they've been drawn into possesses two more good sides and one great one, with Venezuela and Peru easily able to upset them and Brazil a big challenge.
Yet despite a hard group, Colombia topped Group A in 2011, last time round, and it is very possible that they could go through in first in 2015 as well.
The struggle for them will be the lack of central defensive midfielders who are regulars in the side. Both Abel Aguilar and Fredy Guarin pulled out of the provisional squad with injury, as did Juan Fernando Quintero and Eder Alvarez Balanta. That leaves the defensive side of things, and the deep play during the less high-paced points of the match in turbulence.
Eventually, they should pull through the problem of a lack of midfielders because if there is one place a midfielder who has always been back up in the squad, Alexander Mejia, can earn himself a name in the history books of his country, it's in the big tournament.
Final Finish: 3rd