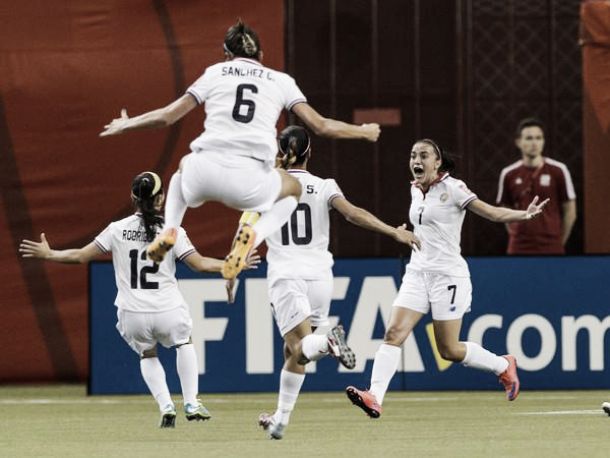 This week, we reach the conclusion of the group stages at the Women's World Cup, but many places in the knockout round are still up from grabs, including those from Group E.
Brazil have already qualified from the group, but Costa Rica, Spain and Korea are still scrapping over a chance to reach the last sixteen, whether this be by finishing second or clinching third and hoping for the best, with four best third-placed spots up for grabs.
Here are the facts.
Victory for Costa Rica will see them through in second, regardless of the other result in the game between Spain and Korea. A draw can see them through if their other two Group E rivals also draw, but if either of them win, a draw will not be good enough for second for Costa Rica. Alternatively, Costa Rica can lose and still progress, as long as Korea and Spain draw and they only lose by one goal. If they were to lose 2-0, say, then Spain would go above them on goal difference with a point.
Costa Rica will be hoping that Brazil are planning on resting players and rotating the squad, with the game meaning nothing to them as they have already won the group. If this does occur, then one would not put it past Costa Rica to beat them given that they simply do not know when they're beaten, this attitude helping them earn points against both Spain and Korea.
Still, their great team spirit and belief as one is likely to prove pivotal in the game, regardless of whether or not Brazil change their team around.
Last time out
The last round of games in this group saw Brazil clinch their place in the last 16 with victory over Spain. They were fortunate though, seeing their defence breached on numerous occasions, but also witnessing Spain's lack of composure in front of goal, which was present when the European side played Costa Rica last week too.
Spain would pay for their inability to finish chances, with Andressa Alves tapping home on the stroke of half time, despite Celia Jimenez's marvellous initial effort to clear the ball off the line with a desperate sliding lunge. Brazil created few opportunities throughout in truth, with Spain very well organised at the back.
Consequently, one believes they could find it equally difficult to break through Costa Rica's even more disciplined back line that has been extremely well organised in the two games thus far. They defend in numbers and crowd their opponents out, slowing down their play, and Brazil will find this tough to play against.
Costa Rica's last result was a dramatic one. They worked extremely hard for it though, drawing 2-2 against Korea thanks to Karla Villalobos' 89th minute equaliser. Once again, they showed their determination in the game and also their versatility, able to absorb pressure and then counter attack, or get the ball down and play, the latter being especially effective with Shirley Cruz in their ranks.
They stick to their game plan and work incredibly well as a unit, and this chemistry and understanding can help them try and do what the odds suggest they cannot: beat Brazil and reach the last 16.
Key Players
Dinnia Diaz is going to be essential in between the sticks for Costa Rica. She's pulled off some great saves in the tournament so far, and she has played an impressive sweeper role too, racing out to clear or to collect, if in her box, to thwart her opponents. With the potential of her facing some of the world's best tomorrow, Diaz is going to have to be on top of her game to ensure her side have a realistic chance of getting a result to qualify.
The captain and their best player, Shirley Cruz, is going to be another crucial performer. Her on-field display will be significant, but her influence on the team even more so, somewhat, as she fires her team up for their biggest game yet. It is up to Cruz to keep them focused, tactically disciplined and organised, so they can resist the wonderful Brazilians.
It is difficult to suggest Brazil's key players given the unpredictability of their line-up, but there's no doubt that, if they play, the likes of Marta and Formiga will be essential as their team look to earn maximum points in the group stages, in order to take reams of confidence in the knockout round. Their creativity will also be extremely important against such a strong defensive team.
Tamires is another player who will be key in the attack. A left-back who plays almost like a left-winger, she has been a stand-out performer for this team so far this summer with her driving runs, positive play and great deliveries all contributing significantly to Brazil's dominance thus far in Group E. Another confident performance from her will go a long way in sending a message to the rest of the teams in Canada, with the South Americans not wanting to be on the wrong end of an upset going into the last 16.
Prediction
It really is hard to make a prediction as one does not know how Brazil will line-up. However, even if they do not put out their strongest team, they should not lose to Costa Rica. The Central American nation are likely to have to rely on the other result to determine their fate this summer, with victory extremely unlikely tomorrow. However, with their incredible attitude and togetherness as a side, coupled with some moments of real quality that have been on show already, I would not put it past them to get a draw under the circumstances.
A final result of 1-1 is my bold prediction, with Costa Rica's defence strong enough to frustrate the Brazilians and their opportunistic play good enough to grab a goal. Nonetheless, given the game's importance, I cannot see Korea and Spain drawing and do believe there will be a winner, meaning Costa Rica are going to have to hope their three points are enough to get them into the last 16 as one of the best third-placed sides.