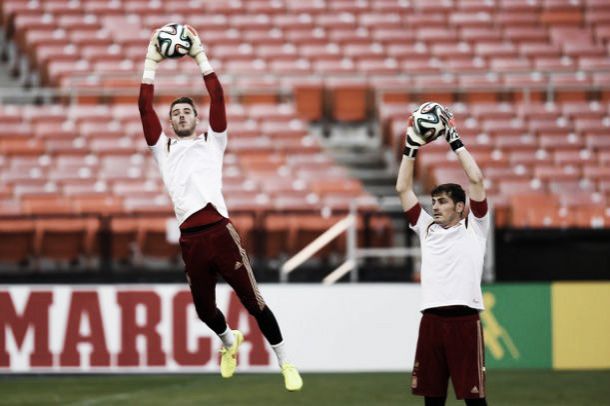 In an interesting turn of events, former Arsenal target Iker Casillas could be on the move to North London rivals Tottenham, reports are suggesting.
The implication is that Real Madrid want to sell Casillas to Spurs so to allow them to sell Hugo Lloris to Manchester United, which will ultimately allow Madrid to make stopper David de Gea their latest Galactico.
It seems unclear how much Madrid would require to part company with Casillas, who has spent his whole career at Real, while it also seems that the Spanish keeper is not keen on leaving the club at which he has spent 16 years and made over 500 appearances.
On the other hand, it seems that tough negotiator Daniel Levy would not sell Lloris for anything less than £30 Million. However Lloris has left his future uncertain as he has persistently reiterated his desire to play Champions League football.
United boss Louis Van Gaal also seems unwilling to part company with De Gea, whose form was often spectacular this season as he kept 10 clean sheets behind an often faltering United defence.
Reports earlier this week sugested that Lloris, 28, is not top of Van Gaal's targets to replace the Spaniard, with the Dutchman keen to either target Jan Oblak from Atletico Madrid or fellow Slovenian Samir Handanovic from Inter Milan.
It is also entirely conceivable that Van Gaal may choose to perservere with 33 year old second choice keeper Victor Valdes.
This and Spurs' unwillingness to sell Lloris could prove to be a spanner to Madrid's plan to recruit their latest superstar in De Gea.
Pochettino said earlier this month, "There have been a lot of rumours, but Hugo wants to stay and we are happy with him too."
Madrid were involved in a similar intricate transfer cycle in the summer of 2013, as their sale of Mesut Ozil to Arsenal allowed Arsenal to offload Gervinho to Roma. This let Roma sell Erik Lamela to Spurs, who ultimately sold Gareth Bale to Los Blancos on deadline day.