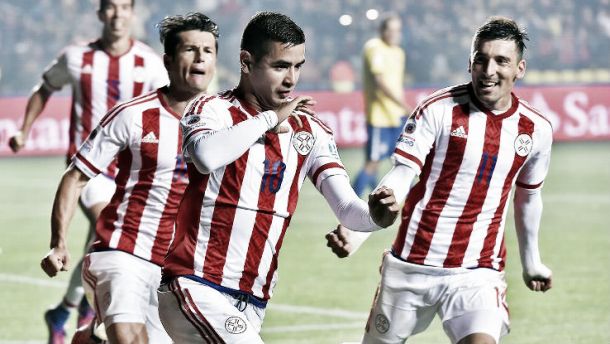 It took another penalty shootout to knockout the five time world champions in a Copa América quarter-final and Paraguay did that by winning on penalties for the second straight time against a Neymar-less Brazil after a 1-1 draw, courtesy of goals Robinho and Derlis Gonzalez.
With this result, Ramon Diaz's Paraguay side will play Gerardo ''Tata'' Martino's Argentina for the second time in this Copa América in Concepcion after an enthralling 2-2 draw in the sides' opening fixture first match for both countries in La Serena.
It was a match which lived up to expectations, as both sides equally had various opportunities to send their country into the semi-finals. In the end though, a dramatic penalty shootout had to decide the victor.
An eventful, dramatic first-half
It only took a mere few seconds for the Brazilians to record their first chance of the match. Liverpool creative midfielder Philippe Coutinho was denied by the goalkeeping heroics of Justo Villar, who made an amazing save to deny the 23-year-old from range. Paraguay also had a big chance in the eighth minute as Edgar Benitez's shot went towards the path of Roque Santa Cruz, however his header was deflected away to safety by Brazilian 'keeper Jefferson. Inside 15 minutes, Robinho broke the deadlock with his first goal in two years. It was an easy finish for the Santos man as some build-up play with the Brazilian midfielders allowed Dani Alves to make a direct long pass on the right side of the pitch to allow Robinho to calmly finish past Villar and give Brazil the lead.
Santa Cruz had another big chance to open his scoring account in the 33rd minute as he was free in space to take a shot on goal - only for it to go past Jefferson just wide right of the post as the half-time whistle edged ever closer.
Second half filled with belief
Paraguay have proven in this Copa América, in particular the Argentina result, that they would never give up and use resilience to prove their doubters wrong - thus being able to show their capabilities. Brazil barely created another chance on goal while Paraguay gradually stepped up the pressure in the second half looking for an equaliser. That was proven when defender Paulo da Silva was denied by Jefferson's save as he headed goalwards following an in-swinging corner delivery.
Then 18 minutes from time, Paraguay got their chance. Paris Saint-Germain centre-back Thiago Silva's handball error from an aerial challenge with Dani Alves and Santa Cruz gave the referee, Andres Cunha, no choice but to award a penalty. Basel's Derlis Gonzalez buried his shot past Jefferson on the left side of the goal as both teams now looked for a winner, if not the realisation would eventually hit them that a penalty shootout would occur to settle the score. Gonzalez had one more chance on goal seven minutes later as he found the space to advance down the right, only for his shot to fizz past the near post and flash wide of the mark.
History repeats itself
In the end, another penalty shootout had to settle who'd progress into the semi-finals. Yesterday, it was between Argentina and Colombia, and now it was between Brazil and Paraguay. Manchester City midfielder Fernandinho, and Osvaldo Martinez converted their respective spot-kicks, meaning it was one-each as Everton Ribeiro stepped up for Brazil. His effort flew way wide, flashing past the right post in an instant, giving Paraguay a perfect opportunity to go ahead in the shootout. Victor Caceres, Miranda, Raul Bobadilla all scored their penalties until Douglas Costa's shot was extremely poor, flying into the stands with the opportunity for Paraguay to win the match.
Gonzalez took the winning penalty, making no mistake as he slammed home in emphatic fashion. They will take on bitter rivals Argentina in Saturday's second semi-final, as they look to seal a spot in the final, to be played in Santiago, against either Chile or Peru. Brazil on the other hand, have now failed to win major silverware since 2013 and will not compete in the FIFA Confederations Cup for the first time since its inception, having qualifed to previous tournaments as either FIFA World Cup or Copa América winners. Paraguay have silenced their critics, and are a side to be weary of for sure.