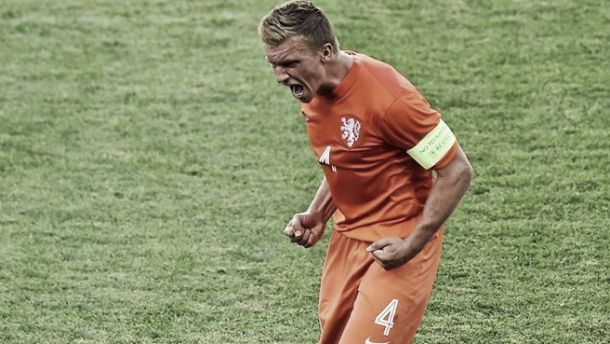 Netherlands U19 will look to extend their lead at the top of Group B in the U19 European Championships as they face last year's winners, Germany U19.
Aron Winter's side were lucky to steal three points and a clean sheet from a free-scoring Russian side.
While Pelle van Amersfoort gave an opening game win for the Young Orange with a 42nd minute header, Germany started their search of retaining their U19 crown awfully.
An 8th minute goal from Mikel Merino set off a dominant performance from Spain, who finished 3-0 winners thanks to second half goals from Borja Mayoral and Nahuel Leiva.
Who to look out for
Netherlands
Bilal Ould-Chikh was key for the Netherlands in their opening game. An assist for van Amersfoort was the key contribution in the game but his calmness on the ball was present throughout. When he went off for Issa Kallon just minutes before Russia went down to ten men, the Netherlands looked nervy in possession, and quickly Russia grew into game.
Abdelhak Nouri scored five goals in qualifying and contributed directly to another two goals, in six games. In midfield, he can be compared to Andres Iniesta in his ability to dribble out of small spaces and find the pass quickly. In the opening game, he failed to convert multiple chances but he was getting in the right positions and combining brilliantly with Ould-Chikh in the first half to create things for others.
Germany
Timo Werner led the line in both qualifying and the opening game for Germany. He scored a penalty in the shootout between Germany and the Netherlands in the 2012 U17 European Championship final and has often faced this squad.
He's the key component in Marcus Borg's side and despite being just 19, he's a regular fixture in Stuttgart's starting eleven in the Bundesliga.
Jonathan Tah, of Hamburg, is another of Germany's best young talents, this time in the centre of Sorg's defence. He played consistently for Fortuna Düsseldorf in the 2. Bundesliga last season. Standing at 6" 4', he's built for his position and is developing into a brilliant defender in terms of technique as well as physique.
SQUAD
Germany
Goalkeepers
1 Marius Funk
12 Raif Husic
Defenders
2 Lukas Klostermann
3 Lukas Klünter
5 Jonathan Tah
18 Jonas Föhrenbach
19 Niko Kijewski
20 Jannik Dehm
Midfielders
6 Thilo Kehrer
7 Nadiem Amiri
13 Max Christiansen
15 Boubacar Barry
16 Erdal Öztürk
Forwards
8 Luca Waldschmidt
9 Timo Werner
10 Lucas Cueto
11 Leroy Sané
14 Gianluca Rizzo
Netherlands
Goalkeepers
1 Joël Drommel
16 Yanick van Osch
Defenders
2 Leroy Owusu
3 Terry Lartey Sanniez
4 Damon Mirani
13 Julian Ronald Armand Lelieveld
15 Augustine Loof
Midfielders
5 Kenneth Paal
6 Laros Michel D'Encarnacao Duarte
8 Abdelhak Nouri
10 Frenkie De Jong
17 Thomas Ouwejan
18 Michel Vlap
Forwards
7 Issa Kallon
9 Pelle van Amersfoort
11 Bilal Ould-Chikh
12 Gervane Zjandric Adonnis Kastaneer
14 Tarik Kada