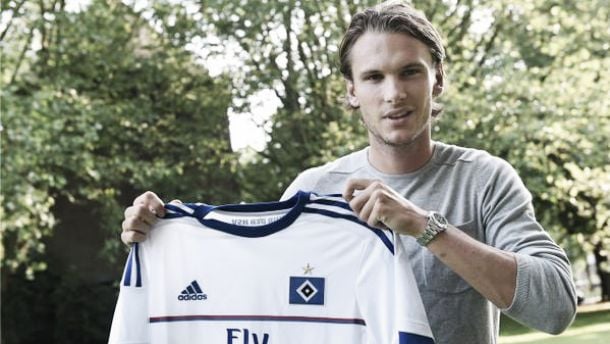 Hamburger SV have made their third signing in two days, with the arrival of Albin Ekdal on confirmed a four-year contract until June 2019. The transfer fee is allegedly around €4.5m.
The 25-year-old midfielder, who was forced to turn down Chelsea and Inter Milan as a teenager, will replace Valon Behrami, who switched to promoted Premier League club Watford.
For HSV, Ekdal is their seventh signing in this summer. Emir Spahic, Gotoku Sakai and Batuhan Altintas and a player for the future, Tatsuya Ito, are already part of the team. Also confirmed signings are return of goalkeeper Tom Mickel and Swiss goalkeeper Andreas Hirzel.
Tom Mickel, who has played for Greuther Fürth in 2. Bundesliga for the past two seasons, has signed an one-year contract after his trial session at Hamburg. He will be playing for their U23's next season.
Swiss youngster, Andreas Hirzel, earned a three-year contract until June 2018 and will be part of Hamburg's first team as third-choice goalkeeper.
At least one signing is still in the plans. VfL Bochum's Michael Gregoritsch will join Hamburg this week, according to the Abendblatt.
A tough task to move from Serie A to Bundesliga?
At Cagliari, who were relegated to Serie B, Ekdal was an solid, regular player and made 33 appearances, where he scored five goals and assisted three.
He was also useful thanks to his ability to play in other positions, like the attacking and defensive midfield and also out wide. Last season's most memorable match, from his point of view, was his hat-trick against Inter Milan - Ekdal earned himself a place in the team of the week for the performance.
At Hamburg, he should fill out the gap between defense and attack and should help the team to start and score goals again. It was a huge problem for the Rothosen last season, because they only hit the net 25 times, this is just 10 more than Tasmania Berlin's record (15) back in 1965/66.
But whether Ekdal could this gap is unclear at the moment. The Bundesliga has a higher tempo compared to the Serie A, which is much slower than the Bundesliga. It is now in his own hands, if he will be able to adapt to this new pace.
Zlatan Ibrahimovic is also a fan of Ekdal
International teammate, Zlatan Ibrahimovic, says Ekdal has made "massive progress in the Serie A and became better and better". He also said his fellow Swede is a "great guy and it isn't a miracle, that so many clubs want to buy him".
Ex-Hamburg player, Martin Dahlin, thinks that Hamburg's new singing should work on his attacking play, because: "Ekdal does not score enough goals as a midfielder. He is thinking too much in front of goal."