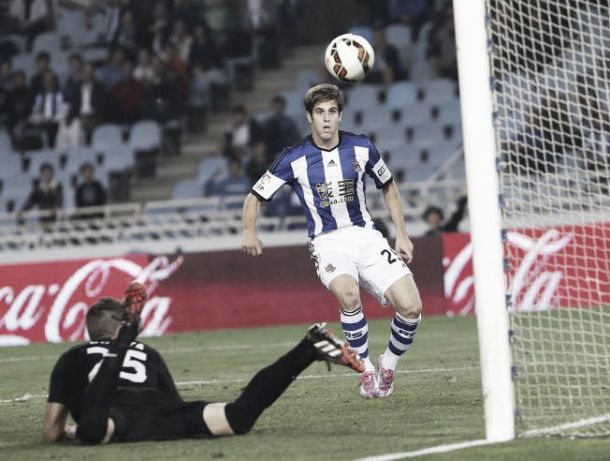 Newly promoted Liga Adelante side, Real Oviedo, will take Pablo Hervias on loan for the season from Real Sociedad.
Towards the end of July, Real Sociedad extended his contract until 2018 with the hopes of him turning into a regular starter in a few seasons and this loan is the perfect start to that ultimate goal.
Splitting time
The 22-year-old midfielder was hardly used last season under David Moyes as he appeared in just 15 matches -- most of them coming off of the bench late in the game.
As a result of lack of playing time, he was sent on loan to Segunda side Osasuna and played for them six times towards the end of their campaign; even managed to score against Mirandes.
Style of play
With his right foot the stronger of the two, he was deployed on the right side of the midfield for the Real Sociedad II side where he used his excellent vision to create opportunities for his teammates higher up the pitch.
He does need to develope a bit more and this loan move is the perfect opportunity to do just that. Hervias needs to improve on his passing ability overall and improve his physicality.
This move works out for each side invilved. For Real Ovidedo, they will get a young footballer who has a lot of upside potentially and will get to used as often as he can throughout the season since the youngster has some first division experience under his belt.
Moyes will be able to watch his prodigy grow over the course of the season while being able to deploy his best starting eleven in hopes of getting one of the spots that qualifies for the Europa League; although it will be extremely difficult with all the quality sides in the top flight this season.