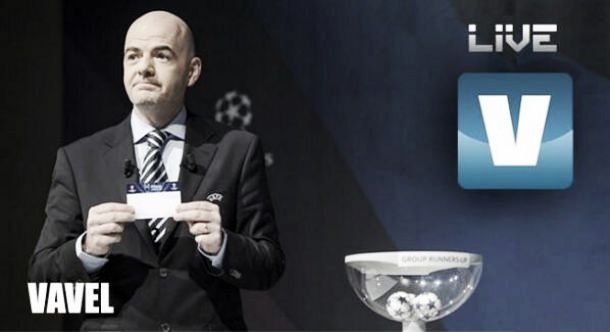 A swift finish to an interesting afternoon today - I've been Mosope Ominiyi and I hope you enjoyed today's proceedings from the UEFA Champions League draw! Make sure to stay tuned to the latest on VAVEL, where the football never stops!
The winner of the award goes to...? Lionel MESSI! Not particularly surprising, the Barça forward has enjoyed an impressive term and wins his second UEFA Best Player in Europe accolade - his first was back in 2011.
With the three men waiting patiently now on stage, the result is about to be announced..
Another quick look at the three nominees - Suárez, Ronaldo and Messi. I'd be surprised if anyone else won it but Lionel, in all honesty.
Now, for the final trophy of the evening, the UEFA Best Player in Europe award.
Such a shame she's retiring from the beautiful game, but she goes out with a flourish. Well done, Celia - who claimed she wasn't expecting it! Commiserations to both Henry and Morozsàn.
The winner is...? Celia Sasic! What a way to finish her career, a star-studded one for the German forward, who was razor-sharp in-front of goal and the award itself is rightly deserved.
Amandine Henry, Dzsenifer Morozsàn and Celia Sasic are the three nominees - as previously stated..
Next is the Women's Best Player Award!
The hardest would undoubtedly have to be, Group D surely? The runners-up from last term, as well as Manchester City - who are in the process of trying to establish themselves as one of the best sides in Europe, and Europa League winners Sevilla alongside Mönchengladbach... Woah.
Wow. Some rather interesting group stage fixtures for you to feast your eyes upon there - especially in Group D, E and B!
GROUP H: Zenit St. Petersburg, Valencia, Lyon, KAA Gent.
GROUP G: Chelsea, Porto, Dynamo Kyiv, Maccabi Tel-Aviv.
GROUP F: Bayern Munich, Arsenal, Olympiakos and Dynamo Zagreb.
GROUP E: Barcelona, Leverkusen, AS Roma, BATE Borisov.
GROUP D: Juventus, Manchester City, Sevilla and Borussia Mönchengladbach.
GROUP C: SL Benfica, Atlético Madrid, Galatasaray and Astana FC.
GROUP B: PSV Eindhoven, Manchester United, CSKA Moscow and VfL Wolfsburg.
GROUP A: Paris Saint-Germain, Real Madrid, Shakthar Donetsk and Malmö FF.
As Peter Schmeichel so eloquently puts it, that concludes the Champions League draw. Here is a round-up of all the results from the respective draws..
Ooooh! The last side, Borussia Mönchengladbach, will be in Group D! Juventus, Manchester City and Sevilla!
VfL Wolfsburg; their second participation in the group stages of the Champions League. They'll be into... Group B! PSV, Manchester United, CSKA Moscow and Wolfsburg!
Dynamo Zagreb... they can only be drawn into Group F - with Bayern, Arsenal and Olympiakos their competition.
Belgian club KAA Gent now, this is their first participation in the group stages... H for them! Zenit, Valencia, Lyon and Gent.
Next up we have Israeli side Maccabi Tel-Aviv... they can be drawn in F, G or H this afternoon.... It's group G! Chelsea, Porto, Kyiv and Maccabi Tel-Aviv.
BATE Borisov have been drawn into... Group E! Barcelona, Leverkusen, Roma and Borisov.
Oh, that's interesting! Malmö FF - an emotional return on the cards for Zlatan Ibrahimovic in his hometown? The Swedes will compete in Group A with PSG, Real Madrid and Shakthar...
CONFIRMED! THE FIRST GROUP, Astana will be in Group C for their first-ever campaign in Europe's most prestigious competition.
Eric Abidal, another former Barcelona star, has joined proceedings to help draw out the teams..
Serie A club AS Roma - they'll be in Group E with Barcelona and Leverkusen!
Ligue 1 side Lyon now... they've been drawn into Group H alongside Zenit and Valencia! All to play for there..
Galatasaray will be in Group C - with Benfica and Atlético Madrid. You can already see who the favourites to prevail will be there.
Shakthar Donetsk up next now.... they'll have a tough test on their hands I'm sure... Group A for them!
Dynamo Kiev.... the Ukranians will be in Group G alongside Chelsea and Porto!
Sevilla, who won the Europa League last term, will be in group? D! Juventus, Manchester City and Unai Emery's men!
CSKA Moscow... in group B! Manchester United, PSV and CSKA!
Olympiakos, will play in Group F! Bayern Munich, Arsenal, and the Greek side - CONFIRMED.
Carles Puyol, another legendary figure, is introduced to those in attendance.
Barcelona will be alongside Bundesliga side Bayer Leverkusen, in Group E..
MANCHESTER CITY, with... last season's runners-up in Juventus - that's already promising an interesting draw in D!
Valencia will be in group H, as that's the only one available for them with Barcelona in E... Zenit St. Petersburg, alongside them..
OOOH! PARIS-SAINT GERMAIN will compete with European superheavyweights Real Madrid - which is met by a wry smurk from PSG president Nasser Al-Khelaifi in his seat.
Interesting.. Porto will be in the same group as Chelsea! Group G.
Manchester United... will be in group? B! PSV Eindhoven, and Louis van Gaal's men.
Arsenal! They will be in group.... F! BAYERN MUNICH!
Atlético Madrid! They will be in group.... C! Benfica and Atlético in the same group, that has been CONFIRMED.
Pot two, next! Barcelona's former defender, Juliano Belletti, is introduced to a warm welcome by the crowd.
Group A: PSG, Group B: PSV Eindhoven, Group C: SL Benfica, Group D: Juventus, Group E: Barcelona, Group F: Bayern Munich, Group G, Chelsea, Group H: Zenit St. Petersburg.
The league champions will be in the following groups -
Whilst we wait for the introduction of another legendary figure, here's a quick round-up if you missed any of that...
Last, but not least, Paris-Saint Germain. Laurent Blanc's men, who lost in the quarter-finals to Barça, will be playing in Group A.
Group B for PSV Eindhoven, the Eredivisie champions.
Russian heavyweights Zenit St. Petersburg, now. They'll be playing in Group H... I'm not sure any sides will want a trip to southern Europe against Andre-Villas Boas' men there..
Juventus, the unfortunate runners-up back in May, will be playing in Group D after a summer of change in Turin. No Carlos Tévez, Andrea Pirlo or Fernando Llorente to mention but a few - how will they fare?
The first Premier League club to be mentioned tonight - last season's league winners in Chelsea. Having not enjoyed the start José Mourinho would have expected of the Blues, they'll be playing in Group G this term.
Now, third, Bayern Munich. Having lost to the eventual winners in the semi-finals last term, they'll be playing in Group F this time around as Pep Guardiola aims for Champions League glory with the Bundesliga champions.
Next.... Portuguese side SL Benfica. They will be competing in Group C, for the 2015/16 campaign.
Luis Enrique's side will be playing in... Group E.
The first team to be drawn is.... the holders! Barcelona.
I'd just like to swiftly point out that these sides are those from pot one, to start with.
HERE WE GO! UEFA CHAMPIONS LEAGUE GROUP STAGE DRAW LIVE, AND IT'S BEGUN!
REMINDER: Russian and Ukranian sides cannot be drawn to face each other - because of the ongoing issues between the two countries.
Just a few technical admin bits and pieces to be announced, naturally.
17:00 - Here we go then...
UNDERWAY: The ceremony has begun! Not long before the draw begins, I for one cannot wait!
KLAXON: The one-minute warning for the guests at the presentation itself, to turn their phons off and get ready!
The draw ceremony will last an hour, but there are a few awards to be given too. The women's most prestigious award - Celia Sasic, Amandine Henry and Dzsenifer Morozsàn are the three nominees.
Manchester United manager, Louis van Gaal: "It is the highest stage that you can show yourself or your team on, and it is fantastic to be a participant. I do not have any influence on the draw - during [the draw], I am going to see the second team because I cannot influence it. So, it is better to hear afterwards."
Thomas Müller, of Bayern Munich: "It's going to be an exciting day! I'm curious about who will be drawn to our group. In terms of potential, we're obviously one of the favourites again.
Borussia Mönchengladbach midfielder, Granit Xhaka, had his say ahead of the draw: "We aren't in the competition just to take part, but to put up a challenge against the bigger sides."
Cristiano Ronaldo, Luis Suárez, Lionel Messi... the three nominees for UEFA's Player of the Year award are also in attendance..
Some of the world's biggest stars have been pictured on their way to Monaco - including Barcelona's creative midfielder Andres Iniesta, who met some of the fans outside earlier on..
What are your predictions for this afternoon's draw? Plenty of interesting groups will be drawn, I can tell you that for a fact. Tweet me at @Football365Mo with your views!
And last, but not least, the fourth: BATE Borisov, Borussia Mönchengladbach, VfL Wolfsburg, Dinamo Zagreb, Maccabi Tel-Aviv, Gent, Malmö and Astana.
The third pot: Shakhtar Donetsk, Sevilla, Lyon, Dynamo Kiev, Olympiakos, CSKA Moscow, Galatasaray and AS Roma.
Pot two: Real Madrid, Atlético Madrid, FC Porto, Arsenal, Manchester United, Valencia, Bayer Leverkusen and Manchester City.
Here are the seedings for pot one, and therefore will NOT play each other in the group stages: Barcelona (holders), Chelsea, Bayern Munich, Juventus, Benfica, Paris-Saint Germain, Zenit St. Petersburg and PSV Eindhoven.
Each team will play every side in their group twice, the top two clubs in that group will progress to the knock-out rounds while the third placed team will be sent into the Europa League Last 32 knock-out rounds.
So here are the rules of today's draw - all sides in the same country are unable to play against each other in the group stages. So for example, Arsenal and Chelsea cannot be drawn in the same group, neither can Real Madrid and Barcelona, so on.
And last, but not least, Manchester United. The Premier League giants were expected to blitz whoever they'd come up against, providing it wasn't the likes of Lazio or Moscow for example they'd drawn to face. Club Brugge gave them an interesting battle in the first 90 minutes at Old Trafford, but they were three-one down and were needing a miracle. They needed more than that, when they came back home to Belgium - Louis van Gaal's men asserted their dominance with an impressive 4-0 win away from home to secure their place in the group stages. Cue relief, United fans.
In an intriguing affair, Russian side CSKA Moscow came from behind to victory against Portuguese side Sporting Lisbon with a 4-3 aggregate scoreline reiterating just how tight the two legs were. Fancy a trip to the cold depths of Russia, anyone?
Shakhtar Donetsk, who have built up a reputation as a tough side to beat in the tournament, narrowly saw off Austrian opposition in Rapid Wien (3-2).
Valencia came through, but not without a shock, against Ligue 1 club AS Monaco - who made it to the last eight of the competition in the 2014/15 campaign.
Bundesliga side Bayer Leverkusen dispatched Serie A side Lazio with a 3-1 scoreline over the two legs
League Route
Arguably the biggest upset of them all: Malmö beat Celtic 4-3 on aggregate, having come back from a 3-2 defeat in the first leg to prevail.
BATE Borisov, who narrowly came past Partizan thanks to a vital home advantage in the first leg; despite losing the second-leg 2-1.
Maccabi Tel Aviv, lucky enough to scrape through via the away goal rule over Basel - the Swiss outfit will be playing in the UEFA Europa League this term.
Dinamo Zagreb, who thrashed Skënderbeu Korçë by six goals to two on aggregate.
Astana of Kazakhstan, having beaten APOEL 2-1 on aggregate over the two legs.
Champions Route
So, here were the results and teams that have confirmed their places in the group stages from those two routes:
The second, was sides that had qualified through the League Route; having finished outside the automatic qualification spots, and they had to enter via a play-off to seal their place in the group stages of the competition - for example, Manchester United in England.
For the play-off round, the matches were split into two groupings. The first of which, were teams specifically formed of the Champions Route - sides that had won their respective league titles in their countries, for example, Celtic in Scotland.
The draw itself will begin at around 4.45pm UK time, so here's a look at some of the background news and views ahead of the heavily-anticipated event.
My name's Mosope Ominiyi and I have the pleasure of running through the afternoon's proceedings with you, so sit back and relax as I commentate over what promises to be an intriguing draw with the most prestigious club competition finally underway this term.
Good afternoon everyone! Hello and welcome to VAVEL UK's live coverage of this year's UEFA Champions League group stage draw - which will be live from Monaco, France.