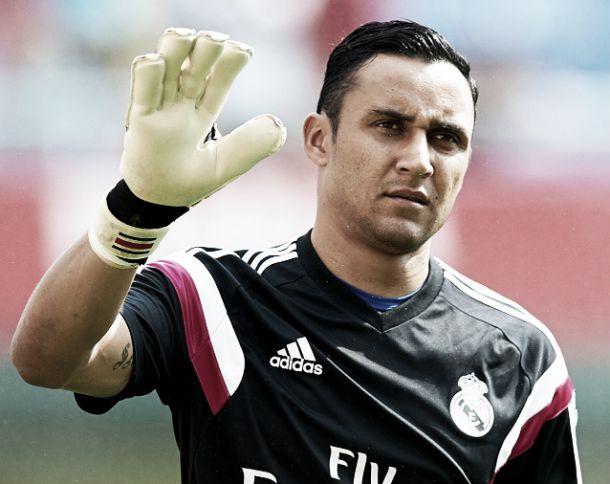 Real Madrid No.1 Keylor Navas is seeking to exploit the breakdown in David De Gea's move to the Bernabeu on deadline day by demanding a new contract.
De Gea was set to join Los Blancos, with Navas moving in the opposite direction, but the operation collapsed on Monday evening as Madrid failed to submit the paperwork by the midnight deadline.
Navas' move to Manchester United was said to be at its final stages, with the goalkeeper having reportedly signed the contract while undergoing his medical.
The Costa Rican was awaiting confirmation of his move at Madrid Airport -- which, of course, didn't arrive -- and will seek to exploit the situation by increasing his wage packet.
In a strong position
With Iker Casillas having departed to FC Porto in the summer, Navas is now Benitez's bona fide No.1, with Kiko Casilla, signed from Espanyol to mitigate Casillas' departure, as his stand in.
Perez acknowledges the Costa Rican's importance now that De Gea is unattainable until January, after reportedly sitting down and having a two-hour discussion with the goalkeeper after the move broke down.
Navas had started Madrid's opening two league fixtures of the campaign, boasting clean-sheets in both.
Benitez "quiet" on the situation
Real Madrid coach Rafa Benitez has remained muted whenever questions have arose about the saga.
Speaking at a Uefa Elite Club Coaches Forum in Nyon on Wednesday, which featured the likes of Jurgen Klopp, Max Allegri and Carlo Ancelotti, Benitez refused to pass comment and urged the supporters to "remain calm" and look forward to the next match.
Benitez was reportedly content with having Navas as his No.1, with De Gea more of a favourite of Perez's.
Real Madrid travel to Espanyol when domestic action resumes after the international break, before their Champions League campaign kicks-off with a home tie against Shakhtar Donetsk.