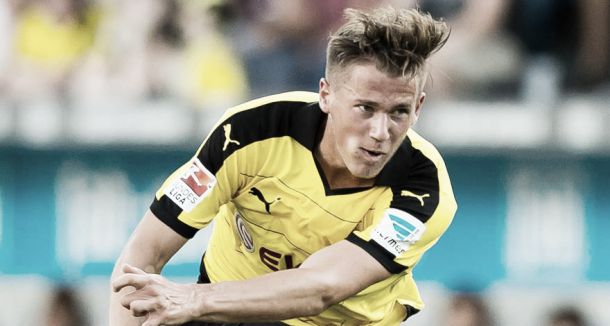 Erik Durm's injury woes continued on Wednesday, as the Borussia Dortmund defender was ruled out for another six weeks following a knee operation.
The culmination of a continuous problem
The 23-year-old underwent the operation on Wednesday, too. The procedure was carried out at the Straubinger Sporthopaedicum by Dr. Jürgen Eichhorn, in order to remove inflamed tissue in his knee. It was the exact same operation that Nuri Sahin had last year.
Durm has been out for quiet a while down, and has missed all of Dortmund's competitive action this season. Such is the extent of his knee problems, he has missed even the early tussles this term including the opening UEFA Europa League games against Wolfsberger AC.
Having already missed the four European clashes, a DFB-Pokal win over Chemnitzer FC and BVB's opening three Bundesliga triumphs, Durm is set to be absent for another eight games. Those include ties with Bayern Munich and Bayer Leverkusen in domestic competition, while the first three Europa League matches could come too soon for the versatile wing-back.
Not a massive loss, other injury problems
While before the start of the season this could have left Dortmund light on both the left and right-back spots. However, the addition of Joo-Ho Park and the emergence of Mathias Ginter as a very viable option on the right now mean that Thomas Tuchel is covered well in both positions. In fact Ginter's form has been nothing sort of fantastic, notching three assists and a goal in five games this term.
Lukas Piszczek and Marco Reus are also both unavailable for selection, in what has been an injury-filled international break. The former will miss just a few more days after picking up a knock with Poland, though Reus is out for a more substantial amount of time. He fractured his toe just as he joined up at the German national team in Frankfurt, and should return along with Durm in the coming weeks.