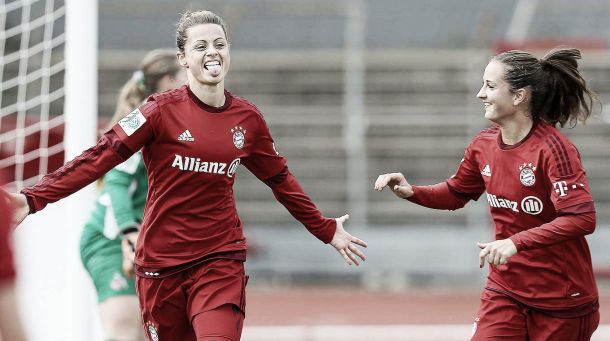 Week three of the Frauen-Bundesliga promises to be the best yet, with the top four all clashing in two of the biggest fixtures of the season.
Meanwhile, there are still five teams bidding for their first victories, whilst the team at the bottom of the standings, 1. FC Köln, go in search of their first points of the new campaign.
Last season's top two face off
The first game of the weekend takes place on Friday evening, as reigning champions Bayern Munich welcome last season's runners-up, VfL Wolfsburg - and it is certainly the pick of the lot.
Nothing could separate these two last season, with both fixtures between them producing goalless draws, and one can expect a similarly tight encounter this time round, with neither wanting to slip up early in the season and see their rivals capitalise.
Yet, three points from the fixture would be marvellous for either, giving them an immediate advantage in the race for the title at a very early point in the campaign.
Bayern have already claimed three points against one of the big four this season, beating last season's fourth placed side and DFB-Pokal finalists 1. FFC Turbine Potsdam 3-1 on the opening day, and so they will be confident of doing so again to overtake Wolfsburg in the standings, who currently sit top on goal difference.
Neither looked convincing last week either, each escaping with 2-0 wins against the two newly-promoted outfits, and will want to reassert themselves in the division with a result on Friday.
Two most successful German outfits present another fiery fixture
Whilst their encounter will be heavily overshadowed by the clash above, 1. FFC Frankfurt and Turbine Potsdam also meet at the weekend, with kick-off scheduled for 1000BST on Sunday morning.
These two finished third and fourth respectively last season, the former also winning the Champions League whilst the latter reached the final of the cup, and are looking to return back to their dominant ways having seen Bayern and Wolfsburg take control of German women's football in recent years.
Together, Frankfurt and Potsdam boast 13 Frauen-Bundesliga titles, making up for over half of the 25 that have been on offer since the league's formation, as well as 13 DFB-Pokal victories, and thus this encounter is one between the two most successful teams in Germany and will certainly be an exciting game.
Potsdam are looking to make up for that opening weekend defeat to the reigning champions, and a victory over Frankfurt would do exactly this, ensuring they are three points up on at least one of their rivals for a top two finish.
Frankfurt, on the other hand, have gone about their business quietly thus far, scoring three goals, keeping two clean sheets and earning a maximum six points in the process. They are yet to really get out of second gear, but will view this fixture as the perfect time to do exactly that and really send a statement out to the rest of the league.
This fixture saw the hosts come out as 5-1 winners last season, whilst the reverse was a 2-1 win for Potsdam, and thus it is difficult to say which way it will go, especially following a summer of many signings, but there is likely to be far more goals than the arguably bigger clash on Friday.
Two winless teams clash in tight Sunday morning encounter
The remaining four fixtures of the weekend all feature teams yet to taste victory in the league this season.
Sunday morning sees two winless teams clash in fact, with SC Freiburg welcoming bottom side Köln, who have been on the wrong end of two contrasting results so far in the 2015-16 campaign.
Losing to Bayern Munich last weekend was understandable, the champions coming out 2-0 winners as the hosts fought hard to keep the game relatively close, but Köln will still look back to week one and a missed opportunity as they started their season against fellow newly-promoted side Werder Bremen, crashing out 6-2 losers in a thrilling encounter.
Freiburg have failed to light the league alight like they were expected to, however, with some special recruitment failing to pay off thus far as they can only boast a single point from their opening couple of fixtures.
Last weekend they fell 2-0 to Potsdam, but will see the visit of the league's bottom club as an opportunity that cannot be missed, with victory a must if they want to push on up the table this season.
Victories required elsewhere too
USV Jena, Bayer Leverkusen and TSG 1899 Hoffenheim will all also be looking for their first wins of the new season when they take to the field this weekend.
Jena will fancy their chances in particular, welcoming newly-promoted side Werder Bremen on Saturday afternoon. However, the visitors will be no pushovers, having shown their ability going forward in that 6-2 win against Köln two weeks ago.
Wolfsburg narrowly beat them 2-0 last time out, but Bremen showed that they have what it takes to establish themselves in the Frauen-Bundesliga and will look to do that again this weekend against a side who conceded four times as many goals against the Wolves in week one.
Leverkusen have had a strange start to the season, having been dubbed for bigger things in the build up. They were hammered 4-0 by SC Sand in their opening fixture, before producing a lacklustre goalless draw with Jena last time out. Both games will have been viewed as winnable ones for the team, and rightly so, as Leverkusen, with the likes of Turid Knaak and Kristina Sundov in their squad, certainly have the quality to do better.
Fortunately for them, they don't meet a big gun until they welcome Potsdam at the beginning of next month, so there is time to recover. The opportunity to do so this week comes in the form of a home fixture against SGS Essen, who narrowly beat Sand 1-0 last week, after falling 2-0 to Frankfurt the game before.
The final match of the weekend then sees Sand host Hoffenheim. The visitors are the winless team here, having drawn with Freiburg and lost to Frankfurt so far.
However, their defeat last time out came in an encouraging performance, with them only falling 1-0 to one of the big four. They created plenty of opportunities and were even thwarted by the woodwork in a very even and well fought affair.
Hoffenheim can take plenty of positives and, thus, a lot of confidence from the match, having shown that they can set themselves apart from the relegation candidates this season.
Results need to come for them to do this though, and if they can replicate the performance levels of last week when they travel to Sand on Sunday, then that first win can certainly be recorded.
Matchday 3 fixtures
Friday
Bayern Munich v VfL Wolfsburg (1700BST)
Saturday
USV Jena v Werder Bremen (1300BST)
Sunday
1. FFC Frankfurt v 1. FFC Turbine Potsdam (1000BST)
SC Freiburg v 1. FC Köln
Bayer Leverkusen v SGS Essen (1300BST)
SC Sand v TSG 1899 Hoffenheim