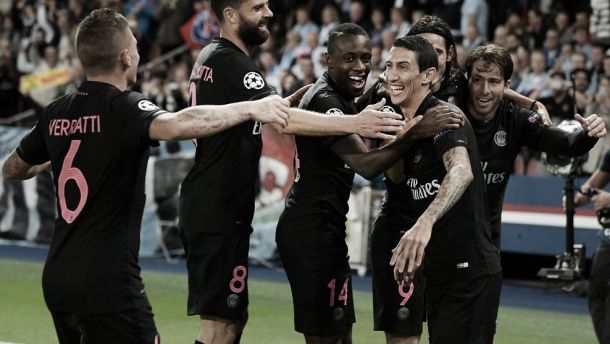 Paris-Saint Germain got their first win in Group A of the UEFA Champions League, against Zlatan Ibrahimovic's boyhood club Malmö FF at the Parc de Princes.
Goals from Edinson Cavani and Angel Dí Maria was able to give the French champions three points as they won 2-0.
Fantastic El Fideo
In the first half, it didn't take too long for the defending French champions to get on the board. In the 4th minute, Marco Verratti received the ball from a throw in and was able to give the ball to Di Maria​, who ran on the right side of the pitch, going past all of the Malmö defenders to slot it right home past the goalkeeper Johan Wiland. The strike was his first ever goal for his new club and the first goal in the 2015-16 UEFA Champions League Group Stages.
Ibrahimovic was hoping to make the difference against his former club, and in the 15th minute he was given a chance after a ball by Di Maria to Gregory Van der Wiel. The Dutchman was able to provide a good ball in the air for the Swede, who was unable to get his header on target.
This was followed by another great chance for the former Malmö player when four minutes later, as a great ball from the Di Maria allowed the Swedish international a chance on goal, but he was unable to finish correctly as the Malmö defender cleared.
This would be one of many opportunities missed by the outspoken Swede, before he was substituted near to the end.
Di Maria another chance to score just past the half-hour mark, as he curled an shot towards goal from a central position only for it to go firmly wide. Malmo would have one big chance in the half, a first half where PSG clearly had various opportunities that were missed and the Allsvenskan side failed to take advantage of that going forward.
In the 34th minute, Nikola Đurđić was able to beat Van der Wiel and attempted to finish, only for his shot goes wide of Kevin Trapp's goal.
Grande Matador
In the second half, it was almost 2-0 for the home side as Edinson Cavani's first chance of night was a wasted one. Di Maria found him in space, but the Uruguayan rushed his shot as he sliced his ball right over Wiland's goal, but that would not be the last that we would see of the Uruguayan.
PSG were desperate to find a second goal to secure the three points in their first match of the new Champions League season. In the 58th minute, a low effort from Maxwell was able to force a good diving save out of Wiland, before the corner came to nothing shortly after.
PSG would double their lead, Cavani scoring three minutes later three minutes. As Ibrahimovic played a ball to Maxwell, the Brazilian furthered the ball towards the Swede, and he helped set up Cavani for the header, which was his fifth goal in his last three games with PSG in all competitions. Cavani was denied a second three minutes later as his chance was saved by Wiland.
Malmö looked to possibly make a big comeback as 11 minutes from time, Djurdijic's chance being denied from goal before, in the last minute, captain Markus Rosenberg saw his shot go wide.
It was almost 3-0 for PSG on the break, as Ezequiel Lavezzi thought he scored his goal only for it be ruled offside after Cavani was in front of all of the Malmö defenders during his shot.
That didn't matter though, as PSG got three points. Les Parisiens take on Stade Reims on the weekend in Ligue 1 and in their next UEFA Champions League outing, they will travel to Ukraine on the 30th of September to take on Shakhtar Donetsk.