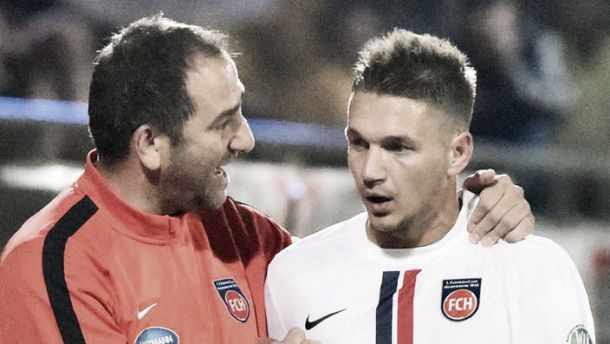 Daniel Frahn scored from twelve yards out notting the game at one after Red Bull Leipzig's Marcel Halstenberg found the back of the net after 32 minutes to split a point between the two sides at the
Voith-Arena, the final score reading 1-1.
Both clubs squander chances early
Left-back Arne Feick played a dangerous cross into the box, in just the third minute, however, there was no one waiting inside the area to get on the end of the ball. After some sustained pressure by the visitors, they were able to win their first corner of the match after seven minutes gone -- which came to nothing in the end.
Red Bull should have opened up the scoring in the ninth minute, unfortunately, Marcel Sabitzer got free inside the penalty area and missed the entire frame of the goal with his shot despite being six yards away. Then, on 15 minutes, there was a goal scored off the head of Marcel Titsch-Rivero, the assistant referee though had his flag raised for offside.
Emil Forsberg was next in line to try and open the scoring, 27 minutes into the match. The former Malmö winger could not get a good shot away and was nowhere near the goal despite being in a decent position to at least try to hit the target.
There was a growing sense on the pitch that Leipzig were starting to get a foothold of the match, controlling possession and putting a little bit more pressure on the Heidenheim defense. With ten minutes before halftime, the visitors broke the deadlock through Halstenberg. Sabitzer whipped in a corner and after the ball bounced a little, the defender was able to get his foot onto the ball in the middle of all the commotion to give his side a first half lead.
A second goal was nearly scored by Dominik Kaiser, two minutes before the halftime interval. The 27-year-old did excellent to weave his way into the danger zone where he saw his effort slam off the post, keeping the score at 1-0.
Halftime: 1. FC Heidenheim 0-1 Red Bull Leipzig
The second half was very slow moving. Both sides were able to move the ball a bit, their final third movement did not do enough poor though as attack after attack died about 20 yards in front of the goal.
Davie Selke, Sabitzer and Forsberg, combined well together. The latter waited too long to get his shot off and as a result, was closed down. Young Willi Orban put a foot wrong and fouled Robert Leipertz inside the area. The former Red Bull striker stepped up to the spot and slotted the ball home perfectly.
This result still leaves the two sides in the same spot on the table on twelve points. That might not be the case come the end of the weekend as there matches still left to be played.