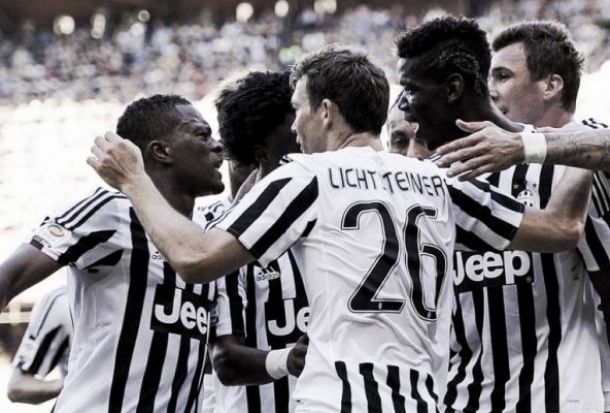 After having a good outing in the Champions League midweek, reigning Serie A champions Juventus beat Genoa for their first win of the 2015 season and now look to make it a two-game winning streak against Frosinone.
Form
After recording one point in the first three games, Juventus got a key win against Genoa. The 2-0 win helped Juventus jump four spots from 17th to 13th and it was a morale boosting win for the Old Lady. They got a brace from midfielder Paul Pogba and took advantage of a 10 man Genoa. This win comes right after an impressive 2-1 win at Manchester City in the Champions League group stage. The Italians were able to come back from a Giorgio Chiellini own goal to win 2-1 with Alvaro Morata scoring a left-footed curler to give Juve a crucial three points.
It has been a horrific start for Frosinone. They have failed to register a point this season and are setting themselves up to be favorites to be relegated back down to Serie B. After being promoted in the last two years from Lega Pro Prima Divisione all the way to Serie A, they will have to turn it around fast if they do not want to go back down.
Key Players
The key player for Juventus will be Paul Pogba. After notching a brace against Genoa, the midfielder will look to hit the back of the net for Juve. After losing the likes of Arturo Vidal and Andre Pirlo this summer, the burden of offense from the midfield falls on Pogba. The burden is even more with Sami Khedira and Claudio Marchisio out with injury as well. It was Pogba's perfect pass against Manchester City that set up Mario Mandzukic's finish to equalize for Juventus and was a turning point in the match. It is these types of plays that show why he is worth the ridiculous amount of money that some of the top clubs in the world are willing to spend on him.
The burden of trying to stop Juventus will fall to goalie Massimo Zappino. The Brazilian was there the last time these two teams met in Serie B in 2006 and will look to keep Juventus off the scoresheet, a matter easier said than done. With Frosinone only registering one goal this season, it is a certainty that they will struggle to score in Serie A. So they will have to defend very well if they want a chance to stay in the league this year. The burden will fall to the back line and Zappino.
Team News
After an impressive start to his loan spell from Chelsea, Juventus are looking to sign Juan Cuadrado on a permanent deal. After struggling in England, the Colombian has fit in perfectly with Juventus.
After Alvaro Morata left the game versus Genoa with injury, Roberto Pereyra will be looking to be up top next to Mario Mandzukic versus Frosinone. Juventus are deep at the striker position and can afford to miss Morata for games such as these.
What They're Saying
"The manager asked me to pick up where Alvaro [Morata] had left off," said Roberto Pereyra to Juventus's official website when asked about his performance replacing the Spanish striker.
Pereyra played a great game against Genoa and will be looking to take advantage of a weak backline in Frosinone.
"Yes, Gigi's having a rest and Neto will play against Frosinone" said manager Massimiliano Allegri at a press conference when asked about the Italian legend's availability.
With Buffon's age, he needs to be rested from time and time again to remain fresh throughout the season. Neto will be the goalie in goal for Juventus.