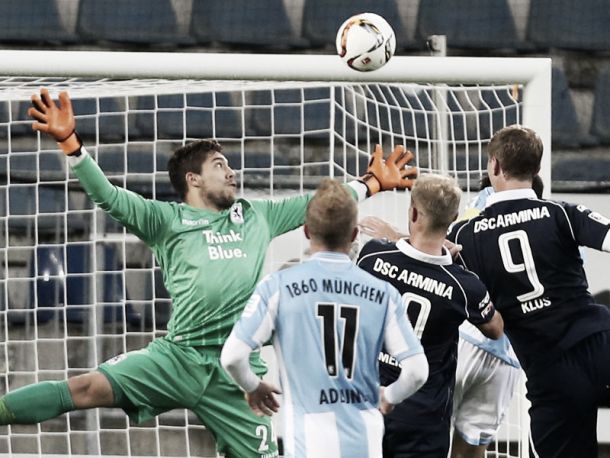 1860 Munich let yet another lead slip on Friday night, as Fabian Klos' strike earned Arminia Bielefeld a point.
Goals come at either end of the half
The game began badly for the hosts, as the first opportunity yielded the opening goal for the Lions. An attempted clearance from Bielefeld was picked up on by Korbinian Vollmann and the forward drove to the by-line before picking out Marius Wolf in the area. He kept calm and finished from eight yards out, shocking the Schüco Arena.
It was a game of few real chances but that suited 1860, who were defending from a deep position and allowing Bielefeld to pile on the pressure. Poor passing and a lack of clinical finishing cost both sides an opportunity to add to the scoreline, though that changed just before the break.
Another cross provided the second goal of the game, as Christoph Hemlein picked out Fabian Klos in the area. The Dutchman rose above everyone else to head past the stranded Stefan Ortega, who had came for Hemlein's delivery and missed it completely.
The second half began as the first ended, with Bielefeld on the front foot. Hemlein couldn't hit the target from two good positions before Florian Dick's cross found Klos once again, though he couldn't repeat the same feet as in the first-half.
Christopher Nöthe and Julian Börner had opportunities in the second period to win the game, but neither could take them. Martin Petersen became much more whistle happy as the game went on and that disrupted the little flow left in the match.
Nöthe had one final chance but Ortega redeemed himself against his old club, making a great save right on the goal-line. Bielefeld would be disappointed not to take away all three points, though 1860 could count themselves lucky to have secured a draw.