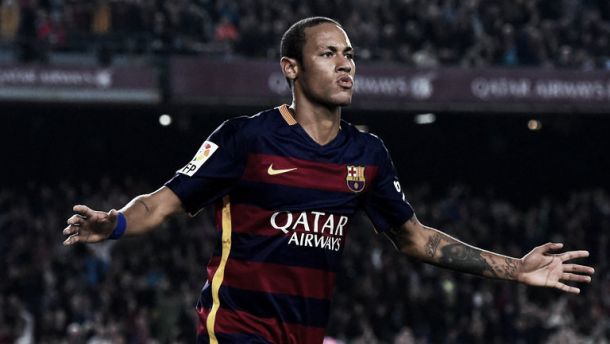 The man who scored four goals over the weekend, FC Barcelona winger and Brazil captain Neymar has been under some controversy after various rumours of him leaving the club, including that of strong interest from Manchester United.
However, in a recent interview, the 23-year-old confirmed negotiations are still underway before saying he plans to sign a new deal for the Blaugrana.
Not worried at all
Neymar has three years left on his current deal ever since joining the club in the summer of 2013 and has made an instant impact ever since he was given the number 11 shirt. 62 goals in 101 matches, including four over the weekend against Rayo Vallecano can only prove that the Camp Nou faithful have found their star. As part of the attacking trio and the youngest member of that also includes Lionel Messi and Luis Suarez, they have been unstoppable in Europe as they went on to win a treble during the 2014-15 season.
Speaking to beIN Sports, he stated to the fans in Cataluñya that ''the renewal is underway. I still have years left on my contract. I'm going to sign. The fans can relax."
Ship has sailed
Besides the transfer speculations, he has also expressed sadness after his former and boyhood club Santos FC wanted to complain to FIFA about his transfer to FC Barcelona in 2013. It was said that the world football governing body confirmed it received a claim from the 2011 Copa Libertadores champions last week about the deal, with Santos suggesting they hadn't been paid the correct amount by the La Liga champions, which was €55 million, until it was revealed to be significantly more than initially reported of about €80 million.
He went straightforward and too the point by saying that he ''doesn't want to talk about Santos, for me [the matter with them] has passed, but of course, I'm very sad, but I won't talk about them."